Oracle Intuitive Sessions and Oracle Card Readings
Connecting with insights, guidance, and support for your life.
| | |
| --- | --- |
| Posted on May 5, 2023 at 3:00 PM | |
Happy Full Moon & Lunar Eclipse & Beltane (or Samhain) - High Spring (or High Autumn) 5-5 and more!
I had planned on doing a Live reading video on my BlueWater Oracle Facebook page this morning around the start of the eclipse time but my technology had a completely different plan! Written reading today it is!
The card from my Year Wheel for May is Gaia – Nurturing. Please find the link below for the video to get that reading insights! If you are on my email list, it went out yesterday too
There is a lot of energy going on today, coming to us from all different angles. This is a day to centre yourself, to be aware of the flow and of your needs. It is a day to honour those who have walked on before and to respect with compassion those who are currently struggling here. With all big energy there is opportunity. We can try to fight against it, but much like trying to fight against Mother Nature herself, we will often lose. Better is to find what meaning there is in it for us, to learn, and to find our best next step forward, allowing the path to show itself one step at a time.
Humans don't always like to work that way. Many of us have been trained to plan and to expect. There are other ways and other options though. There are teachers for this, human and other. Mother Earth and the Moon included.
Milky Way – Perspective
At all important times, we are invited to reflect on and to work with perspective. To think there is only one way is short-sighted. To think any one of us has all the answers is an oversimplification and unlikely.
The beauty and power of this card brings us today, a reminder that we are one planet among many. We have a star among many. There are moons, there are stars, there are planets, there are galaxies, and on and on. Here on this world of ours, we are each one human among many. We are one species among many. The interaction and dependence of all of these on the others is a necessary observation and lesson to learn. To walk truly alone is to limit so much of the life we have the option to lead and to share with others.
Open yourself today to see where your perspective is helping you. Allow yourself to notice when another perspective is of value. Invite in the knowing that you have one perspective among many. See if you can see from the other side, see you if you can see to the other side, across the water, across the valley, into the depths, and high up on the mountain…
Open yourself to sense when your own perspective is shifting, when that is invited and when that is required. There is so much value in this for you, especially today. Be patient with yourself. The shifting seasons do not happen in one day, despite how the weather can make it seem at times!
Manifesting Dreams
"My dreams are coming true!"
This is the opener of a phase where dreams can take flight and come to life. With the balance being presented through the star systems and here are Earth, be mindful of what dreams you wish into existence. You will not have all the perspectives at all times but you will have a sense or a knowing of which dreams are most valuable to you and how they affect another or a larger group. There is nothing here of blame or restriction. It is rather awareness, responsibility, and caring.
Any time you or another may choose to think your perspective is from the "I can do it alone" status, take a pause and remember these cards. Do you create your own food? Do you generate your own clean water? Do you source material for light when it is dark, for your clothes, for your shelter…? Do you care for your waste products? Do you know all that has to be taught? Do you remember the lessons that have already been learned but need to be said again?
These are not said lightly nor to be too heavy. They are said rather to bring the awareness into the team, the community, the partnership, the family, the neighbourhood, the interconnectedness, the whole, the very local and the across the world. All of these play parts in who you are, what you have, and how you live.
As the perspective and the dreams come through for you, open into all you are, a wondrous being, and live that way. Remember too that the person across the way, who may not seem the same as you, is also a wondrous being. Remember too that the bug walking on your window is one too. Live has lessons in every breath. You may not feel able to take them all in but recognize that that is a perspective too and that the dreams you wish to manifest may indeed depend on you and your connection with all you are as well as all that emanates from many others. Fascinating.
Shine your light and light up your dreams! Share and inspire others. Be quiet and observe. Be passionate and create. Nurture you, nurture others, nurture the planet, and say hi to the moon, the stars, and the sun. We are all connected.
Blessed be, love & peace,
Sheila
BlueWater Oracle
with inspired guidance through the Earth Magic Oracle Cards by Dr Steven Farmer and the Gateway Oracle Cards by Denise Linn, both published by Hay House.
May intuitive card reading video: https://youtu.be/zDNg6bNWqj4
Reach out for your own intuitive conversation and card reading – connect your dots for your perspectives and dreams.
Sign up for my email newsletter for info & special offerings here http://eepurl.com/ceR_aY
Contributions are welcome, via etransfer to [email protected] and via PayPal to www.paypal.me/BlueWaterOracle/CAD
Thank you! Merci! (oui je suis bilingue!)
Diolch! Niá:wen! (Welsh added as part of my history and Mohawk in recognition of land on which I live and one of the indigenous peoples who were here before and continue to be here & teach today)
For disclaimer & client self-care suggestions: https://www.bluewateroracle.com/disclaimer
#intuitivewisdom #bluewateroracle #sheilabicknell #wakethewisdom #oraclewisdom #oraclecards #tarotcards #tarotreading #intuitiveguidance #cardreading #dancewithspirit #intuitiveconnection #RealMagic #love #spirituality #psychicconnection #consulttheoracle #vaudreuildorion #connectthedots #montrealcanada #whatyouneedtoknow #Intuitivereading #oraclereading #May2023 #gaia #oraclecove #raisethevibration #spring2023 #fullmoon #lunareclipse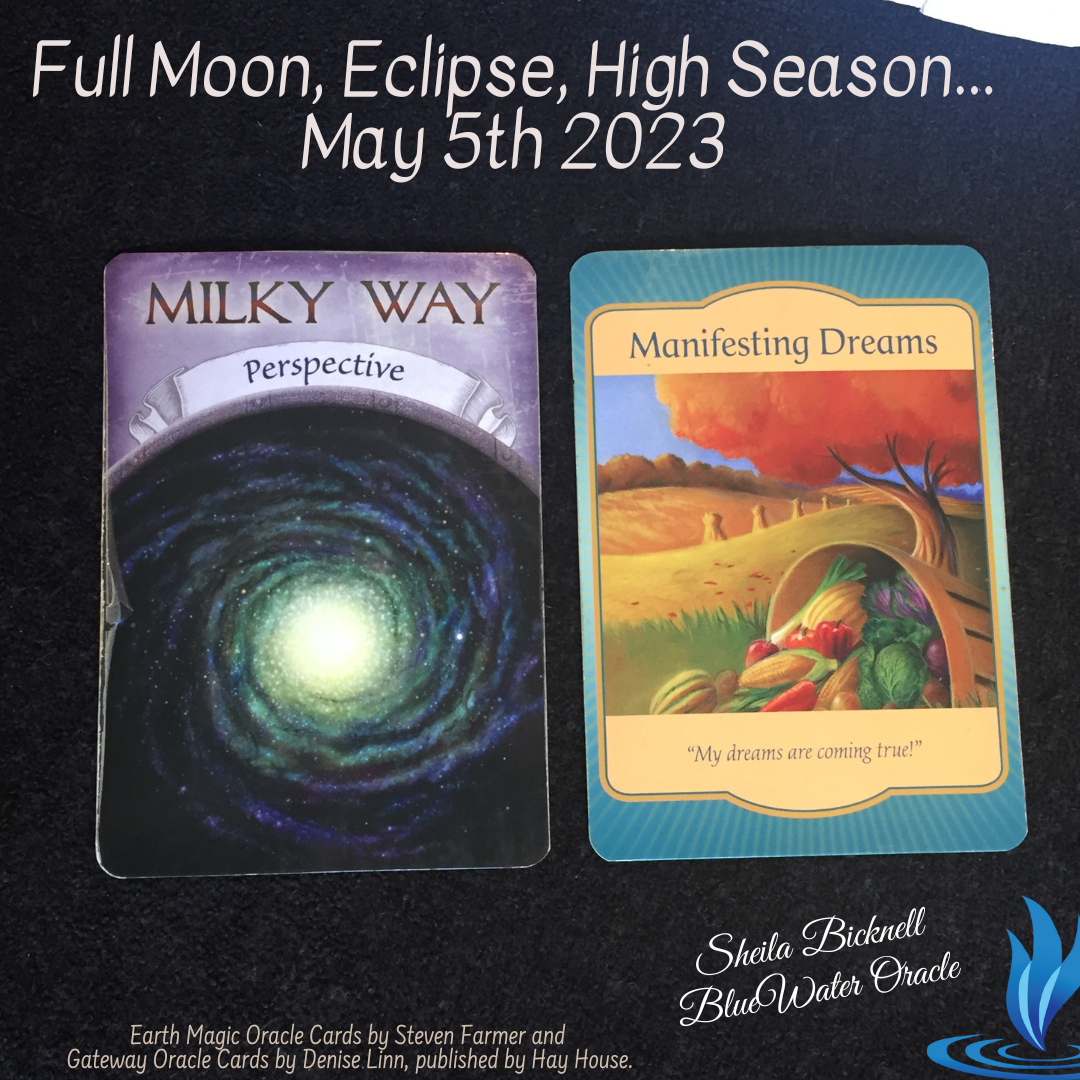 | | |
| --- | --- |
| Posted on February 4, 2023 at 4:20 PM | |
February card themes & guidance - Year Wheel 2023 Oracle Intuitive Card Reading
Notes from the video reading! Which parts resonate the most for you?
Song of the Wild – Native Spirit Oracle Cards
February brings a different kind of energy. We still have the rainbow like in the January card and this time it comes with golden sunshine.
This month brings a starting point after January's 10 of Cups card – something new, changes and difference coming in. This can feel a bit wild but wild can be amazing too. Remember that the natural world is "wild". Wild does not have to mean crazy or chaos or out of control. It follows its own balance and rhythms developed over millennia. Here we bring some rainbows after the storm, coming with the shifting and changing.
Ask yourself: What would be my Song of the Wild? If I were singing my own song, my wild version song?
What is your Song of the Wild? How are you singing into your life, bringing the wild balance, the natural balance into your life? How does it work? How does it want to work? What do you need and what do you need to be aware of?
You will need to have moments when you stop. You really will need to stop, to look around. Time to really breathe, deep breathing. Look around… Where is your next path in the wild? Where is your next signal? What tracks do you see? Pause to see the tracks… Where is the water, where is the food?…
(Think about being out in the wild and what you would need. It made me think of the Wildearth Live Safari drives and the amazing naturalists that guide them).
Remind yourself that you will have to pause. There will likely be ups and downs with wild flows. Take a pause as the ups and downs happen, breathe. Step into your self and into your moment.
Look for the indicators – pause, breathe, and check "Which way am I going? Where are my indicators? Where are my priorities?" (take a look back to what was important in your Cups from January.) Choose your direction and your choices carefully. Identify these with your own Song of the Wild.
There are probably some changes in the world this month too bringing a bit more wildness and new things.
Would you like to see the reading as it happened? Watch the video version here, starting at 12:58 for February or watch the whole video for a full sense of the year! https://youtu.be/-hS4_X7zULA
Reading by Sheila Bicknell – BlueWater Oracle
The January card is from the Native Spirit Oracle Cards by Denise Linn and published by Hay House.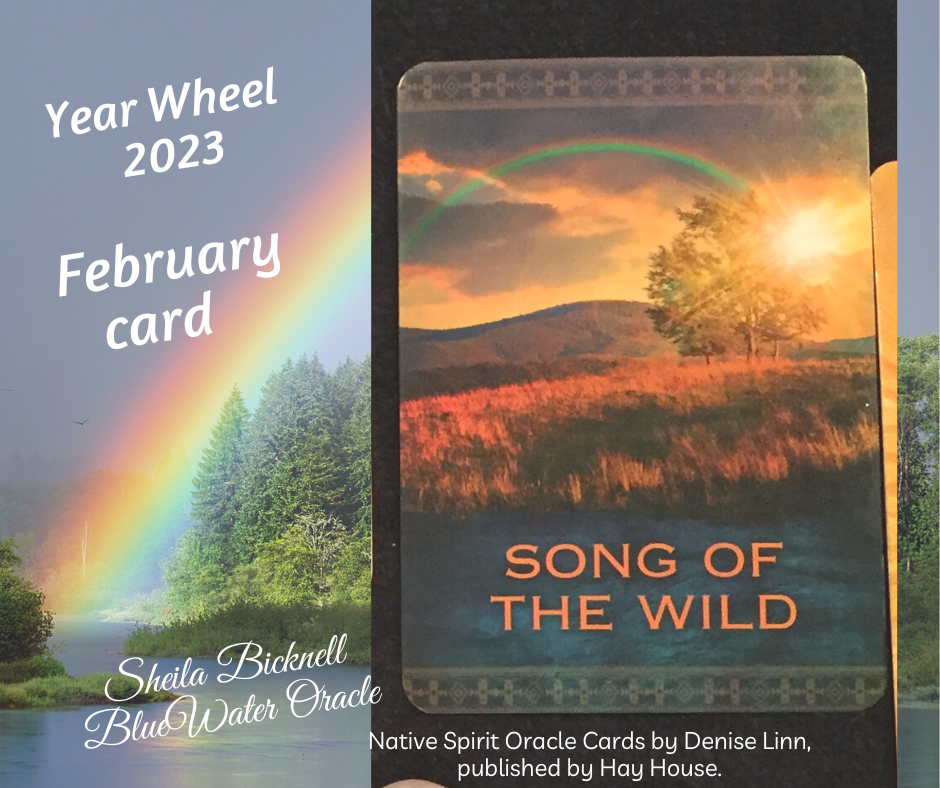 | | |
| --- | --- |
| Posted on July 3, 2021 at 4:35 PM | |
Gentleness and the Choices within Shapeshifting Clouds 
July Oracle Intuitive Wisdom Guidance Reading 2021
In this month a gentleness grows.
It is up to each one to choose it or to turn away. Life is full of change and challenge. Life is also full of wonder, heartbeats, magic, and majesty. Choose wisely and choose well within its chiming tones and whispering winds, shifting times and voices, and within the hands that make the day and guide the moments.
You are the gentleness flowed from the waterfall of life or you are the sharp rocks that some must fall against. Which do you choose?
Clouds – Shapeshifting
Incredible symbolism for this month of July 2021! The cloud can be a fluffy white cotton creation in the sky or it can be a powerful storm. It can be a windswept rain shower or a feather light essence. It can be welcome shade or frustrating cover. It can be an artist's palette of shape and form or it can be simply a result of moisture and weather high above.
One thing is for certain, clouds shift their shape in an ongoing basis. To look on them is to know change in every moment, fractions of seconds, as well as long created story lines. What happens locally is as essential to their make-up as what has occurred across the globe, all interconnected in their raison d'être and in their present existence.
To try to live separate from all others, creatures, people, plants, insects, weather, trees, water, etc. is to try to deny that the world works in a harmony and that each one is part of it. The shape you are currently in is a balancing act of all that has come before this moment and what you are presently experiencing. To try to live only in the past is as if looking upon the storm that has just flown through expecting it to bring a different result than it did. It shifts in the present only; it cannot shift in the past, except in the energy we carry from it.
What does that mean? It is a reference to being able to look upon a past experience, a past situation, with a different perspective than was present when it happened. Perhaps in that moment there was pain. With the new perspective that pain can be processed and healed or worked through. Perhaps in that moment there was uncertainty. With the new perspective, there is confidence to see what happened and how it impacts now, thus allowing a new action to be taken, a new choice. This is bringing different energy to shift the past based on how it is carried forward and lived in the present. It is power that can be embraced and can be utilized.
Every side of the cloud has benefit and consequence all wrapped up in that shifting version. While one person longs for rain, another desires sunlight for an event or for growth. While one desires calm and shade, another wishes for a storm to blow through and change the current atmosphere. This is balance and only compassion with the willingness for comprehension can allow it to flourish.
The need for survival is strong and is rooted deep. The priority of one over another is also a base feature. To rise above that and find how the winds bring a new shape, a new possibility, and new choices, is a keen vision with an open heart.
Where and why the heart may not be so open? Where and why compassion may not be there? These are questions with answers that span thousands of years, millions of lifetimes, and billions of stories. The true answer though is only in the shifts of the present. The one breath that is taken a bit deeper than a stress response. The one smile that is more genuine than cynical. The one hand reaching out to hold the door rather than letting it hit. The one act that feeds another's body and soul rather than contributing to their suffering. These are choices that shift as quickly as the clouds in the high winds. These are opportunities each one is presented with every day. These are what balances the harmony or the disconnect, asking to be noticed, observed, and learned so that the heart is represented and compassion grows.
What would you have yourself shift today? You do not need to go into the huge world events to be a part of a shift. The gentle rain creates an incredible impact in different but no less important ways than the hurricane. You may perceive it differently but that rain is so valuable when it is needed or too much if it continues too long. Harmony and balance tend to be something that gets judged rather than something that just is, in its own magical and wondrous way. What do you judge within yourself? Without that judgement, what harmony and balance would you bring to yourself and then let flow out from you into life around you?
The clouds above may not always have the same shape but it does not mean they are not just as important however they are. Be gentle with yourself for how your shape is currently and how it has changed and will change. Perhaps you desire the change… so imagine what it will be and shapeshift into it one wisp of breeze and raindrop at a time. And enjoy the ride, whether your cloud is a boat or a heart, a feather or an angel, a bear or a balloon, your cloud is always shifting and your choice is whether to fight against it or to see the majesty it shows you, in each breath.
With blessings through the shifting clouds,
Sheila
and the Divine Great Spirit Wisdom and the Earth Magic Oracle Cards.
The Earth Magic Oracle Cards are by Steven Farmer, published by Hay House.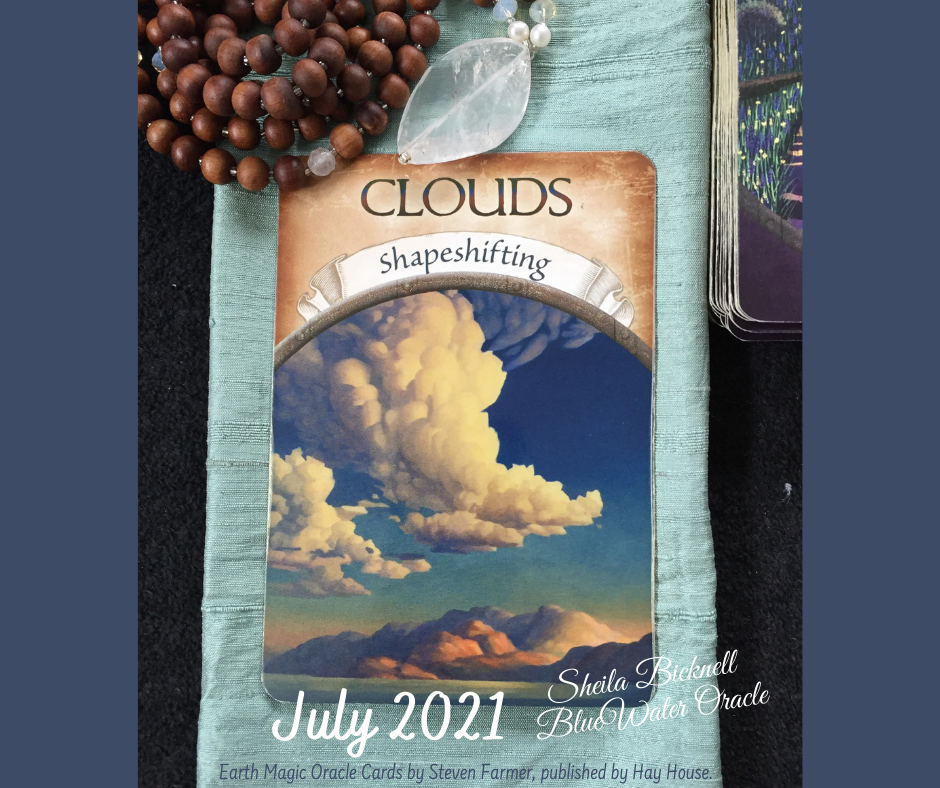 | | |
| --- | --- |
| Posted on May 2, 2021 at 12:05 AM | |
Earth Connections and Intentions of Ceremony - May Intuitive Guidance Reading 2021
And in the reach of May
So cometh the tide.
The brightening sun
Brings the waves of life.
The choosing of the path
And the sewing of the ways
Creates the essence of being
And the content of all the days.
May Intuitive Guidance Reading
Ceremony – Invocation
We return to the Earth Magic Oracle Cards for this month's reading and find ourselves with the same card as the month of March. How interesting!
In March this card discussed the "ceremony of connecting with ourselves". The theme winds its way back to us this month as so many resonated with not feeling connecting with themselves or not knowing themselves in their current journey and life. Give yourself the time to refer back to that reading and its guidance if you feel so drawn. It is never too late to get to know oneself and to create those connections within. From there so much of value can flow outwardly to touch you, your life, those you care about, their lives, and the world. Treasure in the blink of an eye and the spark of a new day.
This month, the card brings us into themes of connection with the world, with this Earth of ours and our place in it. March is the month of the Spring Equinox in the northern hemisphere and today mark's "May Day" and Beltane for those who recognize it. I looked up a few reference books today about Beltane, something I have not done in a long time, and lit a green candle as I sat to bring forward this oracle guidance. To receive the Ceremony – Invocation card after that, confirms a deep connection with processes and practices, with ancient ways combining with present moment. Nothing says that more than candles, books, oracle cards, intuition, and a laptop computer!
The cycles of the earth are something that Mother Earth does well. She understands her journey around the sun and throughout time much better than many humans do. Where the dependence on the land and the elements is direct for food and survival, people register deep within them, the seasons, the weather, and the days & nights. When food comes from faraway lands, crossing continents and oceans to reach mouths, it is no wonder than many people lose touch with how it happens and when in the course of a year. When homes, clothes, and power sources help to survive more easily with weather changes, again, perhaps, people find less association with what the seasons mean and how to navigate for one and all.
This reading knows it is saying things about the Earth and our ways that have been said before. Some people are highly aware and for others it is of no interest with differing immediate priorities in their pathways. So who is this reading for? It is for anyone who will listen, anyone who will receive, observe, and shift. Whether it is one sentence that catches the attention and stirs something within, or whether it is the entire guidance that resonates and vibrates with your being, this reading will have succeeded in its mission today with great gratitude.
There are many ceremonies people no longer realize are so, no longer realize are part of the passage of the seasons, the turning of the world, and the passing of time. The birth of a child, each birthday celebration, monthly cycles, holidays throughout the year, graduation for accomplishments, anniversaries, and more. There are many that are tied in with the Earth directly: preparing gardens, planting seeds, tending the plants, harvesting from planted and wild, preparing for winter, and more.
To some, these are not ceremonies but simply acts of time and of the seasons. Is there really a difference? Perhaps one… perhaps taking a moment to breathe with intention would be the difference. Perhaps that simple act connects with the vision and the reason why, bringing power, beauty, and grace to something that seems so basic.
Whatever you are doing in your day and your life this month, invite in the option to bring in ceremony. As basic as taking a breath consciously with the intention for the act you are about to take or do. Why are you doing it? What is the desired outcome for the act? Breathe your intention. Create the moment. And then act.
What would help you with what you will be doing? Add that in to your ceremony if you like. With gratitude if it feels good to you. "Thank you for helping me with _____" or "Thank you for bringing me _____ to help me with _____". These not only invite in all of your own knowing through your brain, body, heart, history, intuition, and spirit, but also invite in energy of all that can be considered universe or divine or wisdom within and beyond the individual. Engage it all together, invite in the union with wisdom and the option to receive, as you experience and live.
Whereas at one point some may have considered ceremony to be restrictive and confining, this is bringing in wisdom with a flow that now wants to play and dance for the new day. Yes there are responsibilities. Yes there are commitments. None knows this better than the Earth on which we live. She strives for a balance and is committed to achieving it, through flow of huge phases and differing tides of life. Her creatures and components understand that there are ways in which life leads, ways that must be respected. As simple as the rising and setting of the sun reminds us of this.
So if you are in ceremony and you know there is a new and better way, bring the wisdom of what has been, what is ancient and valuable, and intertwine it with the currents that want and need to be. There is never a reason to forget, but there are many reasons to learn and to shift. Each breath you take is an opportunity for this, an opportunity that has been given by life itself. Your intention and your action bring it to life in ways that are needed now, and you are the gift that is needed to bring it. Each breath, each day, each ceremony, and each connection. What a wondrous world and a wondrous life.
May this month be filled with reminders of receiving and layers of connection with all of your intentions and all of your highest ceremonies. May they start with you and your heart, and flow forward forging new ground when needed, remembering when needed, and planting seeds when needed.
Blessed be.
With love,
Sheila
and guiding forces of wisdom and universal energies, with the Earth Magic Oracle Cards.
The Earth Magic Oracle Cards are by Steven Farmer and Hay House published.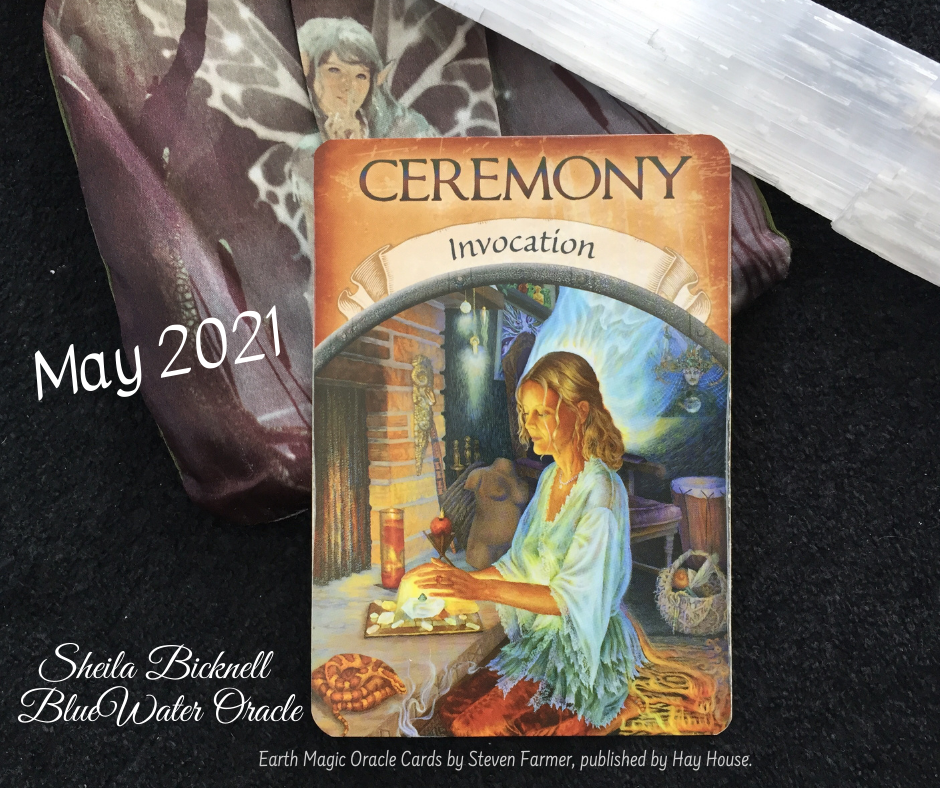 | | |
| --- | --- |
| Posted on May 2, 2020 at 6:45 PM | |
Choices & Perspectives through the Icebergs
May Intuitive Guidance Reading 2020
Once again, the monthly guidance reading is coming through the Earth Magic Oracle Cards. They are deeply connected to the world, to nature, as well as to how we work with it and how we work with energy, the universe, and with spirit. Gratitude for the guidance we will receive for our month ahead.
Iceberg – Submerged
After our Cave – Sanctuary guidance in April, this is a card that speaks to our times and asks us to choose how we step forward.
The two huge icebergs can come together and move forward in unity, each empowering the other as they traverse along the water. They can otherwise ram into each other, creating splintering, loud crashes, and faster melting. They could choose to pass each other by, acknowledging the existence of the other but not having anything to do with each other, continuing on their own direction and purpose. And the unseen could be that these icebergs are actually one, connected at the bottom under the water surface in huge magnificence even if there is some space, different perspectives, and even some divides above the surface.
We are able to choose which of the above scenarios we participate in in our lives and our world at certain times. Sometimes though, that choice seems very out of our hands and we do the best we can given the situation we find ourselves in. We are always able to choose how we react in those situations, what actions we take, what words we say, and how we step forward through it all. We have those choices.
One of the factors that helps us with these choices is perspective. Depending on whether you stand atop the iceberg, whether you are in a boat looking through the gap between, whether you are on the land or the ice flow beyond, or whether you are underwater looking at their icy bases and the life that flows around them, you have a very different perspective. Acknowledging that these different viewpoints exist gives you wisdom in how you speak and act to yourself and your own life, but also to others who are impacted in possibly very different ways. These are skills that can take ages to develop for some while in others come highly naturally giving skill in communication, listening, compassion, patience, and negotiation.
We can notice where we are only seeing a part of the image and not the big picture. We can notice where our own perspective can affect our view of the picture. We can also notice where some are blinded and not seeing the picture at all, or if that is actually us. These are not easy things to realize as they ask us for self-reflection, reflection on a local level, on a world level, and beyond. We can start by noticing and choose forward from there, course correcting as needed with learning, knowledge, guidance, community, and experience.
And as we are noticing, as we are learning and experiencing, the ice melts. The Earth calls to us with every piece that is sheered away from its whole, every piece that does the great separation as is falls into the water below. She calls to us as the pieces get smaller and smaller, separating and distancing. She calls to us as the bow of a great ship breaks through to create its own path not seeing the effects it forces behind it. She calls to us as the land watches wondering how it will survive when the water rises. The land embraces a new journey always but shifts and changes with the wind and water upon it, questioning the timing of it all, that we are not ready for this.
Mother Earth asks us to shift our perspective, from the one to the whole, from the me to the we, from the human to nature together, from the gain to the resource, from the challenge to the solution, from the denial to the learning, from the whisper to the knowing, from the "She is not needed" to the "She is everything and we are a part of She". Huge, She knows! Challenging? Yes. Emotional? Yes. Possible? Yes. She believes. She keeps sending messages to help, messages to guide, options to embrace, needs to listen to that have actions to take. Embrace the shift and know the balance is there.
There is very little on her great globe that does not ask for effort. Some things do flow easily but many are entertained with intention, commitment, and action, feeling the effort with every step and every fibre of being. It is the way of life. It is the way of effort. The bird will soar on the air high up in the skies but first it must flap to gain the height and the positioning to then glide.
The perspective of ease and flow is magical. It is there and it does exist. Seek now the effort, learning, experience, and action that make up the step before the ease and flow. Seek now the perspective that lets you see from all needed angles and with all valuable wisdom.
You are not "only one being with little or no value to the whole". You are an intricate part. In your caring for others, in your work, in your creations, in your actions, in your raising of young, in your learning from the old, in your choices, and in your breath itself. Everything upon She has its place even when we cannot see it. Find yours and embrace it! Bring yourself honour and value in each moment knowing your worth and raising others to know theirs. Together your perspectives ignite what is needed for all, but it all starts with choice. Integrity of choice put forward into actions others feel, see, know, and receive.
One droplet is contained in the mightiest iceberg and the greatest ocean. Without it, there is a shift that creates far-reaching ripples. Your droplet matters.
With love, hope, and gratitude,
Sheila
and divine wisdom guidance through the Earth Magic Oracle Cards (by Steven Farmer, HayHouse.com).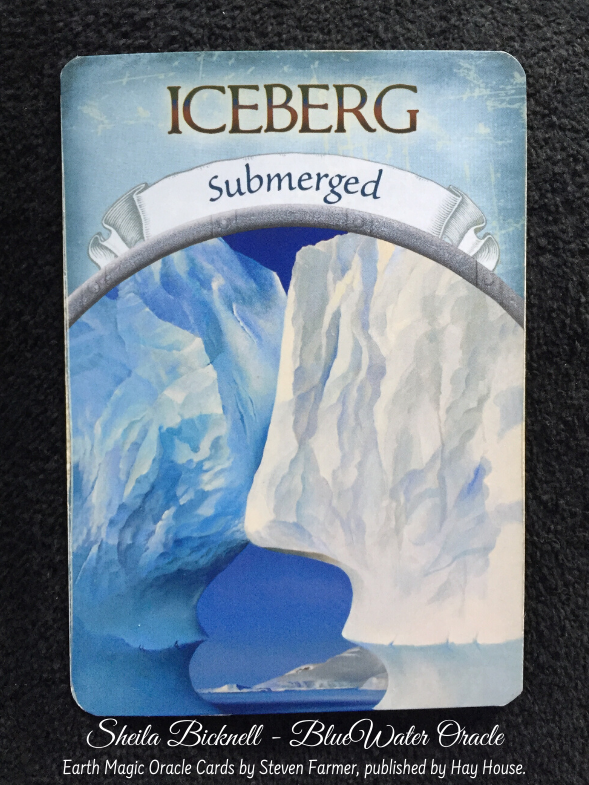 | | |
| --- | --- |
| Posted on June 20, 2019 at 11:15 PM | |
See your dreams, Clarify your vision, Feel your desires, & Create your horizon with the magic of this day!
Visualisez vos rèves, Clarifiez votre vision, Ressentez vos désires et Créez votre horizon avec la magie de ce jour!
With the power of the Strawberry (Rose) Full Moon that started this week leading to the Solstice on Friday, it is a powerful week for getting clear on our visions for the next phase. This came through in my Live reading session in my Oracle Cove group this week and wanted to be shared!
What is your vision for your next phase? What are the desires, goals, objectives, and dreams that you are wanting to create and experience? If you could feel a certain way in that vision, how would you feel?
This is a great time to update or create a vision board or a vision book, to write out your goals, and to get clear to help you see your way forward. The horizon is there for you, it is above the clouds this week. Time to take active steps and identify your vision! There is magic in this day and this week. Embrace it so that your now helps to create your vision!
Watch my Time to Create Your Vision video here https://youtu.be/0rFNavAGFp8

Enjoy!
Sheila
Need help with this? Getting stuck in the fog? Let's chat and intuitively read what will help you to shift what is stuck and see clearly forward!
514-573-4740
#createyourvision #dreamforward #dreambig #realmagic #oracleintuitive #intuitiveguidance #intuitivereadings #oraclecards #fullmoon #strawberrymoon #rosemoon #summersolstice #bluewateroracle
Photo by Joshua Earle on Unsplash.com
| | |
| --- | --- |
| Posted on October 31, 2018 at 9:00 PM | |
Heritage and History
This is a big country. Canada has a huge expanse of land and water. It spans larger than most with much of it wild and untouched, allowed to respond to the elements and to nature with those who understand her best.
It has an incredible history. The heritage of Canada comes mostly from the history of other peoples, those who travelled far and wide trying to improve their lives, to take care of family, and to seek opportunity in various forms. Not much has changed really; people still come here hoping for a safer, more abundant life. And then there were those who were here to begin with and thankfully are still here.
On a recent road trip with a great friend, we allowed the road and some very basic plans to guide us. What fun! With over 1500 km of exploration, we visited suburban areas, country areas, agricultural areas, artistic areas, and a good number of First Nation territories.
With great interest and respect I looked up about some of these territories as we drove through. One in particular on Manitoulin Island in Lake Huron, Ontario, provided a fantastic history review on their website. The Wiikwemkoong Unceded Territory makes up the homelands of the Peoples of the Three Fires Confederacy: the Odawa, Ojibway and Potawatomi. These Anishinabek tribes first experienced the European contact as early as 1610. 1610!!! That's over 400 years. Quite the journey of trading, treaties, agreements, and arrangements, challenges of "other peoples'" plans, religious intentions, and more, finally keeping control over their lands and thus the "unceded" designation and a place in the history books. Proud and strong.
Living within the influence of Montreal, I sometimes forget how huge this country is. Driving through these different places, we only touched on a tiny portion of it. I was reminded of the importance of history. Remembering where a country came from and how it journeyed to where it is today, the good and the ugly parts, is vital to being able to progress with value and respect forward.
Through our drive we also saw regions that indicated English, Scottish, Irish, French, Spanish, and Dutch heritage. Even more were probably present. We also visited a Norwegian connection in the Muskoka region, valuable in the air battle training during World War II. Neither of us knew of how Norway and Canada were involved together and continue this friendship and allied connection today. Extra meaningful for my friend with Norwegian roots! I was reminded of the gratitude for the team effort that happens with allies during any kind of battle and recovery time afterwards.
Heritage and history, it touches us all and is a part of us all. The more we learn about it, the more it should be able to help us see our way forward. It should allow us to better understand each other and what we value and require for a fulfilling and joyful life. We still have much to learn and much to apply but I, for one, am incredibly grateful to be sharing this journey with such an incredible place and all the peoples, lands, and waters, which are considered today's Canada.
What a great way to end off the month which started with the Adventure Oracle Card! Adventure it was!
Sheila
References: https://wiikwemkoong.ca/ and https://wiikwemkoong.ca/history/
Wiikwemkoong Unceded Territory logo: 
| | |
| --- | --- |
| Posted on September 26, 2018 at 7:00 PM | |
It was a great day on Sunday at the Buddha Bazaar in Montreal organized by Meagan Gibson of Zetï! Wonderful vendors, readers, speakers, and musicians!
C'était une belle journée dimanche au Bazaar de Bouddha à Montréal. Des gens impressionant qui vendaient, faisaient des lectures, des présentations, et les musiciens!
During my presentation I touched on some of the ways that we all receive intuitive guidance. Then it was time to pull cards! With the Autumn season starting, the Full Moon upcoming, and a lot of shifting going on, it was a great series of readings for the group present and listening.
Here are a few key points from the cards as you head into this next season and this bright moon. They all most applied to those in the room but also feel like they will help a wider audience, hence the share! Take what feels right, true, and helpful to you!
Identify and intend what you would like to be creating during this new next season phase. Also identify what it is time to let go of, what you don't need to carry forward any more with you! There is something you can just let go of now, release it, so you are lighter and more able to create what you want and need moving forward.
Remind yourself of all the successes you have. You can start with the smallest ones, did you shower today, did you have breakfast, and all the way up to the huge things you have accomplished and are accomplishing - finishing a degree, creating something that will impact and improve the world, etc. The more challenging the phase you are in, the more you can go to small successes to celebrate and see the promise of the next new moment.
Ancestors - at this point in history, many people may be sensing that they are bringing or are a source of bringing up knowledge and wisdom from their ancestral lines. This is very powerful. With this will often also bring up a need to heal certain things from those lines, hurts, disappointments, anger. You may be the one, the person who gets to play a big part in this. What is important is to remember the balance between both sides of this ancestral part. As you feel or know that some of the challenging sides are coming up, also remember the wisdom, the good sides, the amazing things about those times and those people, whether you know them or not. You will sense the wisdom, you may already be expressing it in your life. They are requesting that balance so that you do not only see the hurt and the struggle and so you do not forget about their other skills and wisdom!
If life gets very tough, very difficult and hard to deal with, the guidance yesterday was, for anyone feeling this way, to find something in this very moment that you love. It can be anything! Could be your cup of coffee, could be a tree, an animal, a person, a blanket... find anything that you love, keep going through until you find that one thing in the moment that you love. Hold onto that love in the moment, let yourself really feel it. That is the start of the journey back into your own life. Repeat as needed whenever needed.
And Strength... know that you have incredible strength in you. Noticing those successes and good points in your life is important for this. The ancestral wisdom and skills also come into this. And allow yourself to know you are never alone. Reach out to a human, reach out to spirit helpers, reach out to energy. You have strength, you have courage, you have excellence. And you are not alone.
Wishing you an amazing Autumn and I hope the Full Moon was blessed for you!
with love, Sheila
________________________
I am still running my Super September Offer for full readings this week. Please get in touch to bring you your own guidance and amazing connections. [email protected] 514-573-4740
My next event is this Thursday September 27th 7-9 pm in Kirkland as a fundraiser for the West Island Cancer Wellness Centre. Check out their website for tickets www.wicwc.com
J'offre encore ma spéciale super de Septembre sur les lectures intuitives complètes cette semaine. Me contactez SVP pour vous amenez votre propre information pour vous guidez et vous connectez. [email protected] 514-573-4740
Mon prochaine évenement se place ce jeudi le 27 septembre 19h à 21h comme levée de fonds pour le Centre de bien-être de l'Ouest-de-l'Île pour les personnes atteintes de cancer à Kirkland. Cherchez les billets sur leur site www.wicwc.com. Les lectures intuitves seront en primaire en anglais mais je serai capable de faire certains traductions!
#buddhabazaar #montrealzencommunity #zetiimports #bluewateroracle #fullmoon #autumnequinox #oraclecards #intuitivereadings #cardreadings #wellness
Featuring the Earth Magic Oracle Cards by Steven Farmer, the Soul Coaching Oracle Cards and the Gateway Oracle Cards by Denise Linn, all Hay House published. 
| | |
| --- | --- |
| Posted on September 22, 2018 at 10:00 PM | |
We welcome in the Fall.
The Autumn of our year.
Seeing the colours change,
the scenery adapt,
and the harvest come into abundance!
We release what can be let go.
Filled ourselves with the ripe
Summer energy,
brightening our way forward
for when the dark asks us to see.
Bringing our power into our day
and into each night.
Love and light
from the inside.
Joy and peace through
the harvest of our connection
with nature, spirit, AND our soul!
Autumn Equinox blessings!
May you feast on the best harvest for your life
and feel the abundance of the season in each moment!
Love, Sheila
BlueWater Oracle
#harvestfeast #autumnequinox #fallequinox #bluewateroracle #oracleintuitive #naturebalance #abundance #loveandlight #releaseandletgo
| | |
| --- | --- |
| Posted on September 10, 2018 at 1:25 PM | |
May the New Moon bring you peace.
May it bring you healing and calm.
May it help you see where you are and your way forward, granting you sight beyond your eyes, listening to and through your heart.
I was blessed with some outside wild garden and forest time today. Letting it bring me renewing energy and healing from a cold that thought it would come to visit.
Seeing this phase of my meadow area was quite amazing. Lots of aster flowers blooming on their bushy plants. As I stood among them with the breeze blowing, I could hear the buzzing melodies. On quick glance, the meadow looks quiet, only plants moving in the wind. On closer look, each plant was a flurry of activity flitting and flying from flower to flower.
All different bees and wasps feeding and gathering. Wonderful buzzing as they travel and work. The occasional butterfly floating through too. In that moment, all of life was expanding before my eyes, so much, so vibrant, so amazing. What a blessing to witness.
And then a walk through the woods. Sensing the trees whispering to me and to each other. Touching their unique bark imprints, wrapping my arms around their full trunks, honouring that I get to share time and space with beings so much older than I. With much gratitude.
If you have the opportunity to be outside today, even if it is to stand on your front steps, to feel and breathe, enjoy it.
New Moon blessings,
Sheila
Can you find the stick-type walking creatures on one of the purple asters?
Life beyond what we see in a moment. 
September 9th, 2018
#newmoon #naturetime #treewisdom #oracleintuition
/