Oracle Intuitive Sessions and Oracle Card Readings
Connecting with insights, guidance, and support for your life.
| | |
| --- | --- |
| Posted on August 2, 2021 at 6:30 PM | |
August Oracle Wisdom Guidance Reading 2021
Offerings
Each month we visit different messages and insights for the days ahead. They help us to reflect on where we have been, what we are experiencing in the present moment, and what we intend to create forward.
This card continues this in such a beautiful and powerful way. The stone structure called Stonehenge and many others around the world are a direct link to times past. They remind us of how people lived, how they connected to the universe, the stars, the moon, the sun, the "heavens", as well as the cycles of this planet of ours, even before they knew our shape and size.
Through these stones, knowledge and wisdom comes forward. They are the keepers of much information as well as much history. They encourage us to tell the stories but also to be aware of the stories we tell. They connect us to the planet and to the land in deep and ancient ways. They stand strong and invite us to do the same but they also invite us to shift our perspectives as needed for greater understanding, to reflect, and to gain valuable impressions.
The rainbow and the sun bring us the insight of the present immediate moment. A rainbow will be created through the moisture and light in their unique dance of a moment in time. One moment its colours are bright and glorious, the next they fade to bring new views and different sights. And on another day in another time after a storm they appear again in full arc bringing wonder wherever they are seen.
Through the stones, the sun also brings a moment in time to life as its rays hit an intended point and burst with the season arrived. These rays and that point achieved, those who witness it are guided in time and place, in history, present, as well as in plans forward. They work to show us where we are, how we honour that space, and what we are asked to remember for the next cycle to come. Do we prepare, do we plant, do we harvest, or do we celebrate? All is shown forward from that one moment.
In the Offerings, we are reminded that what we offer in the here and now creates our future. How we interact with our current moment, the places, the people, the situations, the natural world, and ourselves, all combine to create a horizon we may or may not be able to yet see. This moment gives us the opportunity to offer of ourselves. How we approach it is as strong as the stones, as wondrous as the rainbow, and as powerful as the sun.
No one teaching of the past sums it up. Lifetimes held in a ray of light, a drop of water, and a stone found. Each brings its messages and its value. It is all things in one breath, all things combined. And yet, all is new as well in each moment. This is why your offering is so incredibly profound. Whether it is a small act or one that directly impacts thousands, it is a creator in the present. Whether it is a silent step in the forest or a decision on the 80th floor of the city, something is offered – what will it be? What is its intended value? How does it reflect the past, represent the present, and speak to the future? Your offer is that important. Pause and breathe into this, it is always a good way to reset and to welcome intention before action.
May your August be full of portals where past, present, and future heal, combine, and create.
May your August be one of wonder through sights and experiences in incredible moments.
May your August offer you deep connection with your history and fulfilled joy in your present.
May your August allow you to know your intentions from the purest light and the deepest wisdom.
May your August be a time where you clearly know the value of what you offer and how best to do it.
With love and respect,
Sheila
and Great Spirit, Goddess, and Infinite Wisdom energies with the Native Spirit Oracle Cards.
The Native Spirit Oracle Cards are by Denise Linn and published by Hay House.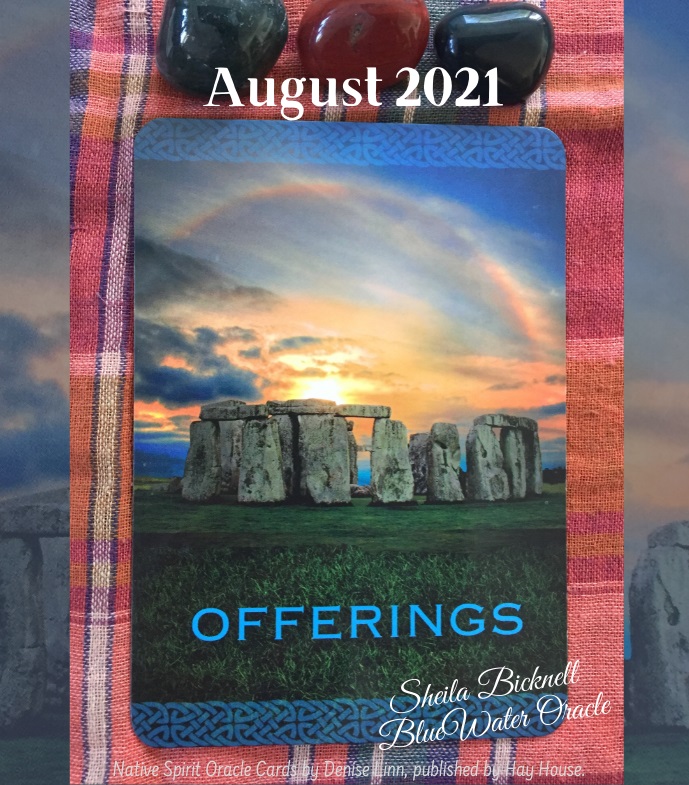 | | |
| --- | --- |
| Posted on July 3, 2021 at 4:35 PM | |
Gentleness and the Choices within Shapeshifting Clouds 
July Oracle Intuitive Wisdom Guidance Reading 2021
In this month a gentleness grows.
It is up to each one to choose it or to turn away. Life is full of change and challenge. Life is also full of wonder, heartbeats, magic, and majesty. Choose wisely and choose well within its chiming tones and whispering winds, shifting times and voices, and within the hands that make the day and guide the moments.
You are the gentleness flowed from the waterfall of life or you are the sharp rocks that some must fall against. Which do you choose?
Clouds – Shapeshifting
Incredible symbolism for this month of July 2021! The cloud can be a fluffy white cotton creation in the sky or it can be a powerful storm. It can be a windswept rain shower or a feather light essence. It can be welcome shade or frustrating cover. It can be an artist's palette of shape and form or it can be simply a result of moisture and weather high above.
One thing is for certain, clouds shift their shape in an ongoing basis. To look on them is to know change in every moment, fractions of seconds, as well as long created story lines. What happens locally is as essential to their make-up as what has occurred across the globe, all interconnected in their raison d'être and in their present existence.
To try to live separate from all others, creatures, people, plants, insects, weather, trees, water, etc. is to try to deny that the world works in a harmony and that each one is part of it. The shape you are currently in is a balancing act of all that has come before this moment and what you are presently experiencing. To try to live only in the past is as if looking upon the storm that has just flown through expecting it to bring a different result than it did. It shifts in the present only; it cannot shift in the past, except in the energy we carry from it.
What does that mean? It is a reference to being able to look upon a past experience, a past situation, with a different perspective than was present when it happened. Perhaps in that moment there was pain. With the new perspective that pain can be processed and healed or worked through. Perhaps in that moment there was uncertainty. With the new perspective, there is confidence to see what happened and how it impacts now, thus allowing a new action to be taken, a new choice. This is bringing different energy to shift the past based on how it is carried forward and lived in the present. It is power that can be embraced and can be utilized.
Every side of the cloud has benefit and consequence all wrapped up in that shifting version. While one person longs for rain, another desires sunlight for an event or for growth. While one desires calm and shade, another wishes for a storm to blow through and change the current atmosphere. This is balance and only compassion with the willingness for comprehension can allow it to flourish.
The need for survival is strong and is rooted deep. The priority of one over another is also a base feature. To rise above that and find how the winds bring a new shape, a new possibility, and new choices, is a keen vision with an open heart.
Where and why the heart may not be so open? Where and why compassion may not be there? These are questions with answers that span thousands of years, millions of lifetimes, and billions of stories. The true answer though is only in the shifts of the present. The one breath that is taken a bit deeper than a stress response. The one smile that is more genuine than cynical. The one hand reaching out to hold the door rather than letting it hit. The one act that feeds another's body and soul rather than contributing to their suffering. These are choices that shift as quickly as the clouds in the high winds. These are opportunities each one is presented with every day. These are what balances the harmony or the disconnect, asking to be noticed, observed, and learned so that the heart is represented and compassion grows.
What would you have yourself shift today? You do not need to go into the huge world events to be a part of a shift. The gentle rain creates an incredible impact in different but no less important ways than the hurricane. You may perceive it differently but that rain is so valuable when it is needed or too much if it continues too long. Harmony and balance tend to be something that gets judged rather than something that just is, in its own magical and wondrous way. What do you judge within yourself? Without that judgement, what harmony and balance would you bring to yourself and then let flow out from you into life around you?
The clouds above may not always have the same shape but it does not mean they are not just as important however they are. Be gentle with yourself for how your shape is currently and how it has changed and will change. Perhaps you desire the change… so imagine what it will be and shapeshift into it one wisp of breeze and raindrop at a time. And enjoy the ride, whether your cloud is a boat or a heart, a feather or an angel, a bear or a balloon, your cloud is always shifting and your choice is whether to fight against it or to see the majesty it shows you, in each breath.
With blessings through the shifting clouds,
Sheila
and the Divine Great Spirit Wisdom and the Earth Magic Oracle Cards.
The Earth Magic Oracle Cards are by Steven Farmer, published by Hay House.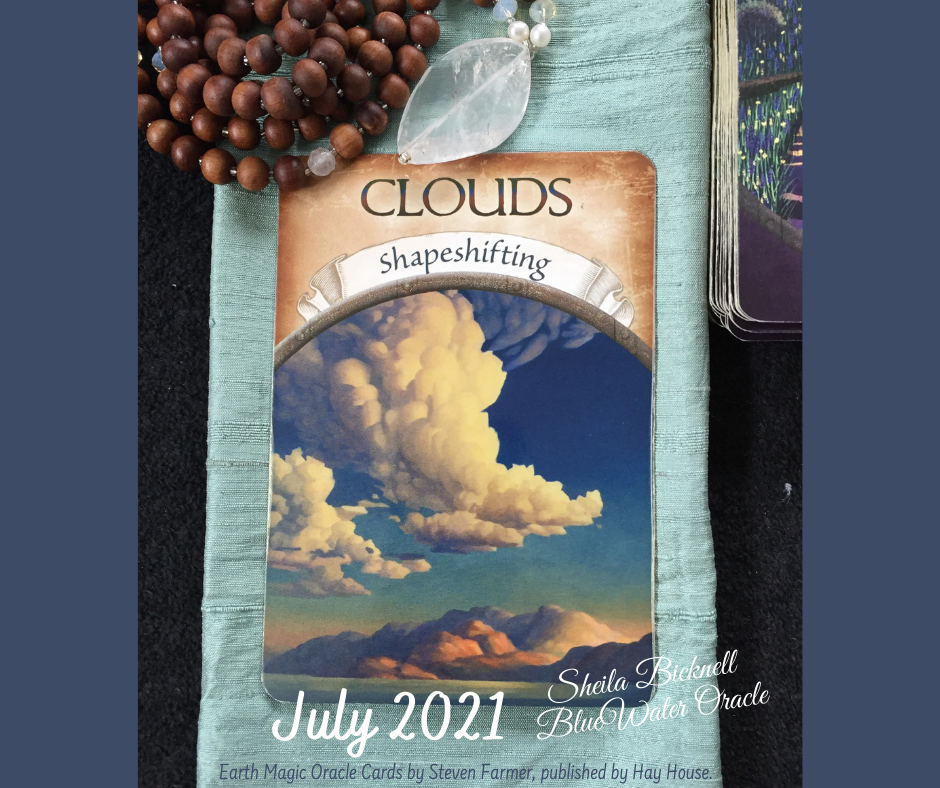 | | |
| --- | --- |
| Posted on June 1, 2021 at 3:55 PM | |
June Oracle Intuitive Guidance Reading 2021
The June month welcomes in a change of season with those of us in the North coming into our Summer. We change at the Solstice here which is June 20th late night so almost June 21st in the EDT time zone. Celebrating over two days sounds like a plan to me! We also welcome a solar eclipse on June 10th visible in northern regions which seems to add to the solar power for this month!
Ace of Pentacles
Welcome to a new start with full growth and connection. There are many opportunities within this month for you. You however, are invited to allow yourself to see what is available and what comes to you. You have the power to notice all these things as well as the power to choose to ignore them. Are you your best ally or are you filled with uncertainty that rules your days and especially your nights?
When the uncertainty catches up to you, take a moment to pause, perhaps a few moments! This is not so you remain immobile and stuck but rather to allow yourself to see what is available to you and which direction shows itself in the moment. Some people are skilled at racing forward, their decision capacity is quick and vibrant, and they adjust at high speed when needed, finding it challenging and exhilarating. Others are more skilled at moving in regular motion, adjusting as they go. They do not enjoy or resonate as much with the 90° turns so prefer to shift as they go, identifying their next best steps. Both are good methods when utilized by the person that best works that way. You didn't think you were all the same did you? Where's the fun in that?
If a big new opportunity were to present itself to you, what would you like it to be? You see, there are times when you will simply go with the flow, but there is also value in directing your flow and then going with it. The direction here is to allow yourself to understand what you would like as opportunity in your life. Maybe you think of it as vision, goals, or creations, or maybe opportunity is the term that best resonates. As we come into the midpoint of this year, re-identifying your visions for opportunity is a way to align you with your life path and to be able to see experiences for what they bring without being as frustrated with life's ebbing and flowing.
Your opportunity may be an improvement in a certain relationship. It may be a work project that comes your way. It could be finances coming into order and abundance. Your opportunity may be a greater connection with the Earthy world around you. It may be creating your best home environment. There are so many possibilities of how opportunity can come to you. Which one makes your heart sing? That if it were to come about soon, you would celebrate saying "This is exactly what I wanted!" Identify that opportunity and know it has started for you as you step forward with its energy. A reminder though that overly focusing on it can distract you from incredible opportunities that come along the way. Identifying one desire can be the doorway that opens to another - flow with them, notice, and live.
Mountain – Strength
Oh so much doubt! Why do you carry it around so tightly and in such a big bag? These strong and powerful mountains come in this month to remind you to be who you are. Much of the world has been created in recent times to remove what makes each individual incredible and of the highest value. This valuable individuality will be embraced again. In the meantime of this developing and flourishing, you can do this for yourself. Are you an artist at heart but have to work in another vein at the moment? This happens but this does not mean failure! It means adapting and adjusting to experience, live, and survive. While you are doing this, you can however find the ways that your artist blood can sing and your heart can be open! Whether 5 minutes a day or rejuvenating retreats, the closer you bring yourself into moments that thrive with your true self, the better you will feel all the time, in all of your adventures.
Lover of numbers or languages? Find how that speaks to you! Maybe you help others understand numbers in their lives or maybe you allow yourself to work with the numbers in quiet but profound solitude contributing in your own way. There are so many methods and opportunities; it is about identifying you within your life and the world.
For those leaders out there… Your strength can be to remember that leading others will satisfy you. The stronger you are, the more genuine and authentic you are, the greater your power of leadership. This is true power where others are lifted, where others can find their individuality, where those who need care receive it, and those who need direction receive it as well. The mountain does not pretend to be a tree. It is a mountain. It may give space for trees to grow or give shelter for them. It may understand the history that created it as well as acknowledging the new life upon itself and in the valleys below.
You are all mountains in your own ways. This month, remind yourself of those ways. How have you been the mountain? How have you been strong? Who are you at your core? No one has the right to take away your core, your light, or your spirit. No one can do it really, although, unfortunately some may try. You can embrace this Mountain Strength, by reinforcing the core of others as you go through your day. See them and give them a moment of being seen. It is a beautiful gift.
If you happen to come across those who have lost sight of their core or have had their core mined and damaged, picture them like a rickety swing bridge blowing in the wind. It will say that it is strong, perhaps even be harsh with it, but it is actually missing pieces and scared the wind will blow so strong that it will lose itself into the depths of the canyon. When you see it and acknowledge its core, its light, and its spirit, in whatever way comes to you, you add reinforcements to its structure and allow it to have moments once again of being a strong bridge, a valuable asset, and a place to view wonders from & with. Give yourself the same gift each and every day.
As the light is bright and full this season, let its golden rays show you so much in this world and within yourself. Take the views in from different vantage points and feel their energies building on your deep, strong, grounded, solid, but also flowing self.
With love and deep respect,
Sheila
and Divine Great Spirit Wisdom with the Gilded Tarot and the Earth Magic Oracle Cards.
The Gilded Tarot is by Ciro Marchetti and published by Llewellyn.
The Earth Magic Oracle Cards are by Steven Farmer and published by Hay House.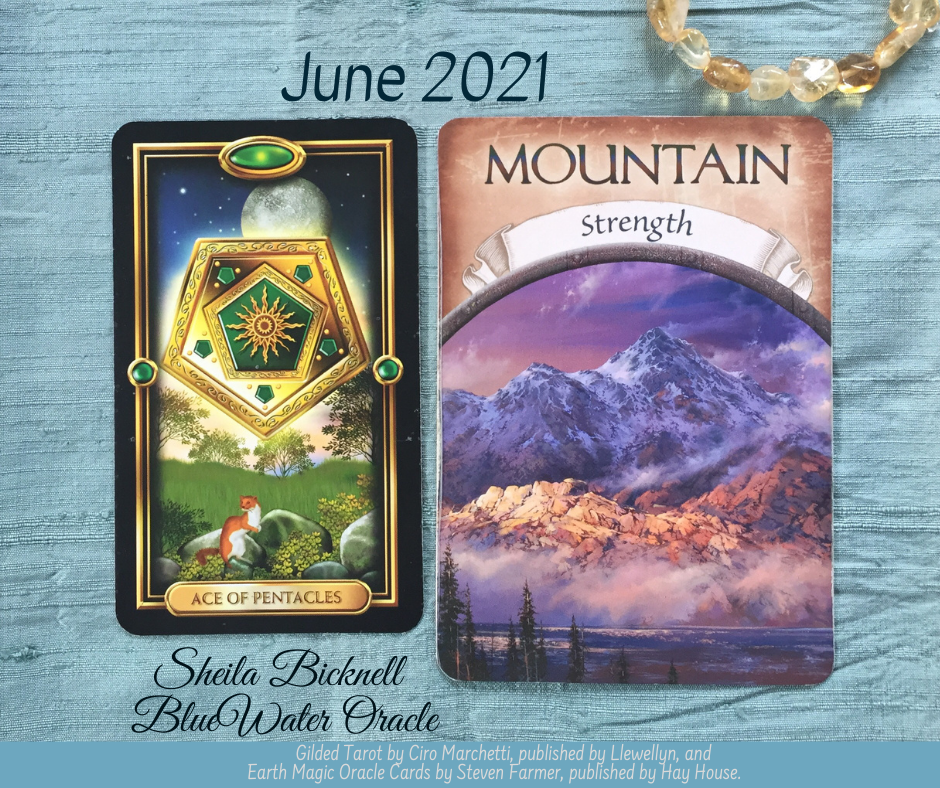 | | |
| --- | --- |
| Posted on April 1, 2021 at 3:00 PM | |
Intuitive Guidance for the month April 2021
With the season change, we find ourselves in the month of April. What will be in store for us to reflect on and be aware of, be open to and be working on? My sense is that there is big and important energy coming through at this time but that can mean very different things to different people. Give yourself a moment to reflect on what you sense for yourself for this month... Now, let's see with the intuitive guidance!
Rising Above
"I see only beauty and grace."
It is a fascinating journey working with oracle cards, to feel which deck and which card wants to come up for a reading and then to read into it and through it. This card has the energy of being both beautiful but also asking of us and inviting us, with a quite determined energy!
Through the challenges and the difficulties, there is the option to rise above. Regardless of what is happening and going on, there is the option to see beauty and grace. These insights do not make light of what might be very tough for someone or for others, not at all. The need for behaviours to survive, the need to take care of self and of loved ones each and every day continues and is very necessary. This reading is to say that WHILE that is going on, there is an option to rise above those tough intensities to allow yourself to see beauty, to see grace, and to behave as such in your actions.
People have choice all the time. Many rise above and keep doing so through incredible demands on them. Many behave in ways that raise others up at the same time. Does that action of raising others up take away from those doing that behaviour? Does the action of seeing beauty and grace, take away from someone? Can it? This is an important nuance here. Recognize that you can behave with grace, can see beauty, can raise others up as you raise up yourself, without ever jeopardizing or sacrificing yourself. Recognize and feel that. Read it again if you need to.
As you recognize this, can you then see that there really is no reason to ever beat someone down with words, feelings, or emotions? (nor physically of course!) Some people have the impression that when they push someone down, when they bully someone, or when they belittle someone, they gain and they get bigger & taller, but is it true? Are they really rising up or do they feel this falsely? In March, the guidance mentioned "When we are separate (from ourselves) we can blame too easily and complain too easily. When we are separate we can avoid too easily and numb too easily. When we are separate we wear false lenses that distort what we see as well as how we live." Perhaps those people have the false impression that being hostile to others gives them gain. Perhaps those people have the false impression that being kind or full of grace to others takes away from them or their valuable energy. Interesting isn't it? How do you see it and what do you encourage?
Through this card, you are given the option to Rise Above. Imagine that all the challenges, clutter, difficulties, frustrations, etc are like a low smoke. True smoke rises but this type falls, it gathers in the low places. This gives you the opportunity to Rise! Stand up, bring yourself up… and look over the smoke of battle. What do you see? What do you want to feel up there? What is up there for you? Can you breathe the fresh air, see the beauty and grace, and feel the freedom to not carry all of that heaviness with you in all of your interactions, whether in day-to-day stuff or the big occasional things? Can you allow that for yourself and invite that in? It might take some reminders sure. It may take moments where you realize you are in the battle fog and readjust, but that's alright! The lotus did not grow to bloom through the mud and up to the light in one day!
The beautiful plant on this card reminds about renewal and rebirth. The cycles of day and night contribute, the seasons contribute, the temperature and situations contribute, the cycles of life contribute – it is all tied in together. You will experience times of growth, times of grief, times of raising, times of learning, and so much more. Cycles that bring you to who you are now and where you are now. Through it all, you have choice on what you see and what you allow to smoke up your vision and your being.
What are you Rising Above today? What do you welcome to embrace the Rising Above in the near future? and What will you look to Rise through or into in the future? Oooh so vastly exciting and interesting!
Meanwhile you are invited to see beauty and to see grace. When you see it, embrace it! Bring it into your life and your being! From you it will then have means to flow out to others and into the world. Cycle and contribution. Rising Above in April.
with love,
Sheila
and Divine Infinite Wisdom with the Gateway Oracle Cards.
The Gateway Oracle Cards are by Denise Linn and published by Hay House.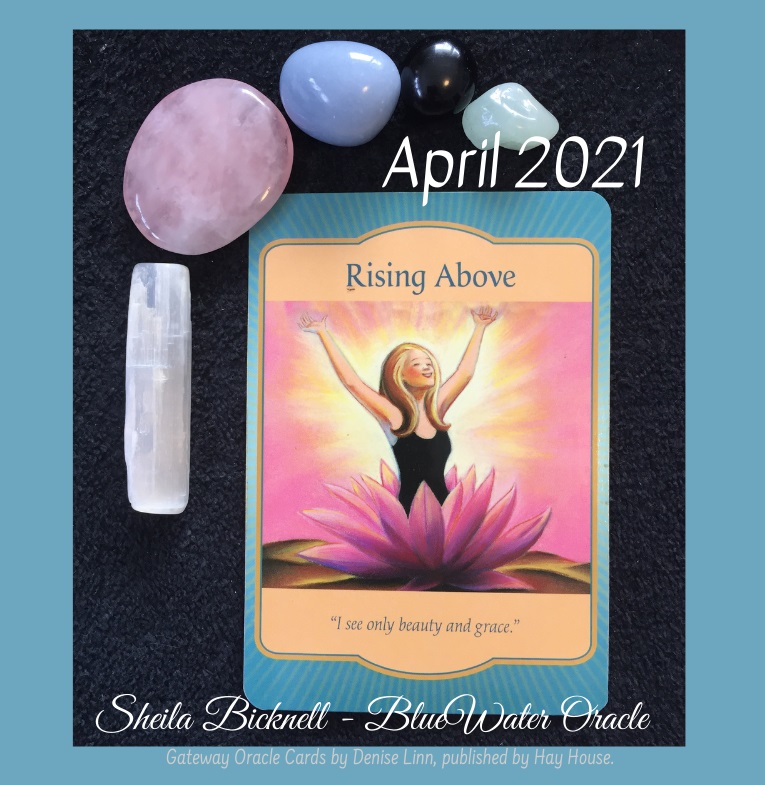 | | |
| --- | --- |
| Posted on March 1, 2021 at 11:30 AM | |
March Intuitive Wisdom Guidance for the Month 2021
Ceremony – Invocation
This month of March comes in with a sense of renewed vigor for all that is of highest value and importance. For each and every one, it is to identify and verify their own appreciation and deep requirements within this. These ask a sense of purpose about one's own life but also one's place in the greater All, the family, community, and the whole.
How do you know what is of highest value to you? How do you know what is of greatest importance? These may seem obvious on first glance but pause… give yourself a pause to breathe, to ask, and to listen. These may be life aspects you have been pondering and developing with for a long time or you may find it is as clear as crystal the moment you inquire. Pause the process and let it create behind the scenes in your life as well as in what comes to you, what is shown to you, and what your impressions & feeling are.
You may notice that you have highest value and greatest importance from the perspective of the brain working in the immediate day. What you need today. You may notice it from the brain that knows and recognizes the longer term. What you need in a longer duration. You may notice value and importance from your emotional self. Feeling what is needed for you. You may also notice it all from a greater perspective whether you call it from spirit or energy or the universe. And on and on. Together, combining and recognizing these, you gain a fullness of value and importance that shows you depths in the immediate as well as actions forward.
One way to find the highest value and greatest importance in the now and to create & live forward is to create ceremony. These are practices that come in for specific purpose. They can be done regularly or when they feel of most need. They can be of specific form or established in the moment. The point to remember is that they bring connection.
Does the human need to connect with something other than themselves? Often they do certainly, but is it really needed? Let this sink in as an inquiry. Do you need to connect in ceremony with something other than yourself? The answer for many is yes, the answer for others is no. An additional question to ponder for guidance on this is: What is connecting with yourself?
Think of yourself and all of the humans you know. How many are connected with themselves? Yes you all walk around with yourself, but how many are connected with themselves, to themselves? Ah this is something to bring your awareness into. What does it mean to connect with yourself? Could that be your most important ceremony?
As you connect with and get to know yourself, you are welcoming powerful insights. The whole of you: your body, your breath, your blood flow, your systems, your emotions, your intellect, your spirit, your loves, your challenges, your ideas, your beliefs, your values, your worth, your health, your blockages, your dreams, your fears, your You. All of you. When you truly come into connection with all of you, you will see yourself and the world in such amazing colour.
To come into connection with yourself, you will see the world within you. The ecosystems, the body systems, the belief systems, the needs, the desires, just to name a few. You will see how you are the same as other humans and vastly unique at the same time. You will see how you are completely different than a tree but also the same. And so on and so on. The world within you becomes the world around you and vice versa.
Your ceremony will be to know your own encyclopedia, university, and world, which then helps you to understand all the others. With that, you will bring options without judgement, rash actions, harsh words, or disconnected expectations. Those come out of walking separate from ourselves, from our true selves. When we are separate we can blame too easily and complain too easily. When we are separate we can avoid too easily and numb too easily. When we are separate we wear false lenses that distort what we see as well as how we live.
For those who ask about connecting with the "higher" or the divine and the necessity of it. The question response to reflect on would be: Do you think that connecting with all that makes up you so you better understand yourself giving you greater compassion for you own life and the lives of all around you, including all of the world you live in, is connecting with the divine of life?
The higher and the divine are within you, they are a part of you as they are a part of all things. When you invite in ceremony to connect with yourself, in whatever format you choose, to come into deep knowing of yourself, you invite in automatically all that is higher and divine. To always and only seek them outside of yourself, is to deny one aspect of the great existence.
Allow what is of highest value to you and of greatest importance to come through the ceremony of connecting with yourself, all of yourself. Through that, in all its ways, forms, and actions, you will bring forward what is truly most of value and what is honourably most important.
With deep connection and appreciation for all that you are,
Sheila
and divine masteries of wisdom energies with the Earth Magic Oracle Cards.
The Earth Magic Oracle Cards are by Steven Farmer and published by Hay House.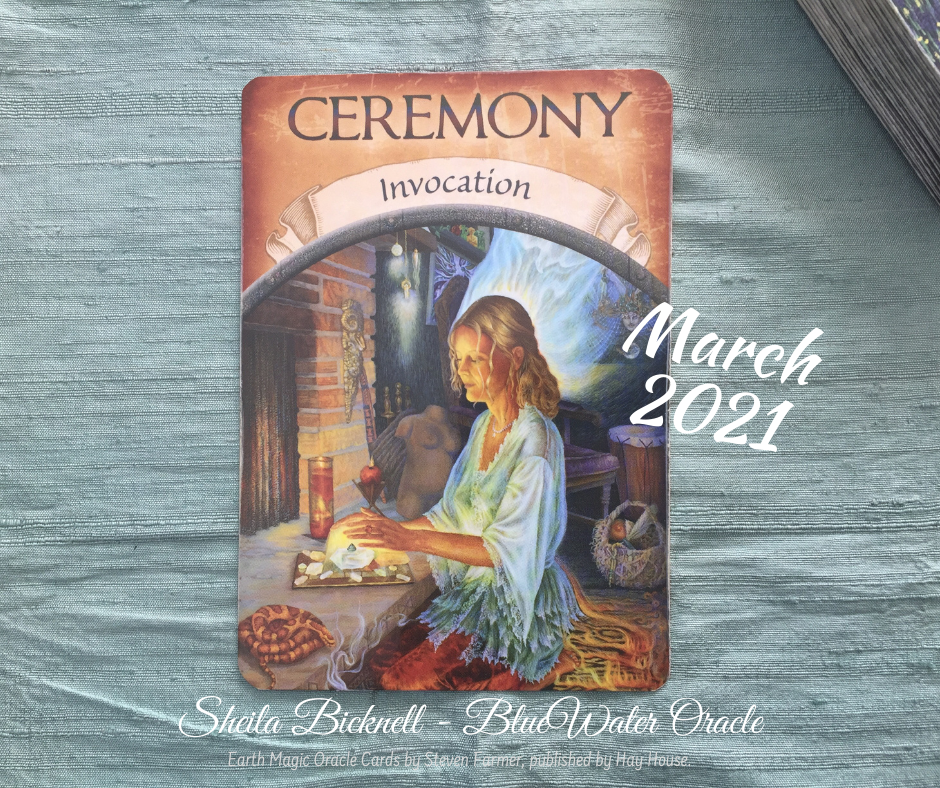 | | |
| --- | --- |
| Posted on February 2, 2021 at 12:30 AM | |
February Intuitive Guidance 2021
Flying Free
"I unfurl my wings and fly!"
What a beautiful card for our month of February, the second month of our calendar year.
This card comes in with a feeling to keep things simple this February, including the message of guidance. The simple message for this month is that you control the action of flying in freedom. You do this in cooperation with the community, the universe, spirit, and the elements you are living with and a part of.
How does that feel? What comes up to you as you read that guidance and come into connection with it?
It is simple but that does not mean it is obvious to everyone or easy for everyone. Noticing what comes up through it for you will be very important this month and more so at the beginning to help you out.
Think of how you see a bird in flight. They each have their specific wing formations and techniques and have to work with what is part of their body and their skills. They will have times to flap and bring in the action of flight and they will have times to soar or glide working with the air and the temperatures. You also have your own skills and natural body make up and then you can add other capacities and techniques to your living dance. Sometimes you will be in moments where you are riding the waves of the air, riding the bird if you like, as seen in this card. At other moments you will be in action to create movement, to create freedom in whatever way is most important to you. You may need to hold on to the bird at times to keep with the moment or you may be able to sit up, open your arms, and enjoy the ride.
In some ways it may seem as though freedom is only in the soaring and gliding phases but this is an illusion. Freedom is as much in the action and in the creation as in the peace of riding the currents. The flow is present in all aspect. You get the task of realizing and recognizing this. Finding your flow whether you are flapping your wings or surfing the skies is part of your guidance this month.
One way to help you do this is to bring in more simplicity. Take a look around you, wherever you are. What areas are showing themselves as simple for you and what areas are showing as complicated? Notice how each of them feels to you and notice how your body and brain respond to them. Where does freedom fly and flow, and where does it feel stuck and tied down?
Now, take a few deep breaths, putting your hands on your heart and on your belly. Breathe. As you continue to breathe, welcoming in the connection and communication of the body, mind, heart, gut, intuition, and spirit selves, notice where you feel simplicity and where you feel complication. In this case, complication is not in the intricacies of the natural body workings but of you as your complete person. Which parts bring in more drama and more complication? And why? What is one thing you can do, one flapping wing action if you like, to bring in the freedom of simplicity to those areas for yourself?
As you embark on anything today and this month, bring in the concepts of simplicity and freedom. Welcome in action when it feels simple to you, clear and concise, meaning it does not get weighed down with tons of complicated strings to dissect. If the complication comes in, take a step back and see what will be shown to you in a more simple direct way. This does not mean it will always feel easy, it may require effort but even in that there will be a simple freedom that flows. Think of a bird flapping to get to a specific height in the sky and then catching the wind for where it wants to go or how it wants to glide.
And if the flight catches the wind in enormous and wondrous ways, hold on and enjoy the ride. Yes it might bring some kind of nervous excitement or even bring up levels of fear for you but there will also be flow in action and inspiration whether you think you are in charge of it or not. These are the moments when you are reminded of the connection and interconnection with all that is within you and all around you: universe, energy, community, elements, and spirit. These reminders happen all the time but it is in the bigger moments when you feel you just need to hang on, that you will really know it. Allow yourself to notice and know the other times you can sense and see the connections through the simplicity, the flying free, and the freedom flow. Remember that you have action on your side as well, as it creates movement and freedom in whatever flight you need and desire right now.
With love, as simple as that,
Sheila
and Divine guidance with the Gateway Oracle Cards.
The Gateway Oracle Cards are by Denise Linn and published by Hay House.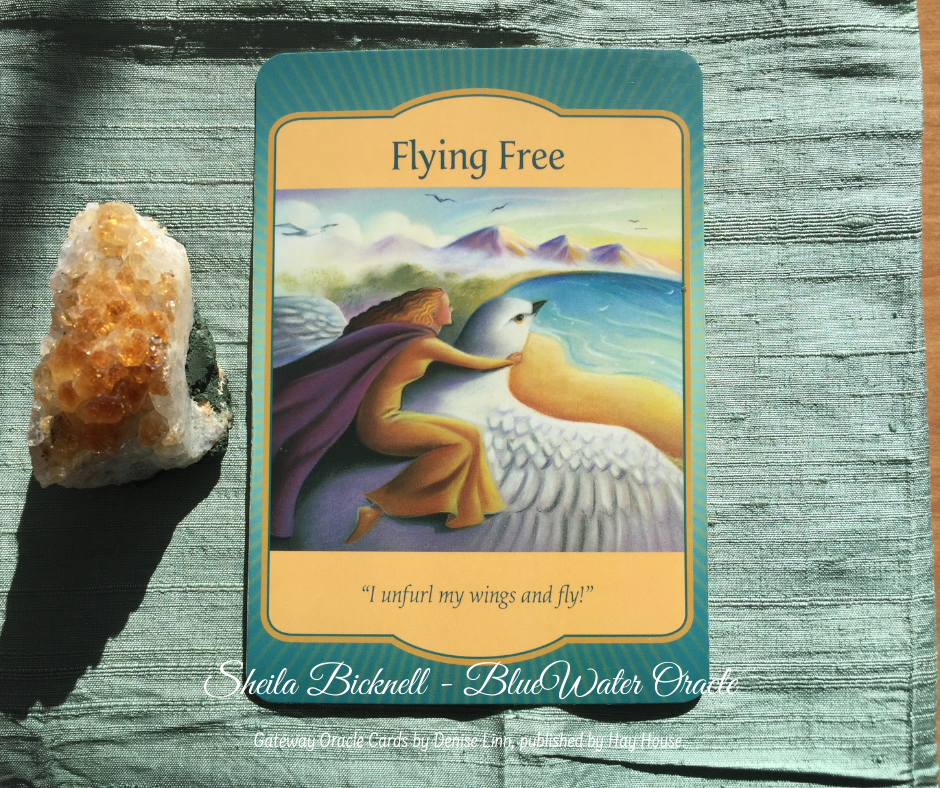 | | |
| --- | --- |
| Posted on January 2, 2021 at 2:40 PM | |
January Intuitive Guidance for the Month 2021
Welcome to a new month and a new year! The energy of the December Guidance with the Waterfall – Effortless card is still present and wanting to remind us of its important components. Although we shift months and years on the calendar, there are so many more parts of it all from seasons to cycles, from moon, sun, and planetary shifts and dances. This month starts, as I shuffle the cards, with a dual sense of depth and importance as well as one of enjoying life and finding our way through appreciation of blessings however they show themselves to us.
Eagle – Communion
This month, come into communion with what is of most importance for you and your life. There are so many aspects and components that make up a life, especially for those offered the riches of choice and variety. Those options are so wonderful to have but if not managed and viewed efficiently, may become their own source of distraction and disharmony.
Within all of the aspects of life that show themselves to you, some will be of necessity for your life or for the lives of those close to you. Others will be enjoyable additions to your existence. However, some may seem as if they are truly important, as if they are "must" items. The option to see for yourself whether they really are essential, whether life must have them to continue in its best way for you, is something to embrace this month. Simplifying on one hand may bring depths and incredible connections on the other. More complicated does not mean more vibrant or more deeply satisfying.
This deep satisfaction will take on various forms for different individuals and regions. You are not all the same, nor do you live in areas where the exact same requirements exist. Someone where three quarters of the year is in frozen snowy clarity does not have the exact same format of needs as someone who lives in the height of the sun's activity or the heart of the jungle. They have things in common yes, but how they arrive at satisfying their basic needs will be different. Somehow this seems odd for humans to realize, as if it is such an obvious thing that it has been forgotten, likely part of the complexity that has become developed in many regions. To remind yourself, look at the creatures native to your region, look at how they have adapted over millennia. Are they all the same across the areas? Or is it more that there are similarities that then become finely tuned for the needs of the region and the species. Colours, body coverings, feeding techniques and food choices, dens and shelter, etc. Such a splendour of variety that many humans have completely forgotten their value and teaching.
Beyond the differences of location, there then apply the uniqueness of individuals. What is communion and communication for one will be different than for another. Some aspects are common across the board of the species but others that provide deep satisfaction remain as unique as the eyes they live with, and should be remembered so. Worth is established in the basics of needs. The more they are satisfied, the more the uniqueness then comes to play. With so many humans, it is a wondrous and important thing to have the uniqueness. Otherwise resources would be more greatly challenged and priorities would be shifted to the less vital to serve one group over another. Or does that already happen? Establish the basic needs for one and all, then enjoy the uniqueness that can and does blossom from there through different brains, hands, hearts, intellects, skills, emotions, intuitiveness, and capacities. Uniqueness that creates and allows biodiversity within a species, once the basic needs of the species is tended to, in balance with biodiversity of other greatly needed species.
When you give yourself the opportunity to notice what is truly essential to you, you may find that it frees up space and energy for exploring what deep satisfaction really means for you. Who does it mean you connect with, yourself, others, the world? What does it mean you heal? How is peace found for you? Where do you choose to walk? How do you choose to act? What do you dream of and welcome in to your life? Commune with yourself to find this satisfaction. Hope and encourage that others do the same. But mind, be truthful and commune with integrity. Greed through negative selfishness and nastiness is unlikely to give satisfaction. Note your own actions and sensations to see where you are currently connected with satisfaction. Commune deep within as well as with what naturally comes to you and shows you wisdom from the world and life around you.
Peace Pipe
Does that deep satisfaction through truth and integrity bring about inner peace? Does inner peace bring about peace shown in outward forms? Are Peace and Balance intimately connected?
These two cards bless us with the deep reminder around and about Peace. To hold peace close to you is to get to know yourself in vital ways. You have this option each and every day in each and every situation. Even in what may seem like a necessary battle, is the option to hold peace close to you and to walk tall with it. Like the calm before, in the heart centre of, and after a storm, peace is always there. You may need to act to survive through the storm or you may need to take shelter. You may be asked to help yourself or to help another. Perhaps the storm is affecting a huge group of people or an entire region. You may be equipped to help. As you do this, as the storm rages on, your inner peace is always there and it will beautifully dance with any calm that arrives or returns, when it does.
The feather is part of the bird. For them a necessity for temperature, water management, mating appeal, and flight, just to name a few. Once it leaves the bird, it becomes a tool and resource for others. Does it remain essential? In different ways perhaps. If it is to warm your nest or your coat it may be an essential need. If it is to decorate, it may be for joy and symbolism. If it is a symbol of peace on the pipe or that falls from the sky, it may be essential in a different way to food or shelter, but perhaps all the more important to a species and region filled with choices but also with struggles. Peace.
Where do life and peace intersect? Where do they really need each other for the human? Where do they ask to be present in balance, and ask all of the world, natural and human-made, to balance life with peace? You are asked to reflect and observe this for yourself this month. You carry a peace pipe with you in each step you take, each word you utter, and each breath that works with your body. You carry it but only you can choose to use it, to let its essence of peace enter your every moment. Through you, deep peace, connection, communion, and light come into balance with all else that makes up life, all that is essential for life to continue and for each life to thrive with deep satisfaction.
How will you thrive? Essential needs. Communion with self. Communion with life and others. Deep satisfaction. Peace.
The vastness and the adventure of life may seem to be so very much. Bring in the peace and deep connection to help align you with vision and to find joy as you play with each step.
Peace-filled blessings,
Sheila
and the Divine Wisdom of All Spirit & Connection with the Earth Magic Oracle Cards and the Native Spirit Oracle Cards.
The Earth Magic Oracle Cards are by Steven Farmer, and the Native Spirit Oracle Cards are by Denise Linn, both published by Hay House.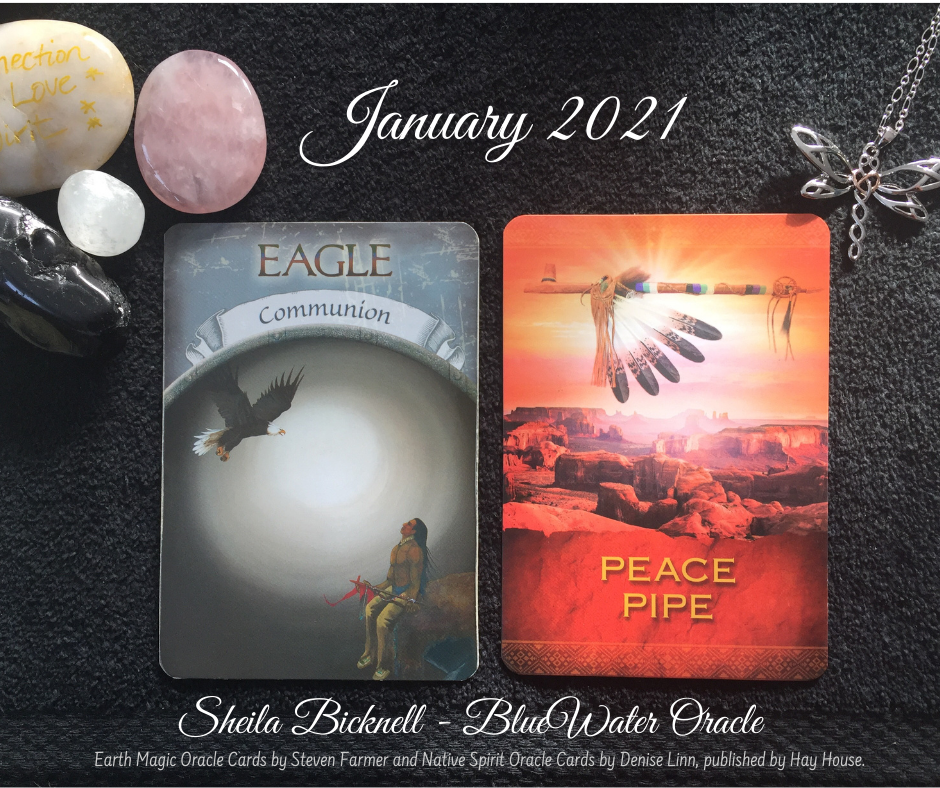 | | |
| --- | --- |
| Posted on November 30, 2020 at 6:45 PM | |
Guidance for the month December 2020
As I sit on this Full Moon day, before we start into December, the month's intuitive reading decided to come through. The idea of vision, setting vision for our lives, for our projects, for work, and for community have been very strong for me recently. They were represented in guidance at the start of this year and are utilizing the energy of the full moon today as we head into this solstice season and the new year to come. Let's see what this month brings us…
Waterfall – Effortless
One of my favourite cards in the decks I use. Rich forest, strong mountains, trees, ancient rocks, and water flowing over layers. Effortlessness in action, effortlessness in flow, while understanding the balance of activity and just going with it all.
This month is a culmination of so many factors coming together. Many people will only see one or two and may likely not see how they intersect and evolve together. This does not mean that they cannot. Even as this is being written it is extending the invitation to see more of the factors, to see the lines intersecting, to see the balance, to see the flow, to see their own place and space, and their own actions as they happen. It is an invitation to see the connections in all their wonder and magnificence.
As this invitation is extended, it adds to it the request to leave behind the expectations that often come. So many times, each person is full of such expectations that life can never measure up. Disappointment after disappointment fills their energy and their perception. Their cups become so empty and their glasses become filtered in ways that do not wipe off with an easy cloth.
The coming together, the invitation to connect, and the releasing of expectations… how does the mere mortal play in all of this?
They start with the flow of the moment. Identifying what is working and what is not working, as far as they see it, for their own survival and wellness. They extend this momentary flow out beyond the immediate perception, into their energy. This gives new perspective and this gives access to connection they did not realize is needed or is present already. Rather than expecting it, they find it. Rather than expecting solutions where the brain spends all of its time searching, they find the solutions and options that are right here already, and access them.
The frustration of what others are seeing and not seeing is also an expectation. How to release what you hope others will understand and act upon? Start with yourself. Where are your expectations? Look at how you are living versus what you thought was going to be. Compare and come into the present moment. Learn and come into the present moment. Release and then come into the present moment. And hope others do the same.
When their hurt and fear is so strong that they can only reach out in hostility and anger, in acts that harm and jeopardize the wellness of others, stand in your space with calm strength, showing them another way. You can yell and scream and dictate and expect all you want… and then, at some point, you will realize that it is like doing that to a mirror… you are the one who lives that experience, you are the one who creates it; it is from your own expectation, hurt, and fear that you want to lash out.
What if you were cocooned in a blanket of safety and compassion? What if you knew that when you needed food it arrived, when you needed shelter from the cold it was there for you, and when you needed assistance, it arrived as easily as you breathed into the thought? What if…
Would those feel better to you? Would they allow healing where it is needed, would the hurt dissipate gradually replaced by… by what? By love? By compassion? By connection? By wholeness?
Start there, start in that what if, in the moment, and let it soak in like a well germinated and fertilized seed. Give it room in the moment to grow and flourish. Know that it will blossom and expand.
As each of these points and actions seems to take effort, take your breath into your body. Feel as it nourishes you. Let the organs and systems of your being have your attention, even just for a moment, with gratitude for their workings, with gratitude for what they allow in you and you because of them. Let the effort start to become one of present time and in flow. The more and more this happens, the more effortless it will feel and become.
Will you have times when you need to swim, when the water you are in asks you to take effort to stay high enough to breathe? Yes. Yes there will be those times. They are part of the flow and the wild adventure of your existence. At other times, the flow will seem so utterly effortless that you will wonder how your feet are still on the ground and how things are coming to you as help and joy so easily and freely.
And there will be times when you are floating in the status quo, in the present situation or circumstance, in the challenge or in the wonderful, seemingly stopped and not sure whether you are pooling or falling. You may feel unable to see where the waterfall will bring you next or if it is even moving. These times may exist to bring you a pause, to wait for something to line up, to wait for a connection, for a moment of learning or growth, or simply to ask you to stop and smell the roses, to notice the joy, to feel the fun, to be fully present in the sadness, whatever is in the depth of the here and now. And then, when that pause has run its course, you will notice you are floating in flow again, walking with purpose, acting with living moments, and seemingly journeying once again, effort without effort.
So when you are drawn to notice this month, where things are not working for the higher good, where people are struggling, where they are wearing their hurt and their fear on their sleeves, or where there is nakedness when that is considered unacceptable, wild when it is considered unnatural, start with you. What that flows into you, what that connects you with, what that leads you to, what that asks you to act on, what that asks you to respond with kindness and compassion, and what that asks you to respond in calm strength.
You are a starting point at all times. You may not see how all the dots connect to you and your life but you are invited to know it is happening and to know you have a place within it because you are so full of value, worth, connection, energy, and love! You are so full of these things that you often forget. Lead yourself to it, let yourself be led, whether it is via a child's smile, a sense of purpose, a candle, a star, or a deep love moment with the universe, embrace this effortless waterfall, there is so much to see and experience along the way. The best views and journey moments, ever.
With deep love for you in this present moment,
Sheila
and Divine Infinite Spirit Wisdom with the Earth Magic Oracle Cards.
The Earth Magic Oracle Cards are by Steven Farmer and published by Hay House.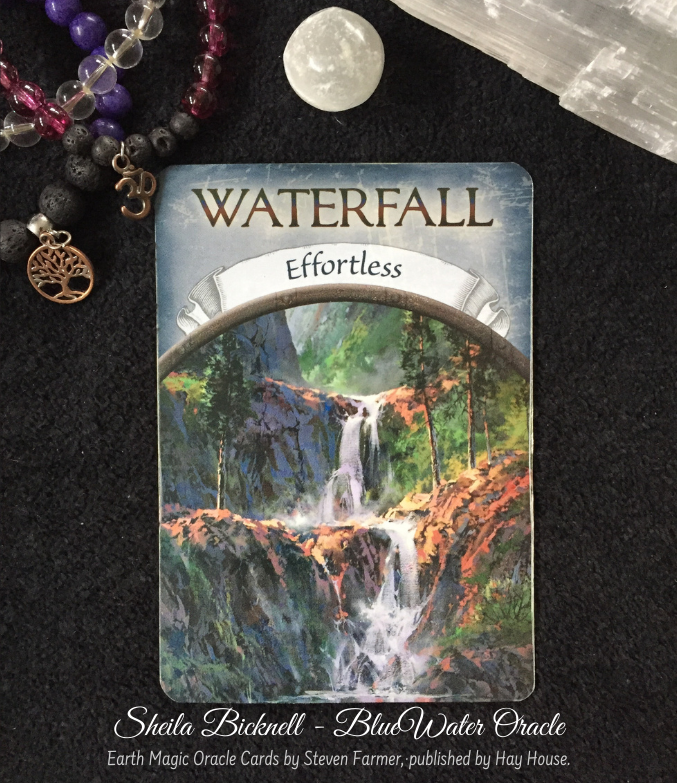 | | |
| --- | --- |
| Posted on November 2, 2020 at 3:05 PM | |
Intuitive Guidance for the month November 2020
Embarking on an Adventure
"I savor the wonders of the world."
I love it when this happens: During my live online reading session last Friday, leading into the Halloween, Samhain, and Full Moon weekend, we had this card come up for general reading at the start. It followed the Wind - Activation card. Then I realize that Saturday we had the Wind – Activation card come up during my online group event as well! They were really giving us a preview of guidance to come…
Adventure is a fundamental part of each day of each life. How do you define adventure in your life? For some people the concept of adventure is something they go away to experience. They go on an adventure. They travel to an adventurous location or to have an adventurous experience. This is heightening something for them, satisfying something within, bringing them addition and expansion in their life.
When the daily life is told and recounted with the adventurous spirit, it shifts from being what might be considered drudgery by some, to being full of storylines, characters, situations, learning, and experiencing. There are those who lead themselves off into the world to escape the daily grind, others who choose to live in adventure mode all the time, and those who embrace the adventure in whatever way life brings it to them.
Each individual will approach adventure from their own perspective. The journey of soul, past lives, ancestry, childhood, energy, location, family, close contacts, and daily activities is all unique to each person. Why would any community be created to expect all to live in the same way and to see aspects from the same palette? Each plays a role that only they can play; only they can create and live. When they are embraced they can blossom in their own roles and skills. When others are encouraged to embrace the uniqueness of their neighbours and see what they provide to the whole, unity and equity are celebrated.
When one is immediately put higher than another because of location, wealth, opportunity, size, colour, gender, skills, or interests, it is the whole that is denied and suffers, even if the perception is that one rises up higher and gets "advanced". Some of the so-called "wonders of the world" can be incredible ways to see and acknowledge history and the journey of man in the world. They can also be a way to perceive that one item or one location is immediately better or more profound than another.
Is a pyramid really more incredible than the mud and reed home a family lives in? Is a great wall really more valuable than the natural deep forest? Is a tower really more masterful than the cheetah? Is a skyscraper really more important than the bicycle used the get to town? Perception, understanding, and compassion help to comprehend value in different ways. They also help to enjoy what is fascinating about one thing without taking away from the value of another.
A family of leaders may be gifted at leading, delegating, and creating, but are they also able to grow food, clean water, build houses, and understand the dynamics of fulfilling relationships? They may have a carpenter in their family with skills others cannot replicate. Perhaps an artist that shows the world in new ways and brings colour and perspective of sight. Do they see them in these ways or are they funneled into leadership roles? This family may need to welcome in someone who can listen and mediate between the needs of the whole unit, bringing explanation and interpretation between the pieces, skills that perhaps they do not have within their own home population. And perhaps they will need to walk to get to know their neighbour who understands the land and its creatures, who creates food that lasts for generations, fills and nourishes the people as well as the natural world. Who is leading who?
Without all the others, the leaders are just a group of people standing together. They may wonder where to get their meal or how to shelter from the cold. They may not understand the resources that will help them heal if they should trip over themselves and need help. Could they learn? Certainly. Would it be as efficient as aligning with someone who has those skills, interests, and methodologies easily in their being? Probably no.
Acknowledging the adventure each is on welcomes a point of view that inspires life, expands life, allows the cycles of life to be experienced without judgement of value or expectation of skills beyond what is within, this time around. The one who climbs the mountain may be seen as a greater adventurer but are they really when compared to the one who cares for a household of partner and children? What if they were all noticed and embraced for the adventure in the way they see it and experience it, bringing their skills and sharing. The climber showing the family a view they might not otherwise see or know about, expanding imagination and understanding of the world, and the caregiver bringing nurturing, companionship, and a meal to the climber who may otherwise feel utterly alone when back among the humans.
Embarking on your adventure may be finding your next meal or it may be creating a business model that impacts millions of people. Neither presents with greater value than the other, simply different perspectives. If your business model did not go as planned, could you not find yourself in search of your next meal? If while finding your next meal, could you not have great inspiration and meet someone who helps you achieve creation and "success" never worrying about food abundance again? The distance between the adventures is not really so great when we are invited to and choose to see.
Start by seeing the wonders in your own life, however they show themselves. Allow the daily wonders to play with the dream wonders, the day-to-day adventures to bring wonders while others are created and inspired. Then expand to see the wonders in another, how they approach life, where they are skilled in ways you are not, and where they have adventures you would like to learn about or support. And when, in the event it happens, you see that someone's wonder is being belittled or taken for granted by another's adventure, remind people of their wonder and lead towards unique adventures that connect the whole, leaving no one behind or forgotten.
May you experience wonders of the world in all of your adventures today and all days.
May you see and feel the wonder within today and all days.
With love,
Sheila
and the Great Divine, guiding with the Gateway Oracle Cards.
 I invite you to your own personal Intuitive Wisdom & Guidance Consultation experience. We will explore and enhance your adventure and wonders together. [email protected]
The Gateway Oracle Cards are by Denise Linn, published by Hay House.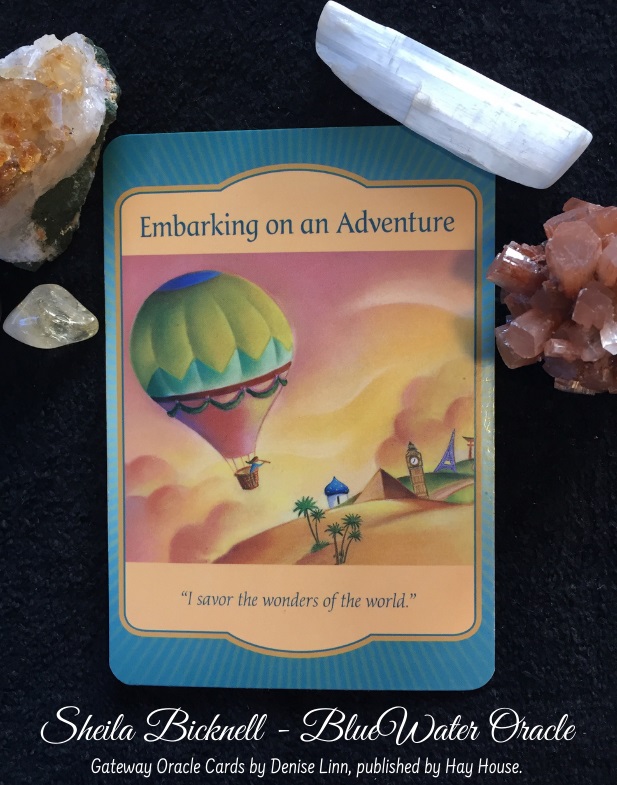 | | |
| --- | --- |
| Posted on October 1, 2020 at 1:05 PM | |
October guidance for the month 2020
This October comes with double Full Moon energy. We start today on the first of the month with a Full Moon, have the New Moon midmonth on the 16th and then lead forward out of the month with a Full Moon on the 31st being Halloween and Samhain. These are the dates and timing in my region, it may vary slightly depending on where you are in the world! But the moon is always there for us, in its stages and through its cycle reminding us of our own phases and cycles with patient watchfulness inviting us to be patient with ourselves as we reflect, receive, learn, and step forward.
Throughout much of September, I have felt that this October will be a big month. This may come in intensity or in more vital shifts that many of us may experience. You may embrace it as just another series of days or you may find that it has particular energy for you to notice and to work with. Let's see what our reading will bring to guide us.
Grandmother Earth
This is a card I have seen often over the last few years. It must be one of the cards that pulls most often from this deck. How special and how important is that?! Grandmother Earth brings a depth and fullness to our connection with our heritage, our place in this life, and our connection with Mother Earth energy. For if there is a mother, there is automatically a grandmother.
What does this grandmother bring to you today? Let yourself stand on this open land, surrounded by blooming flowers, in the light of the sun's rays, with clouds showing shifts and colours as variable and wondrous as every moment. The depth of her message is the depth of your own being. You are asked to balance in every moment and in every phase of your life. You balance all the time, whether it is balancing the day to day for survival and for nourishment, balancing for personal awareness and understanding, balancing for helping and serving others, balancing for wellness, balancing with the expectations and creations others have, or balancing for your personal journey with development, learning, and respect.
In this balancing, you may find times when it does not feel as though it is going very well; when you feel that you would be tipping over if you were created that way. In the depth of your being you have answers. You have answers for your own needs and you have answers for the needs of others. The respect is where you balance between understanding the answers you have and bringing them forward into words and deeds.
Remind yourself that only asking and repetitively asking may not allow space and energy to listen and receive what wants to come up in you, through you, and to you. This may need some moments of quiet. It may also need you to tune inwards to sense and participate. Asking or questioning in balance with hearing and receiving allows you to feel more centred and connected.
In this connection with the grandmother, she brings you such deep and wondrous roots. You may not even know it is possible to be with such roots. They run from the surface of the earth deeply into the core, the fiery energy that fuels and flames as well as the rocks and stones that hold deeply in place with support and structure. These roots also run into history, connecting time and people in ways that may not seem realistic but are present. Through these connections, they also reach out to others bringing awareness and insights. The roots have the capacity to be above the surface of the land, with the air and moisture, as they also are in energy systems. You are within and have energy systems too. These can be enhanced, deepened, and helped by these roots. You may sense them in the energy or you can work with your hands and fingers to help visualize and play with the roots. Moving your arms around you and spreading your fingers, you can visualize the roots extending out to connect with the earth, with all of its components, and in all of its ways.
The Elder energy of this Grandmother is not to be underestimated. Her wisdom and knowing spans more than most can even imagine. And yet her respect of all that are a part of her world and her desire to connect with us, is as deep as the universes are vast. Allow and fill yourself with equivalent deep respect and desire to connect with yourself, and you will find the weight of the world is lifted from your shoulders and held by her roots and strength.
Island – Solitude
With the awareness of the balance and the deep roots, the power of the solitude on the rocky island is present. The dark clouds balance with the appearance of light. The calm of the water balances with the waves that come with the stormy winds. And you stand strong, in full blossom. You may find that you feel alone, that you feel you are the only one on the island. The reality is that you may have moments when you feel alone when you are not in connection with other people as much or as often. But you are never truly alone. As you stand up straight, feeling the breeze, spending time in the light and the dark, you can stand knowing all that surrounds you. The moving clouds, the rippling waters, the ancient being of the stones, the living grasses, mosses, and smaller creatures. At times you will be the small one as others gather around you. At other times you will be surrounded by humans of all purposes and make-ups. And then you may be brought to really notice all that exists when you stand still, whether they are still or not, as each has their roles and their place in the bigger earth picture.
So the solitude that is perceived is not really present. But it is in the power of each to reduce the solitude of another. Some crave it, some fear it, some have too much of it, some nurture it in growth, and others have yet to find its balance. As the water of this card balances with the earth of the previous card, the emotions and the intuitive knowing balances with the physical needs and the physical limitations that get put out and on by people. Each act, each sensing of another, each moment of truth in respect, releases unhealthy solitude towards family, community, balance, and connection.
The big wake-up waves of the September Tsunami card make way for the depth and intensity of these calm reflective waters. Not to be underestimated as they can storm up quickly, they bring the opportunity to feel into your being, to notice what is within you and around you, and to connect with your knowing.
May you balance in the earth and the water, the fire and the air.
May you balance in your history and your present.
May you balance in the seen and the unseen.
May you balance in the respect and the deep roots that hold you.
With love and deep appreciation for all that you are and all that you bring,
Sheila
in connection with Divine Infinite Wisdom and Spirit Team energy with the Native Spirit Oracle Cards and the Earth Magic Oracle Cards.
The Native Spirit Oracle Cards are by Denise Linn and the Earth Magic Oracle Cards are by Steven Farmer, both published by Hay House.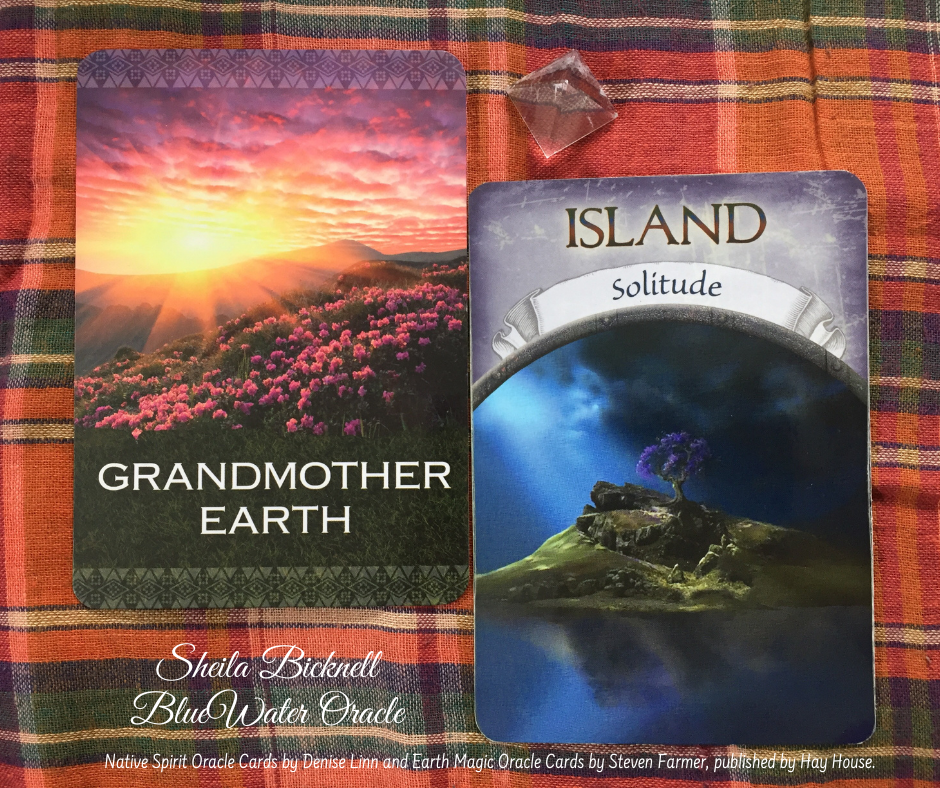 0

/