Oracle Intuitive Sessions and Oracle Card Readings
Connecting with insights, guidance, and support for your life.
| | |
| --- | --- |
| Posted on January 18, 2023 at 12:25 AM | |
January card themes & guidance - Year Wheel 2023 Oracle Intuitive Card Reading - Notes from the video reading! I thought I would give myself a reminder and you too
Which parts resonate the most for you?
10 of Cups – Robin Wood Tarot
Partnership with family.
Success, home – a place to live.
Been through the storms, now the rainbow and light coming through the clouds.
Framed image of life.
2023 brings potential for a lot of different energy shifting and breakthroughs, through the tunnel of cloud. It brings gathering and togetherness.
Cups – emotions, relationships: Feeling your feelings in this year. They are part of who you are. Ups and downs, flow in and out.
Abundance – What am I filling my cups with?
   Relationships – Am I taking care of those cups, nurturing them? Which ones am I focusing on, filling my cups with or being drained by?
Accomplishment – and then what comes next?
  Look at all your accomplishments, successes, and victories in previous years.
  Perhaps there was a lot to do, to survive, to get through for the family together, and to keep the family going.
  What you walked through, how you made it through, how you got through, what happened, and what you learned…
  Do this all January, take the moments to do this… because January is the wrapping up of things with the 10 card and shifting or breaking through to know what you are filling these cups with, what the cups represent going into February.
Ask yourself this:
  If I were to frame my life in a picture, what would I put in it? What would I include? What would be in the picture of my life?
  There is a summary of the journey so far that can be done and then looking ahead.
Then… Notice:
What brings you joy?
What are you happy about?
What fills you with love?
What brings you into feeling love of life?
What are you grateful for and thankful for?
… in this moment.
Would you like to see the reading as it happened? Watch the video version here, starting at 5:13 for January or watch the whole video for a full sense of the year! https://youtu.be/-hS4_X7zULA
Sheila
Reading by Sheila Bicknell – BlueWater Oracle
The January card is from the Robin Wood Tarot published by Llewellyn.
#January2023 #yearwheel #yearreading #newyear2023 #10ofcups #Robinwood #tarotcards #januarycard #oracleintuitive #OracleWisdom #intuitiveguidance #oraclereading #intuitivereading #wakethewisdom #lifeguidance #feelyourfeelings #abundance #relationshipsmatter #LifeVision #accomplishment #vaudreuildorion #montrealcanada #bluewateroracle #sheilabicknell #consulttheoracle #aligning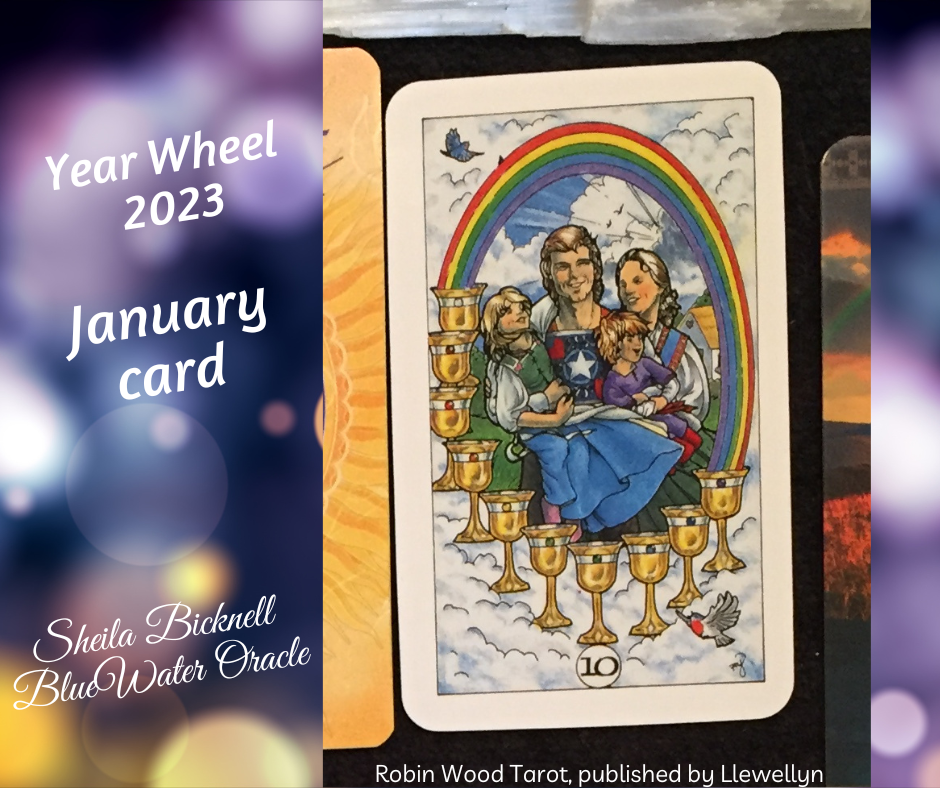 | | |
| --- | --- |
| Posted on October 3, 2022 at 6:05 PM | |
Each Monday I pull a card or more and bring forward a guidance reading for my membership group the Oracle Cove. Earlier today as I was waking up, I felt there would be an October card and message to share for this month so I made the mental note to get to that today. Well, as soon as I pulled this card for the Cove this afternoon and started to write about it with the reading, I knew it was our October card and it wanted to be shared wider.
I want to thank the members of my Oracle Cove for having such amazing energy that helps me bring these types of messages and insights each week. Their openness and support of my work, as we learn and grow together through readings, sharing, reflecting, and conversations, means so very much. I know it and the cards know it too. This month, you get to benefit as well.
Oracle Cove guidance for the week October 3rd 2022
Ancestors – Generations
This is a very powerful card (yes I know they all are really!) for this time of year. I pulled this card as one of the general reading cards during my Live reading session on Friday evening on my BlueWater Oracle Page. It was in the context of me discussing the National Truth and Reconciliation Day which was September 30th here in Canada. It is a time to put extra focus on our history here in this country with how indigenous people were treated and continue to be, especially the children who were forcibly removed from their homes and culture, many of whom never returned. That part of the conversation received the Gratitude card first, reminding us to be grateful for all we have in our lives and for being able & invited to have these deep and very necessary conversations.
From that point of Gratitude, I was brought into being grateful for our homes, especially when so many are going through terrible loss and challenge through extreme weather situations over the last little while. Then the Ancestors – Generations card came out. To me, it was tying the indigenous journey discussion, with current truth, with reconciling the need for the generations and ancestors in the conversations and remembrances, with how Mother Earth speaks to us sometimes in very intense ways.
And here today, we get this card again. All that previous subject matter is still important, is always important. We now connect it in with this month, October, when in the northern hemisphere we experience the Fall season as well as the honouring and celebrations around Halloween, All Soul's, or Samhain – whatever you prefer to call the end of October and early November. A time when it is considered that the veil thins, connecting with all things "Spirit" is invited more & more, and the communing is generally thought to be easier.
Recognizing the journeys, the history, and the stories of our family lines and our generations comes in strongly. We are invited with this card this week, as we are in the Autumnal season of releasing, to notice and recognize the family cycles and patterns that we have already let go of and those we are currently being invited to release. We can see them for how they might have been necessary at one point in history but perhaps are no longer needed or desirable. We can recognize how they can now or need to now change and reflect what is desirable and what is current truth. We can see beyond the drama and the tales to what stories are needed for learning, and to learn from them and with them, passing them on to the next generations so they know and remember too.
We can feel the wisdom of those who have passed on before us. Perhaps they had the wisdom as they were living or maybe they have connected to it after they journeyed into spirit. Now they offer it to us in the ways we connect and receive. Always our choice to receive and register it all or not.
We are invited to bring gratitude to the wisdom that is shown to us, to the wisdom that helped others before us, and to the wisdom that will help others as they grow and live life now. We can extend that gratitude past through the ages to all those ancestors for what they lived through and learned, during life and afterwards. We are grateful to be shown their perspectives and to open our own perspectives as we walk through this current life.
Allow yourself to remember the stories, to look at the pictures, to feel the journey with all its emotions, lessons, and wisdom. Remember the love when it is present and bring it in when it has been lacking. Allow the release when something that no longer serves or helps comes up, replacing it with gratitude and wisdom however they show themselves to you. Replace it with love.
Recognize that your ancestors and the generations before you, walk in you. They are in your cells and in your knowing. You may not have the same path they did but their path is part of yours. Recognize the ancestors and the generations of where you live too, whether they are in your cells or in the energy of where you place your feet, or both. Together they all bring the balance, of the person and the Earth where they live. Allow the wisdom of both to come together in you and around you.
You do not walk alone. You never have and you never will. There is life all around you and there are ancestors within you and walking next to you. This is a time to open to the wisdom and the knowing that comes through all of this. This is a time to allow the deep and profound love that comes too.
May you feel the hands of the Ancestors as you go through your daily living and through your deep introspections and personal journeys. May you receive their wisdom as it suits you best and may you feel their love infused into every breath you take and into all of your cells, healing and nurturing as it flows.
Blessed be for a remarkable October, steeped in connection, and revitalizing wholeness.
With love,
Sheila
BlueWater Oracle
and the Earth Magic Oracle Cards by Steven Farmer, published by Hay House.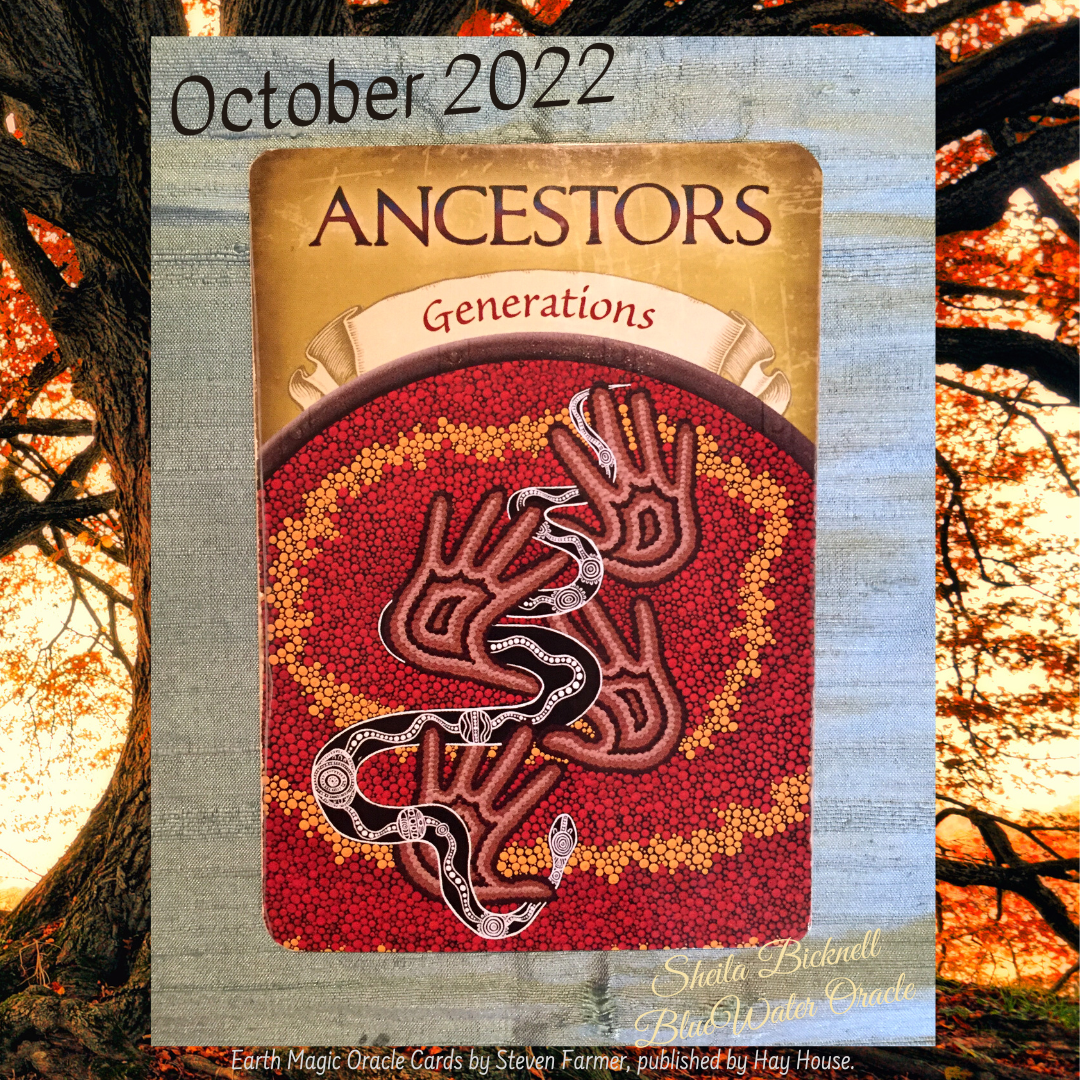 | | |
| --- | --- |
| Posted on August 1, 2022 at 3:10 PM | |
This Monday morning, August 1st, I thought about sharing a gratitude post. Those are always a great reminder for me as well as, I see, for others. Gratitude is an incredible feeling, action, and state of being. This morning though, went once notch up by going into Love directly. Listening, as I do, I created a post about Love and am loving seeing the comments. May it bring you a moment and many moments to come of Love at the start of this month!
And it does not want to end there apparently! Nor should it! Love is an amazing tool, emotion, expression, and life force of our lives and the universe. This August, it wants to guide us in a reading… here we go!
August Love Oracle Intuitive Reading
Freedom Horse
True Love is all about Freedom. It is a flow of energy that comes to each creature, organism, and person from the Universe, whether you think of that as the Divine, Source, Spirit, or the best version of all perspectives.
True Love is not something you can hold on tight to as it needs to be in flow at all times. It flows with balance, with vibration, with needs, with desires, and with all there is. How could you put a limit or try to cage that?
Give yourself a moment right now to feel into that true Love and the Freedom it moves with. Where do you notice Love in your energy? Where do you notice Love in your body? Bring your awareness to it. See its colours, pick up on its movements, and allow its vastness. This is not a conscious-only experience so try not to limit it. Let it show you.
Is the Love in your energy free-flowing?
Is the Love in your body free-flowing?
Take a few deep breaths. Send support to your brain as it tries to figure out what you are seeking, especially if this is the first time you perceive Love in this way. Patience and gentleness with the mind, it is so valuable to you.
Even if you sense a flicker or a flash, a zoom or a sparkle, a wonder or an enhanced view, let it show you Love. You can define it all you want, but there really is no definition that will do it justice. So allow.
And in that allowing, recognize that the Freedom aspect is something you will balance. Like the Freedom Horse in this spectacular card, it will be living and thriving with the natural existence. Perhaps different in some ways than the Freedom Horse, is that you as a person, have a life that may or may not make sense to you right now. You may have situations that you are working through. You may have choices to make that you are uncertain of. You may have boundaries you think you are living in. All of this is true and so much more. Such is the way of the human in many places of this version of the world.
So take a moment to simplify. What do you really need? What would Freedom be for you? Not some mega lottery winnings version of it but a true grounded, on the land, in the heart, in the breathing, in the choices, in the experiencing and living of life, version of it. In the Love version of it. Now go big if you want to, if that truly represents you, whether through income, chance, or investment, but remember the Love aspect, and remember the Freedom component. They both have strong feelings associated. They both have flow.
Flow of Love and Freedom may not always look the way you think it will. Ah that's a catch right? You could see it that way or you could see it as a form of copout, or you could know that it is part of the human experience. Not everyone will have the same life, joys, losses, timing, perspective, privilege, frustration, opportunity, body, mind, heart, and spirit… you are all unique, living in unique ways. By opening to the Freedom of Love, Love that is bigger than one person, Love that flows and moves, but also Love that balances and nourishes, you open beyond what you think it should be and into what it actually is, for you, right now. Isn't that worth running towards, or even running with?
However this looks and feels to you, it is present, it is an option. Release judgement of yourself or others for how it is lived or what has happened, and seek through opening, the flow of Love Freedom in energy and in you.
With free-flowing Love and deep gratitude,
Sheila
BlueWater Oracle
with the Native Spirit Oracle Cards by Denise Linn, published by Hay House.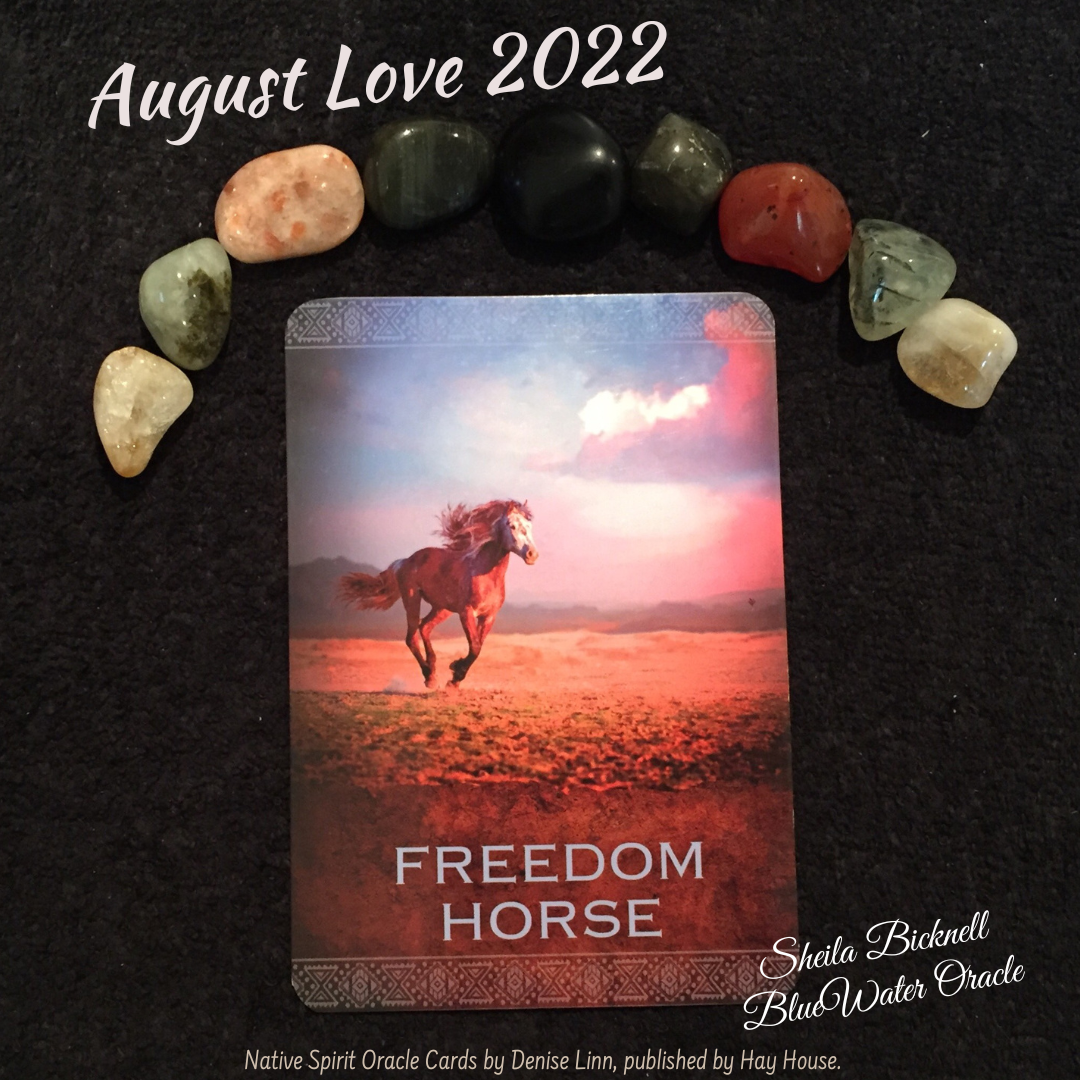 Here's the earlier post! 
Love... a new day, a new week, a new month. Who do you love? What do you love?
Feel the love flowing to you, in you, through you, and out into this amazing world of ours.
"I love..." - Fill in, complete, and explore.
Did you start with "I love myself!" ? Let yourself be love and loved!
Sheila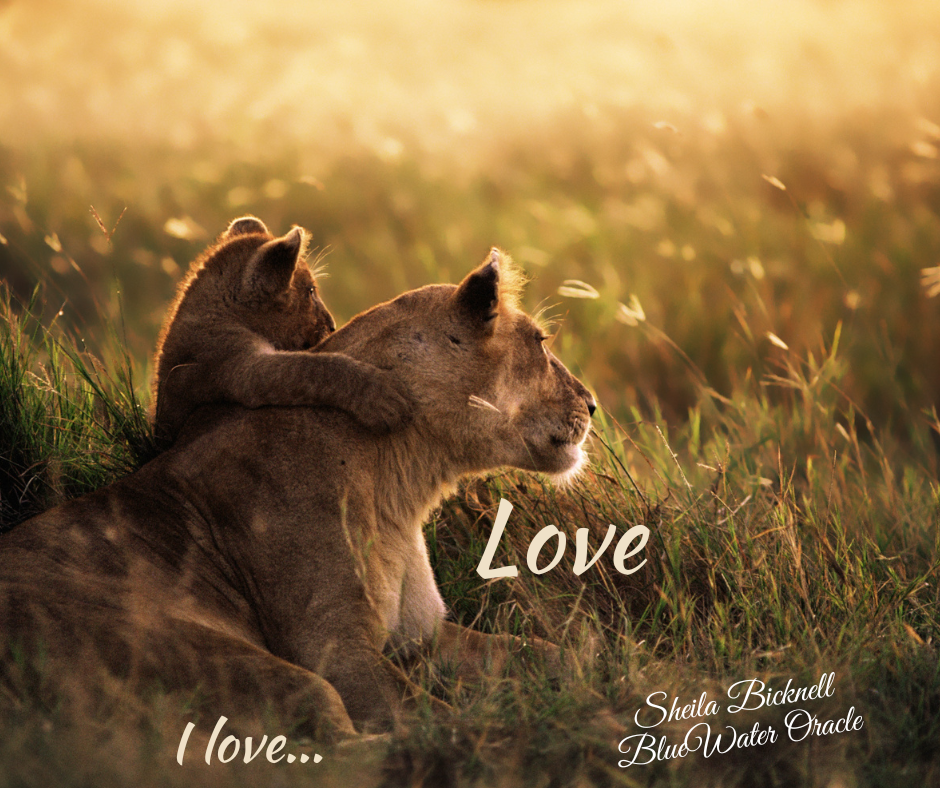 | | |
| --- | --- |
| Posted on June 1, 2022 at 4:55 PM | |
June Energy Insights & Intuitive Wisdom Reading 2022
Lightning – Power
Many people struggle each and every day. Some struggle through life events. Others struggle to stay alive. Some struggle to have the basic necessities. Others struggle while having more than they could ever seemingly need. Struggle is part of human experience on this world.
Storms are part of the natural world and they can in some ways be seen as struggle. When the pressure builds up so much, when a crucial event causes a deep reaction, and when things that can be helpful and beneficial turn into too much: too much rain, too much wind, too much heat, too much cold, too much electricity…
It is all a balancing act. The wild world in its natural state is working within levels of balance that most humans cannot even start to fathom. "Wild" and "Natural" are two words that bring up all kinds of memories, images, and feelings for people. Both exist at the same time but are not necessarily the same.
Where do you fit with all this? Are you "wild"? Are you "natural"? Are you in struggle? Are you in balance?
These questions can bring you into reflection. They can ask you to notice about your life and who you are. They can also ask you to notice about your place in this world, the natural aspects and the aspects constantly created, changed, and affected by humans.
For some people, these types of reflections and reactions only take place when a big life event comes about. Something happens that gets people to re-evaluate their ways and decisions whether it is about health, family, relationships, money, the Earth, their dreams, etc. It takes a big "kaboom" to snap them back into consciously living. Why is that such a strange thing to be doing? To be consciously living?
And yet, many are not. Not because they are bad or less than, not because they have chosen not to either. It is because there is a journey at hand, a journey for the individual, then for their family and community, then for their region, their country, their continent, and the whole. This journey has many chapters, many characters, many storylines, and yes, many displays of power. Some are needed to be very conscious and others have other tasks at hand. Balance.
If the world, this planet, would be speaking to the humans, would she use Lightning to get attention? Would she be proud of the use of power that has happened and continues to happen within couples, families, businesses, governments, and beyond. Or would she say that a storm is brewing and is needed.
What would you change if you knew a storm was coming, a big one? Look at the different aspects of your life and see them through the eyes of the power of a storm and the need for that storm to bring about change. What would you change, if anything? What would you live today? What would you envision for tomorrow? What would you hope for for yourself and for others, for the collective even?
Big questions that not everyone wants or needs to answer, but someone does, somewhere, sometime, and the time is now. How many of the struggles could be solved, like that, as quick as a flash? How many would still be present but could be made easier, dramatically easier for the individual? How much of it is about choosing how the power gets used? Rather than looking at it as "who will weather the storm" it could be "how can we all move through this storm, together".
It is not about stopping all the storms, not at all. It is about slowing down the frequency of storms we create ourselves, in weather and otherwise, and about recognizing what we do every day that creates storm systems and creates increase in struggle.
The time of harnessing power has come and gone. It is now about understanding energy and working with it. You are energy. Every choice you make is energy. What you bring into yourself and what you put out to the world are all forms of energy. If you lived in your own bubble, only experiencing what you are creating as energy, would it be somewhere you would thrive?
Great reflections and questions for the midpoint month of the year.
May your June be created and blessed with the energetic power and wisdom to thrive!
With love,
Sheila
BlueWater Oracle
and the Earth Magic Oracle Cards, by Steven Farmer, published by Hay House.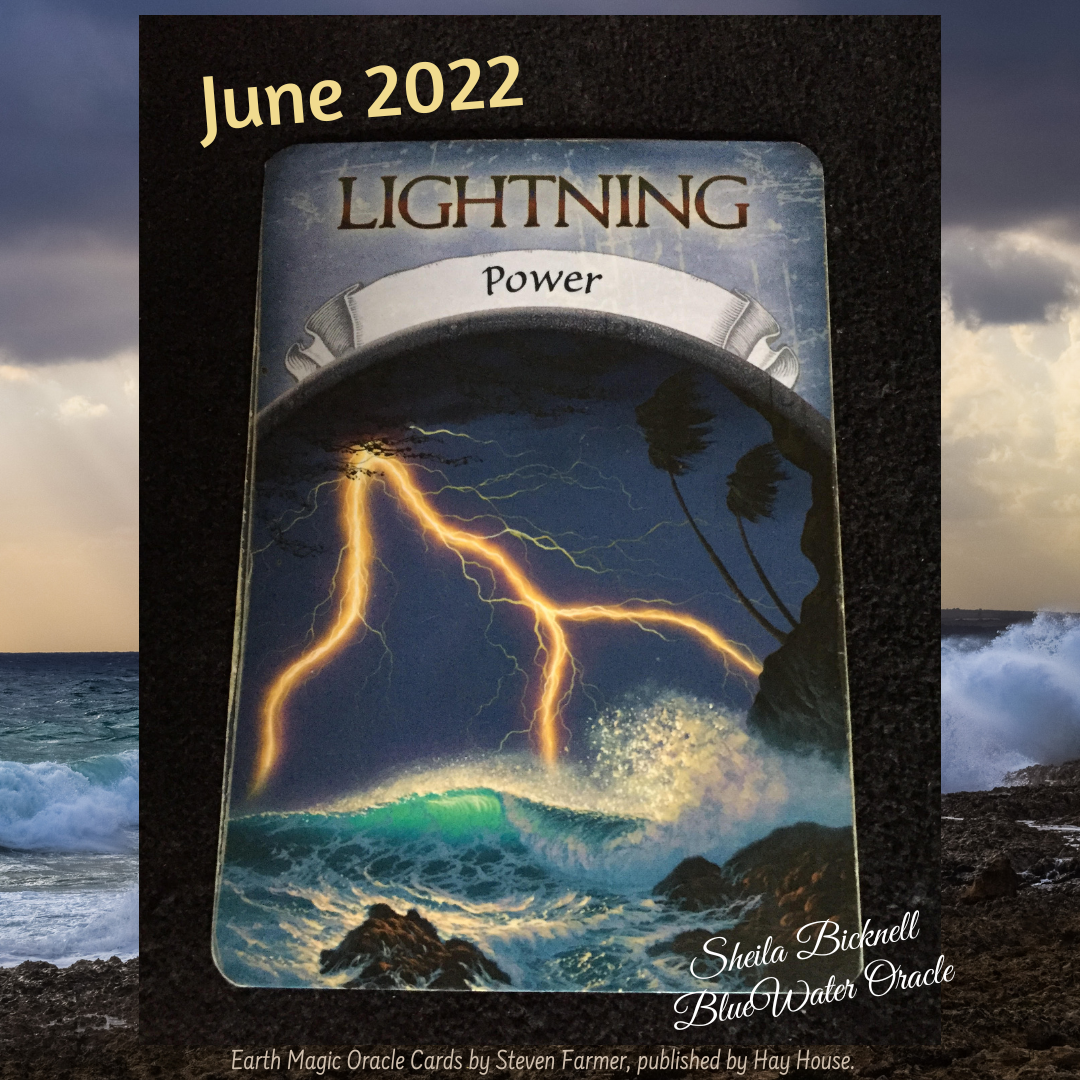 | | |
| --- | --- |
| Posted on April 5, 2022 at 12:10 AM | |
April Intuitive Guidance & Wisdom Messages 2022
Looking Deeper
"Deep within me is a majestic radiance."
As we step into April and into this new season, it is asking you to look deeper within you to acknowledge your deep radiance. Look deeper at what is going on in your reactions and your choices, in the way you think, and in the way you feel.
This card brings a reminder that sometimes we need to stand in our choices and our feelings to figure out what is behind them and what is going on for us. Do this from the perspective of the majestic radiance that is within you.
What is the majestic radiance within you? What is that majestic radiance asking you to see, asking you to look at, as you make the choices of your day to day life?
The Mountains in this card, are suggesting you to remember, and to remind yourself daily – multiple times a day – that you will have ups and downs. You will have moments when you are climbing, moments when you get to the top and celebrate, then look at the view and find the vision. Then there may be an easy slide down for a little while, an easy ride, or a wave that shifts. Maybe it is more of an "oh my goodness" like being on the down slope of a roller coaster. Then perhaps it is time to climb and feel good as you get into action steps again.
These ups and downs repeat but not because you are staying in the same place or are stuck. They are all part of the journey. You may see it as a spiral, as the ebb & flow, as climbing & descending mountain paths, passages, and pathways. There are ups and downs in everything. These are all parts of the aspects to live with and to work on & with.
Look at the view again. Bring your expectation from thinking it will only include the up moments into balance with all the aspects. Know that it includes all the different gemstones including the challenges, the sadness, the disappointments, the seeking, and the things to work on. The gems may be deep within the rocks or they may be as easy as finding them shining on a gentle walk or along the beach.
Allow yourself to notice and to see the different layers and components within a "basic grey rock" of the mountain. The rock has been part of that creation of the gems and all of the layers. Sometimes you have to look deeper to remind yourself that there are glorious things up in the view and along the trek, as well as the radiance deep within.
Wherever you are in the stages of the climbing of your mountains each and every day this month, find the gemstones, find the bright moments, find the quality, and find the richness. Allow yourself to really notice them, to really find them, and to really see. Allow yourself to see what they are bringing and what they are offering. It may be part of the view from climbing, the deep dive into something you need to work on for yourself, or it may be the universe cracking open something to show you and to show you that you have a choice on how you take it and what you do with it.
The shooting star here in the background is an invitation to not only see the vision that is but also to look at the vision you would like to see and experience in your life, what you would like to see in the world, and what you would like the universe to bring into your world. Put it out there as if you are being the shooting star of vision. Blow your kiss of intention and vision out into the world. Plant the seed and give it freedom to grow.
All the power of a deep look to see the radiant facets available to us and the light that shines there.
With love for a strong, supported, and bright month ahead,
Sheila
Card pull & reading from my Live Facebook reading video April 1st 2022 for April energies & messages.
Featuring the Gateway Oracle Cards by Denise Linn, published by Hay House.
Reach out for your own Oracle Intuitive Wisdom & Guidance Reading – A deep dive into connected communication with yourself, your spiritual team, and this Earth. Balanced living with clear sight, clarity in choices and actions, and transformation along the way.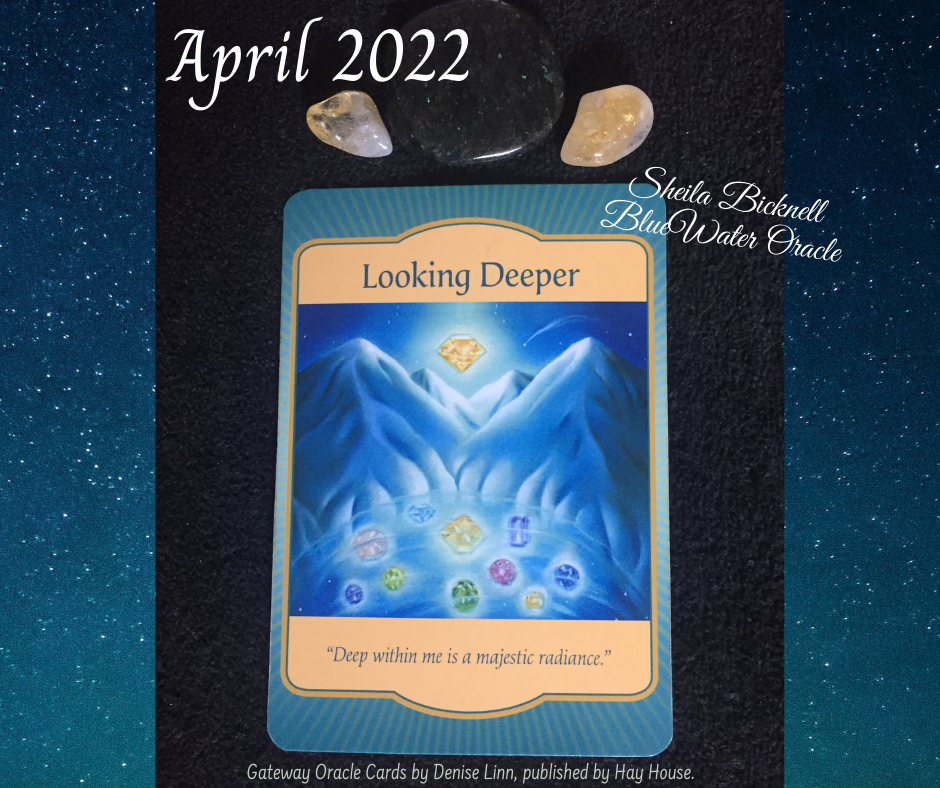 | | |
| --- | --- |
| Posted on February 2, 2022 at 5:15 PM | |
A heart message this February
Lotus Flower – Unfoldment
Within the heart is a universe unfolding. Your life is a multitude of chapters within that story. Your heart is a wisdom keeper. It is also part of all that will share the knowing from times past, times present, and energy to come. It vibrates so deeply and wonderfully because it contains so much life and so much about life.
Your journey and your story are one. They are lived and told from different perspectives. From the perspective of the lotus flower passing from seed, growing into plant, up through the mud and water to reach the light above and bloom. From the perspective of the hand in the clouds supporting, touching, and holding as it experiences. From the clouds themselves shifting and changing with each passing breathe and heartbeat. And from the light, shining within and without at all times.
At this point in your journey, there is a need to pause and breathe. Take a deep breathe that welcomes all of the storylines and all of the perspectives together into you, together with you. Feel your heart welcoming them and allowing them to cross a threshold into becoming one. Your heart holds all of this. Can you be surprised it vibrates so powerfully?
In your breath and in each heartbeat, know you are becoming united. Embrace your wholeness. All of the journey moments, all of the stories, and all of the perspectives continue to be there for you to access if you need to, for sharing, for healing, and for understanding, but most of the time, they are now living together in harmony, supporting each other and stepping with you in every moment of your life.
Your heart beat reminds you of this. It reminds you of the wisdom you carry. It reminds you that you are whole even as you work on growth, understanding, and even on healing. It reminds you that you have different ways of seeing and living your story but that they are all part of your universe. Embrace it. Embrace the colours and the wonder. Embrace the darkness and the shadows. Embrace the feelings and the knowing. Embrace the body and the spirit. Embrace the mind and the child. Embrace the wisdom.
Your heart beats for you and travels with you through each moment as it unfolds.
With heartfelt love and wonder,
Sheila
with Divine Universal and Heart Energies, and with the Earth Magic Oracle Cards.
The Earth Magic Oracle Cards are by Steven Farmer, published by Hay House.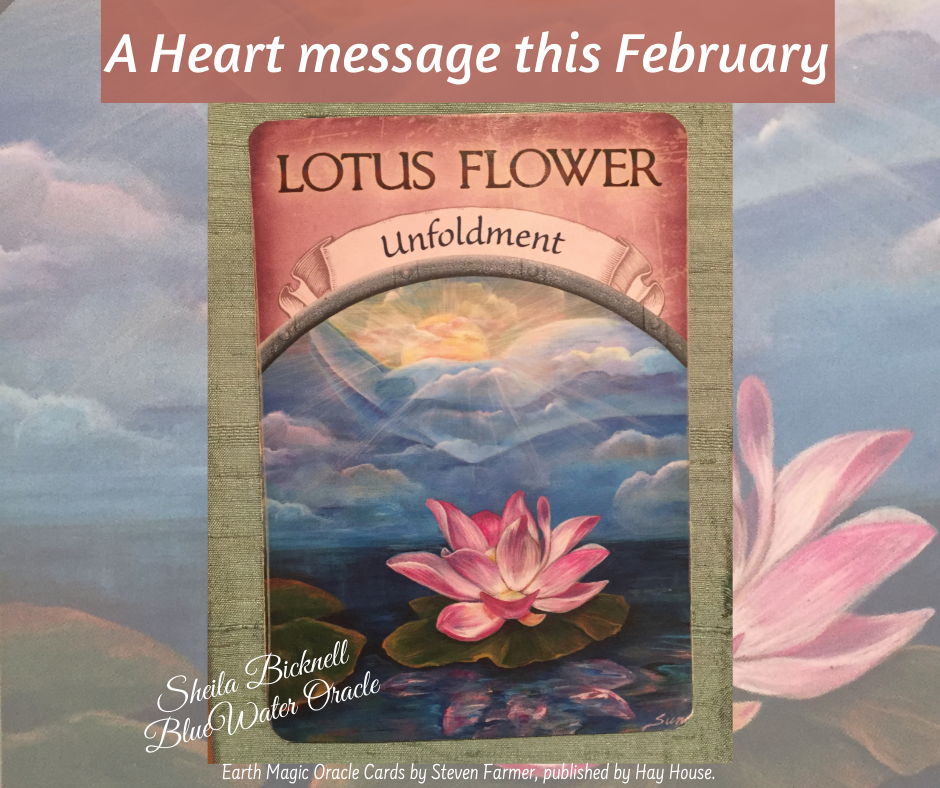 | | |
| --- | --- |
| Posted on January 2, 2022 at 12:45 AM | |
Happy New Year!
May your year start brightly with a shining light that emanates from within you and touches the world around you. May you know compassion and love. May you experience life and wellness with every breath. May New Year's energy flow through you, cleansing and revitalizing as it welcomes in this new phase. May you be the world you would like to live in.
Stepping into Stillness
"My power is born in the majesty of silence."
The world is full of noise, some of it enhances and works with purpose while some of it clogs up the energy and throws the natural rhythms out of whack. Bring yourself a beautiful dose of stillness whenever you need it. You are giving birth to your own power and it is something to be cherished and nurtured on this day and all those to come.
Rain – Purification
Like rain falling from the sky, touching all it lands on, and flowing over land and into the waterways, your feelings are a part of everything you are and do. They flow up and down, they increase and decrease in volume, and they wave through your every moment. To some, they are to be controlled and managed. To others, they are wisdom shining through from deep within and connecting with life. They are receptacles that can be utilized to show you as much as to then cleanse, purify, and guide. There are no wrong feelings but increasing your understanding of how they work with you and you with them will increase your flow and reduce the risk of flooding. Purity of intentions will go a long way to welcoming their power and grace in your daily living, on a physical as well as a spiritual level.
Wishing you glorious abundance and wonder in this New Year phase!
You are a sacred being, remind yourself of it often!
With love,
Sheila
and Divine Spirit Energies with the Gateway Oracle Cards by Denise Linn and the Earth Magic Oracle Cards by Steven Farmer, both published by Hay House.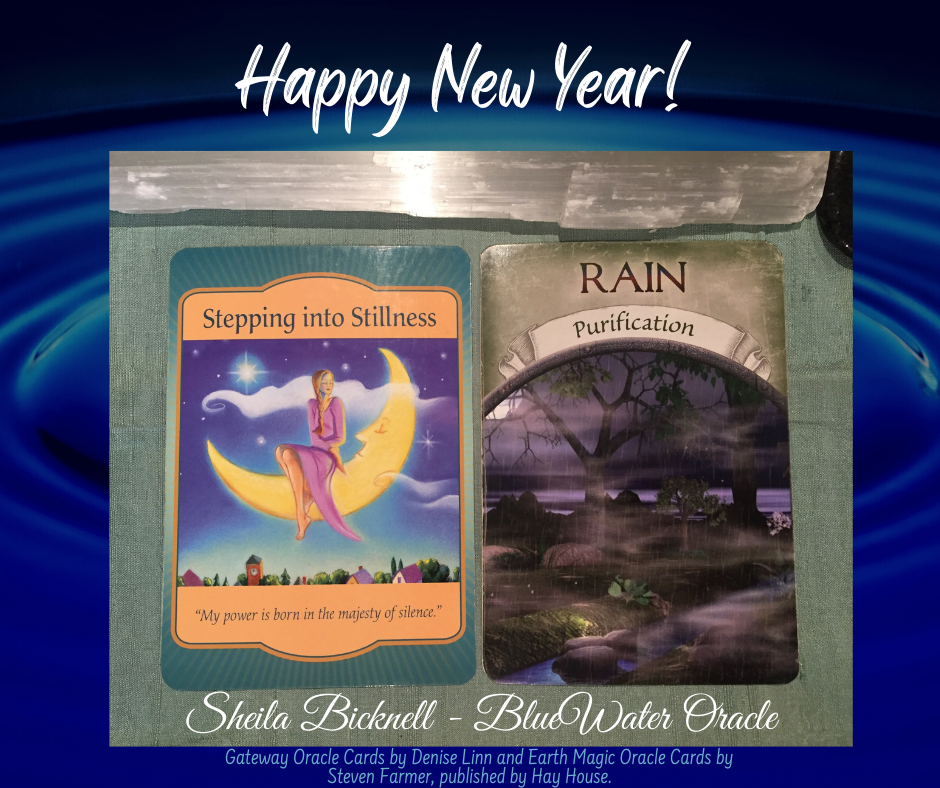 | | |
| --- | --- |
| Posted on December 3, 2021 at 11:40 AM | |
December Oracle Wisdom Reading 2021
Accepting What Is
"I accept and embrace my inner majesty."
As we near the end of the calendar year, this card comes in with a beautiful message. Take a deep breath, connect in with your body. Take a deep breath, connect with your spirit.
"Accepting What Is" brings the message to come fully into the present moment. There is so much going on right now for you that it is important to pause and be. Through this pause you will be able to notice where you are accepting what is in your present and where you are resisting.
Being in resistance with anything in your present moment may make you feel uneasy and frustrated. This does not mean you are not able to wish for different, to intend an action, or to create something new for yourself. Resistance may mean fighting against or pushing against what is present in your life causing you to be out of alignment with yourself and what guidance and insights may show themselves to you. There is a difference between resisting and saying "this is not what I want for myself". There is a difference between resisting and saying "this is not something I would like to continue to experience".
Resisting something in your present moment may be likened to fighting against rains and cloudy skies while they are happening. Saying you prefer it when it is sunny could be what you say to yourself but at the same time saying you accept that it is currently cloudy and rainy and all that comes with it. Constantly demanding or being in the energy of "why isn't it sunny" or "it should be sunny" or "this rain shouldn't be happening to me" takes you out of the present moment as your system hunts to figure out how to make the change. But in this case, the change is not for you to make and resisting does not help you. While you are struggling, you may miss any interesting aspects and wondrous moments the clouds and rain may be bringing you.
By releasing the resistance, you allow yourself to fully be in your present. Through this, you will find more access to what you are experiencing but also to what you would like to create and have happen in your next life steps. It frees up space and energy in your mind to assist in the ways it can rather than spending that time and energy in trying to resolve the resistance. You want your brain working with you as much as possible! You want it to be aligned with you and your experiences and journey.
Open yourself, as the card shows, to accepting what is as well as to accepting and embracing your "inner majesty". The hands open up to the universe, energy, and to spirit, symbolized here by the great white-blue rose in the skies. Its four directional leaves remind you of being connected to all directions and all elements at the same time. How wondrous is that?!
Your inner majesty is the manifest version of this connection. The majesty of your thought system. The majesty of your body system. The majesty of your heart system. The majesty of your gut system. The majesty of your spirit system. And on and on. You are full and complete of all kinds of majesty and you deserve to accept it and fully embrace it. It is, after all, within your hands.
You deserve to welcome in the peace and the nobility of this majesty. Open yourself to the peace that is on the surface of this beautiful rose as well as the peace deep within its bloom. That peace is already a part of you and you are welcome to embrace it. This peace radiates out from its essence into the space and time around it.
Being aligned and connected. Being in the present moment. Being in peace. Being open to your own majesty. Being at peace.
Wishing you a wondrous, peaceful, accepting, and gloriously majestic December.
With love,
Sheila
with Divine Guiding Forces and the Gateway Oracle Cards.
The Gateway Oracle Cards are by Denise Linn and published by Hay House.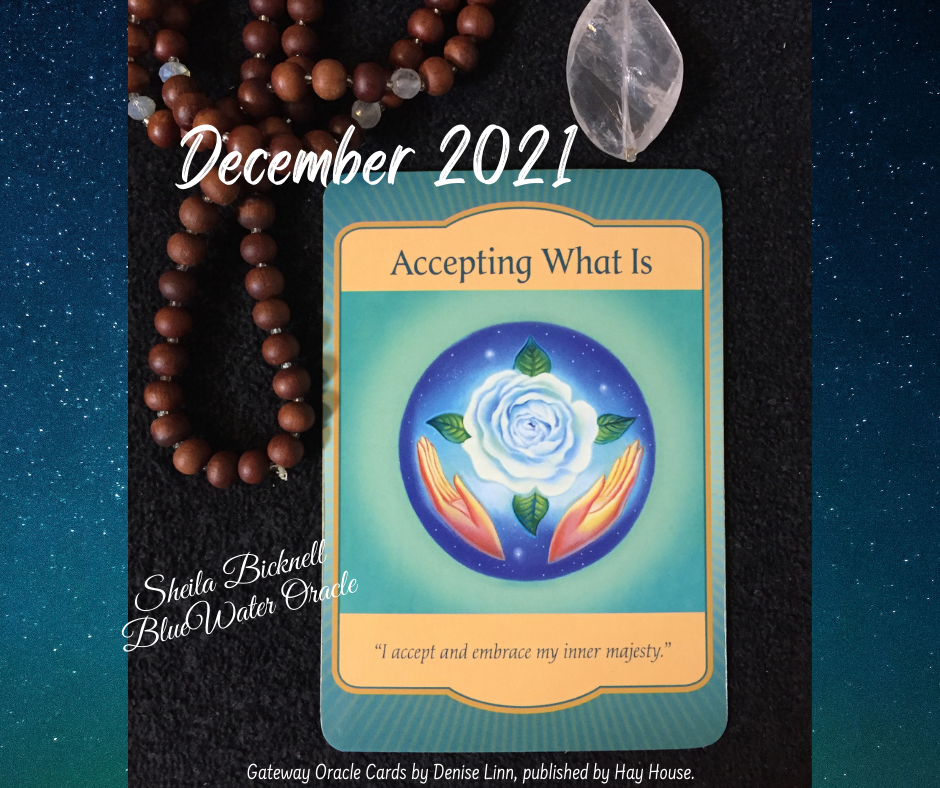 | | |
| --- | --- |
| Posted on November 1, 2021 at 6:30 PM | |
Oracle Wisdom for the month November 2021
Love – Compassion
November has started and it may bring about all kinds of newness for you. Perhaps it is the changing into the fullness of autumn where you are, with shorter days, cooling temperatures, and longer nights. Or maybe it is the brightening of mid spring with lengthening days, stronger sunlight, and nature springing to life!
For many, the shift into autumn and winter with the darker days comes as a greater challenge. The urgency to prepare and make ready comes in. The decreasing light has certain impacts. And there is a call to go within, into your own dark, your depths, your calm, and your rest phase. For some this will happen more in the cold winter but for others November is a time of transition that can cause a ruffling within, a questioning, and a time for a deep look. This is something to pay attention to… like Halloween, there are treats to be had.
As you embrace your own dark and depths, you are invited to find the treasure that lies within. Different than a pirate story, no one needed to place this treasure there; it always has been and always will be. It is your essence, your knowing, your spirit, your highest self, your soul, your light, and your being. Whether it is a season of darkening or lightening, there is a great constant. This constant is the you who was before, is now, and will be again. Always learning and exploring, always shifting and changing in the experiences of life, but always an essence that is beyond doubt and can never be overshadowed.
Within every change is an opportunity. It is the opportunity to gain a different vantage point of that treasure. Like points on a map which show up from invisible ink or pathways seen with a flashlight in a dark room, you may sense parts at a time, pieces of the puzzle. Or you may have an overall sense of your treasure, your You, and simply need to remind yourself through daily experience.
If you need that flashlight, that invisible coming visible, or that lighthouse in the storm, this card is showing you the way. Love and the Compassion it brings & allows. This is your evidence of the treasure, your treasure. It is not the movie version that gets played and discovered in a two hour trip. It is not the all flowers and rainbows type with a unicorn prancing through. It is deep and profound, and very, very real. It is also an essential part of you and an essential part of the natural world in which you live.
You see, when you have the impression of love that is only between people who like each other or between family units, you are not giving opportunity to the Love that radiates through everything and everyone all the time. It is something so mesmerizing and all-encompassing that people are often busy seeking it without even realizing they are searching. They also don't realize that it is not something that needs to be found but rather something that will be felt, expanded, and allowed to be.
This reality of Love already is. Like opening the treasure chest when the box says "valuable treasure inside" and means it, you already know it is there! The Love already exists.
At this point for you, the journey is asking you to reflect within, to spend time in your dark and your light, so you can feel the profound depths and see the sparkling gems. You are not creating those depths or gems, you are allowing yourself to know those parts of you. And then, bit by bit, you allow it to radiate into your day and your night, into your being, into your entourage, and into the world around you.
Recognize that the world already knows this type of Love. It is part of every acorn turning to strong tree, every insect wing, every grain of sand, every wisp of cloud, every drop of water, every creature, every stone, every star, every thought, every action, and every emotion. It is in the essence of the energy that whirls around and the energy that holds time. It is in the make-up of life itself and those things that seem void of life. It is the in the basis of all that is seen and unseen. It is a reason why and it is the fuel that continues to bring opportunity to life, in all its forms and colours, all its generations and molecules, all its places and all its things.
This may seem too big or too bold or too strange to take on, or it might fit just right. As the treasure within is embraced, the Love brings the opportunity for Compassion. First it comes as compassion for the self. You being compassionate in your thoughts and actions for yourself, to yourself. Next it comes as compassionate for those close to you. Then compassion towards those you do not know. Onwards to compassion for all life near and far. And finally compassion for existence that shows in ways you do not understand or is not easily recognized as in need of your compassion. Energy is worthy of compassion and it is all energy. The Compassion is from this glorious Love and this Love is everywhere, when welcomed, embraced, and allowed to be. Even when it is not embraced or known, the Love is there, but why would one not want to play in its wonder? Why would one want to deny the treasure when it is such a magnificent connecting web and deep abundance of Love?
May you feel and know your deep inner treasure.
May you find opportunity and vision that sparks your gems alight.
May you see, communicate, and act with Compassion.
May you allow the deep and profound Love to be within all of your moments, your days, and your nights.
May you Love and embrace yourself and life, always.
In deep respect and Love blessings,
Sheila
with the Divine Source Energies of Loving wisdom and the Earth Magic Oracle Cards.
The Earth Magic Oracle Cards used with gratitude, are by Steven Farmer and published by Hay House.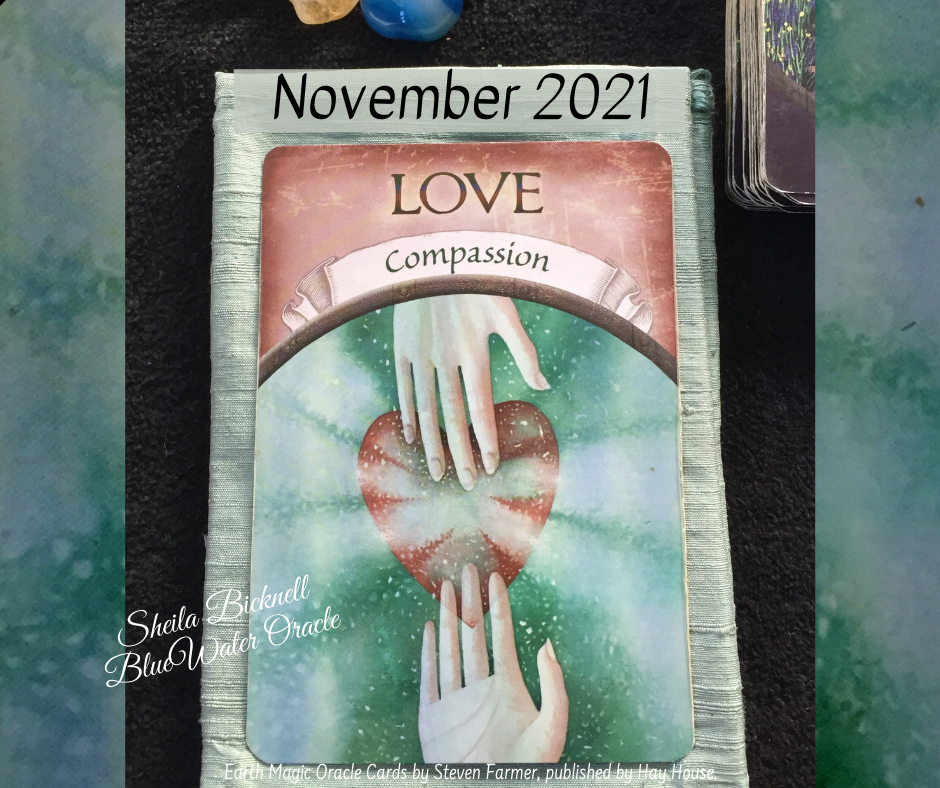 | | |
| --- | --- |
| Posted on October 1, 2021 at 4:45 PM | |
Storms vs Waves for Your Life Flow
October Oracle Guidance Reading 2021
Thunder Drum
When things need to change, they start to build up momentum towards that change. It is seen in the season where one hardly notices the difference and then all of a sudden it is obvious and definitive. Like the momentum of a drum beat, it can bring you in, connecting deep, and then rise up in motion and sound to a powerful crescendo. In that journey, shifts happen.
The same can come about with storm clouds. They build and build until at some point they spill over with rain, wind, and possibly lightning & thunder. The vibrations and impact continue to resonate until things settle again. The rain received by the ground, water, and creatures. The wind-blown aspects in, around, through, and out. The intensity caused light and sound and then returns to the balance of the natural world.
Awareness of these different types of momentum and intensity is important for you in your life. It is a way to recognize how you bring about and work with change. Do you create through small steps that build up to a result? Do you wait until a storm blows through? Do you flow with the rhythms of what is around you? Do you only change with intensity? Do you connect to change little by little?
As you become more aware of these aspects, you are inviting yourself to align rather than only to react to what is changing in your life and what you are working on & through. Some people have become so used to only reacting when things are very intense that they live within a "storm" all the time. It tends to be hard on their system and on those around them as it forgets the parts of the rhythm and atmosphere that bring nourishment, nurturing, and calm.
If you are feeling stuck this month, bring in your own "Thunder Drum" moments. Give yourself times when you build the rhythm up so it can crescendo and spill over with much needed shifts and changes. Use it in whatever way most resonates with you, whether through sound, movement, action, conversation, or another way. Though remember to give yourself the calm and stillness that would naturally come after, so your system can adapt to what has been brought about, growing and changing as it has been invited to do. Staying in the storm or constantly asking yourself to have huge change moments can be too much. Rather allow the waves to naturally guide you as they flow up and down.
Lotus Flower – Unfoldment
You hold so much capacity for life and living in your hands that sometimes it is just "all too much". When this impression happens, living through avoidance or escape seems easier. Short bouts of this can be a part of the natural waves but if they continue too long, you may find the wave will grow in intensity as if it is asking you to jump off into life or even as if it is trying to throw you off your tendencies in order for you to re-engage with living in a new way!
For some, being able to pause and recognize your capacity for life and living, will give you renewed enthusiasm. This will help you to choose your actions and set your goals & objectives. For others, for a multitude of reasons, this may not happen until the storm surge comes about. The more dramatic way to change and readjust is needed for some to experience a different way of life.
How do you know which is for you? If you receive nudges, inspiration, ideas, whispers, etc. that are asking of you or giving you insights, think of them as the petals that want to bring you towards your unfolding blossom. They can be part of your moments of pause as you renew and shift. These are your invitations as well as your methods. If you do not get those types of messages, it may be that you are not hearing them for a variety of factors in your life or it may be that the bigger wave is necessary for you to come up through the mud and unfold. None of this is about judgement, being "good enough", or being "able" to do or not to do something in your life. It is rather, about the journey, from the soul level, combined with the human, energetic, and spirit levels.
Giving yourself moments to gather your strength and to prepare can be vitally important. Children often do this before a growth spurt. A plant will do this before preparing its bud. You can do this before making a big change, shift, realization, or action. It may come as the pause, but the pause with intention rather than the pause escaping your life. Work with the nudges and the whispers, take note of the inspiration and the ideas. Even if it is writing them down in a notebook or gathering them all in to you without stepping forward just yet, you are being aware. You may be in a calm time building up for the shift or you may be making miniscule steps as you build your energy for the unfoldment of some aspect of you and your life. It does not need to be all big action all the time! Nor does it need to be huge intensity all the time! Listening, feeling, working with the waves, and inviting your connection with life are great ways to tap into the vibration of living. All of these will bring you greater access to all that you hold in your hands, even when you think you do not see it or have it.
This is an October of realizations and changes.
This is an October of waves and levels.
This is an October of vibration and connection.
This is an October of being part of nature's flow, in human form with life energy.
May your heart beat as your own personal drum with vibrant or quiet rhythm as you most need in the shifting flow of each day.
With love,
Sheila
and Great Spirit Universal Wisdom and the Native Spirit Oracle Cards & the Earth Magic Oracle Cards.
This Oracle Intuitive Wisdom Reading is channeled and written by Sheila Bicknell – BlueWater Oracle.
The Native Spirit Oracle Cards are by Denise Linn and the Earth Magic Oracle Cards are by Steven Farmer, both published by Hay House.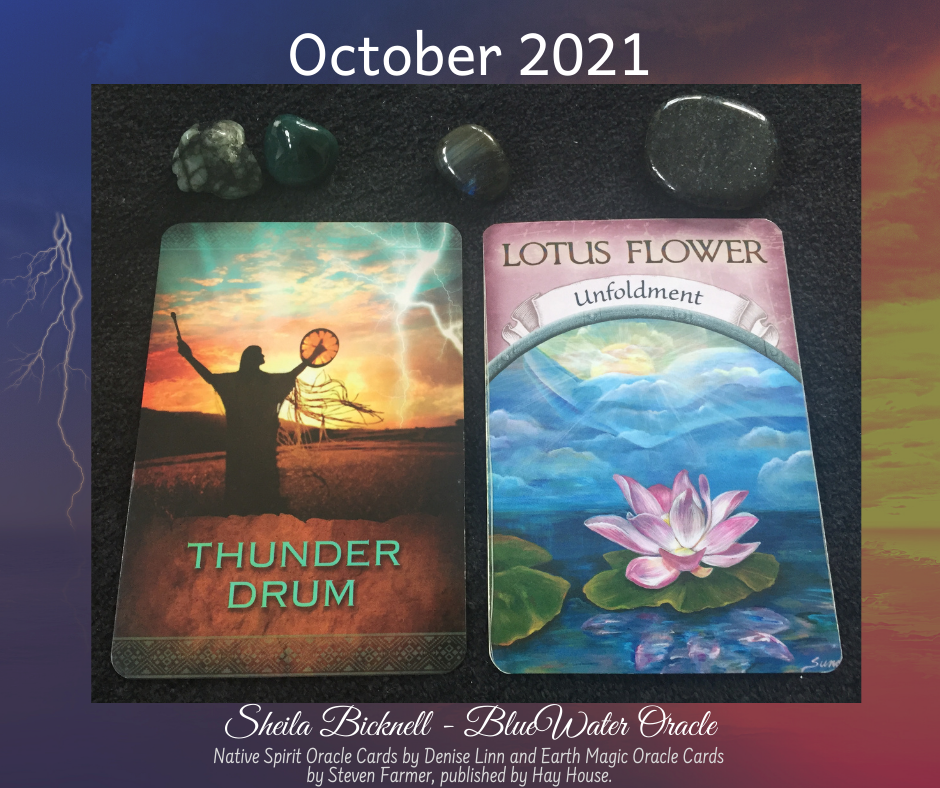 /