Oracle Intuitive Sessions and Oracle Card Readings
Connecting with insights, guidance, and support for your life.
| | |
| --- | --- |
| Posted on April 5, 2022 at 12:10 AM | |
April Intuitive Guidance & Wisdom Messages 2022
Looking Deeper
"Deep within me is a majestic radiance."
As we step into April and into this new season, it is asking you to look deeper within you to acknowledge your deep radiance. Look deeper at what is going on in your reactions and your choices, in the way you think, and in the way you feel.
This card brings a reminder that sometimes we need to stand in our choices and our feelings to figure out what is behind them and what is going on for us. Do this from the perspective of the majestic radiance that is within you.
What is the majestic radiance within you? What is that majestic radiance asking you to see, asking you to look at, as you make the choices of your day to day life?
The Mountains in this card, are suggesting you to remember, and to remind yourself daily – multiple times a day – that you will have ups and downs. You will have moments when you are climbing, moments when you get to the top and celebrate, then look at the view and find the vision. Then there may be an easy slide down for a little while, an easy ride, or a wave that shifts. Maybe it is more of an "oh my goodness" like being on the down slope of a roller coaster. Then perhaps it is time to climb and feel good as you get into action steps again.
These ups and downs repeat but not because you are staying in the same place or are stuck. They are all part of the journey. You may see it as a spiral, as the ebb & flow, as climbing & descending mountain paths, passages, and pathways. There are ups and downs in everything. These are all parts of the aspects to live with and to work on & with.
Look at the view again. Bring your expectation from thinking it will only include the up moments into balance with all the aspects. Know that it includes all the different gemstones including the challenges, the sadness, the disappointments, the seeking, and the things to work on. The gems may be deep within the rocks or they may be as easy as finding them shining on a gentle walk or along the beach.
Allow yourself to notice and to see the different layers and components within a "basic grey rock" of the mountain. The rock has been part of that creation of the gems and all of the layers. Sometimes you have to look deeper to remind yourself that there are glorious things up in the view and along the trek, as well as the radiance deep within.
Wherever you are in the stages of the climbing of your mountains each and every day this month, find the gemstones, find the bright moments, find the quality, and find the richness. Allow yourself to really notice them, to really find them, and to really see. Allow yourself to see what they are bringing and what they are offering. It may be part of the view from climbing, the deep dive into something you need to work on for yourself, or it may be the universe cracking open something to show you and to show you that you have a choice on how you take it and what you do with it.
The shooting star here in the background is an invitation to not only see the vision that is but also to look at the vision you would like to see and experience in your life, what you would like to see in the world, and what you would like the universe to bring into your world. Put it out there as if you are being the shooting star of vision. Blow your kiss of intention and vision out into the world. Plant the seed and give it freedom to grow.
All the power of a deep look to see the radiant facets available to us and the light that shines there.
With love for a strong, supported, and bright month ahead,
Sheila
Card pull & reading from my Live Facebook reading video April 1st 2022 for April energies & messages.
Featuring the Gateway Oracle Cards by Denise Linn, published by Hay House.
Reach out for your own Oracle Intuitive Wisdom & Guidance Reading – A deep dive into connected communication with yourself, your spiritual team, and this Earth. Balanced living with clear sight, clarity in choices and actions, and transformation along the way.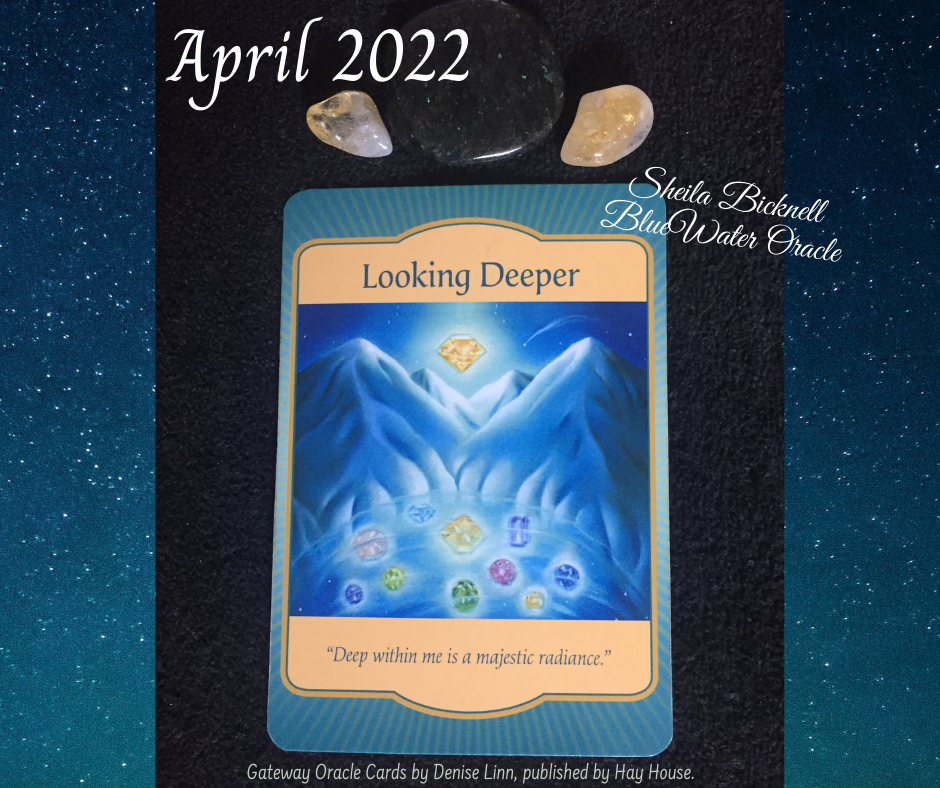 | | |
| --- | --- |
| Posted on February 2, 2022 at 5:15 PM | |
A heart message this February
Lotus Flower – Unfoldment
Within the heart is a universe unfolding. Your life is a multitude of chapters within that story. Your heart is a wisdom keeper. It is also part of all that will share the knowing from times past, times present, and energy to come. It vibrates so deeply and wonderfully because it contains so much life and so much about life.
Your journey and your story are one. They are lived and told from different perspectives. From the perspective of the lotus flower passing from seed, growing into plant, up through the mud and water to reach the light above and bloom. From the perspective of the hand in the clouds supporting, touching, and holding as it experiences. From the clouds themselves shifting and changing with each passing breathe and heartbeat. And from the light, shining within and without at all times.
At this point in your journey, there is a need to pause and breathe. Take a deep breathe that welcomes all of the storylines and all of the perspectives together into you, together with you. Feel your heart welcoming them and allowing them to cross a threshold into becoming one. Your heart holds all of this. Can you be surprised it vibrates so powerfully?
In your breath and in each heartbeat, know you are becoming united. Embrace your wholeness. All of the journey moments, all of the stories, and all of the perspectives continue to be there for you to access if you need to, for sharing, for healing, and for understanding, but most of the time, they are now living together in harmony, supporting each other and stepping with you in every moment of your life.
Your heart beat reminds you of this. It reminds you of the wisdom you carry. It reminds you that you are whole even as you work on growth, understanding, and even on healing. It reminds you that you have different ways of seeing and living your story but that they are all part of your universe. Embrace it. Embrace the colours and the wonder. Embrace the darkness and the shadows. Embrace the feelings and the knowing. Embrace the body and the spirit. Embrace the mind and the child. Embrace the wisdom.
Your heart beats for you and travels with you through each moment as it unfolds.
With heartfelt love and wonder,
Sheila
with Divine Universal and Heart Energies, and with the Earth Magic Oracle Cards.
The Earth Magic Oracle Cards are by Steven Farmer, published by Hay House.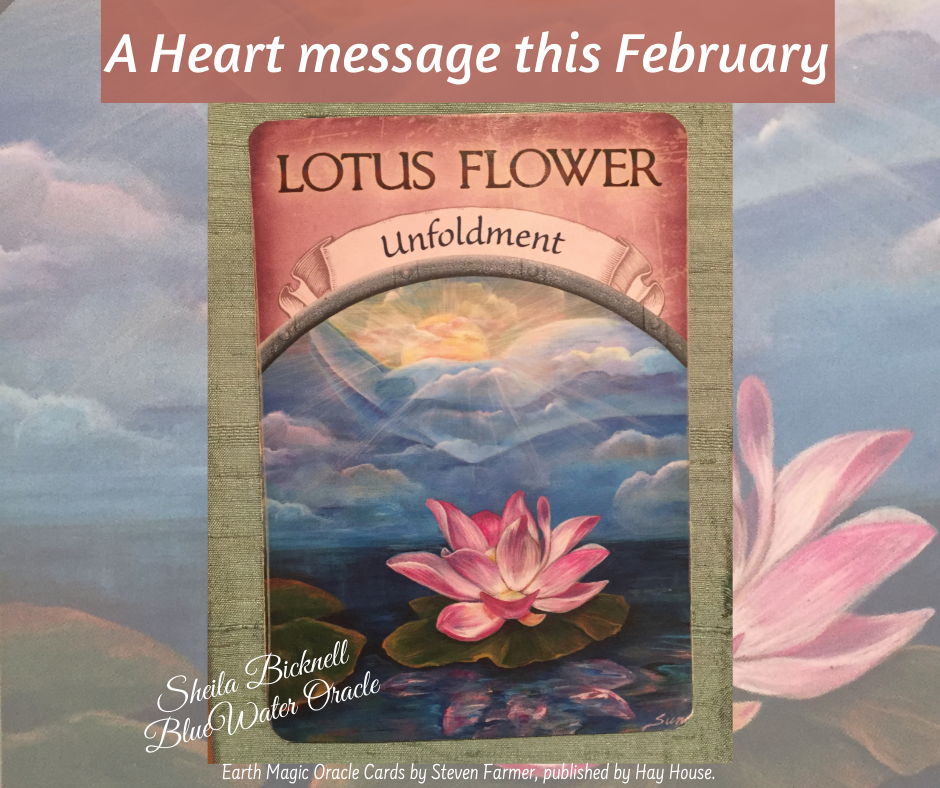 | | |
| --- | --- |
| Posted on January 2, 2022 at 12:45 AM | |
Happy New Year!
May your year start brightly with a shining light that emanates from within you and touches the world around you. May you know compassion and love. May you experience life and wellness with every breath. May New Year's energy flow through you, cleansing and revitalizing as it welcomes in this new phase. May you be the world you would like to live in.
Stepping into Stillness
"My power is born in the majesty of silence."
The world is full of noise, some of it enhances and works with purpose while some of it clogs up the energy and throws the natural rhythms out of whack. Bring yourself a beautiful dose of stillness whenever you need it. You are giving birth to your own power and it is something to be cherished and nurtured on this day and all those to come.
Rain – Purification
Like rain falling from the sky, touching all it lands on, and flowing over land and into the waterways, your feelings are a part of everything you are and do. They flow up and down, they increase and decrease in volume, and they wave through your every moment. To some, they are to be controlled and managed. To others, they are wisdom shining through from deep within and connecting with life. They are receptacles that can be utilized to show you as much as to then cleanse, purify, and guide. There are no wrong feelings but increasing your understanding of how they work with you and you with them will increase your flow and reduce the risk of flooding. Purity of intentions will go a long way to welcoming their power and grace in your daily living, on a physical as well as a spiritual level.
Wishing you glorious abundance and wonder in this New Year phase!
You are a sacred being, remind yourself of it often!
With love,
Sheila
and Divine Spirit Energies with the Gateway Oracle Cards by Denise Linn and the Earth Magic Oracle Cards by Steven Farmer, both published by Hay House.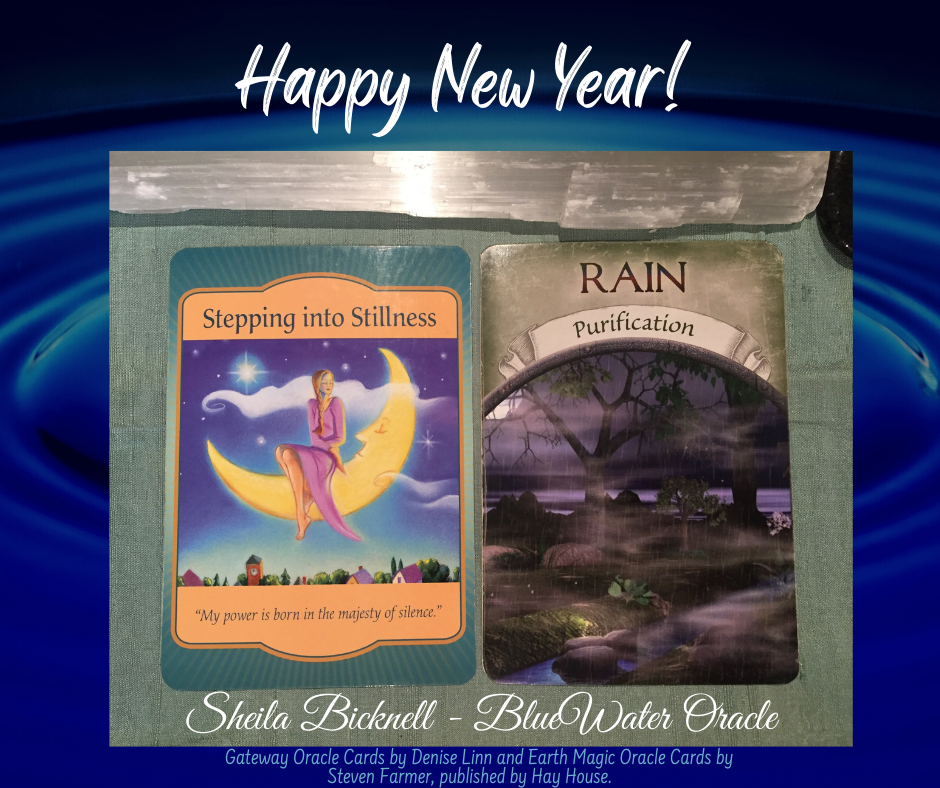 | | |
| --- | --- |
| Posted on December 3, 2021 at 11:40 AM | |
December Oracle Wisdom Reading 2021
Accepting What Is
"I accept and embrace my inner majesty."
As we near the end of the calendar year, this card comes in with a beautiful message. Take a deep breath, connect in with your body. Take a deep breath, connect with your spirit.
"Accepting What Is" brings the message to come fully into the present moment. There is so much going on right now for you that it is important to pause and be. Through this pause you will be able to notice where you are accepting what is in your present and where you are resisting.
Being in resistance with anything in your present moment may make you feel uneasy and frustrated. This does not mean you are not able to wish for different, to intend an action, or to create something new for yourself. Resistance may mean fighting against or pushing against what is present in your life causing you to be out of alignment with yourself and what guidance and insights may show themselves to you. There is a difference between resisting and saying "this is not what I want for myself". There is a difference between resisting and saying "this is not something I would like to continue to experience".
Resisting something in your present moment may be likened to fighting against rains and cloudy skies while they are happening. Saying you prefer it when it is sunny could be what you say to yourself but at the same time saying you accept that it is currently cloudy and rainy and all that comes with it. Constantly demanding or being in the energy of "why isn't it sunny" or "it should be sunny" or "this rain shouldn't be happening to me" takes you out of the present moment as your system hunts to figure out how to make the change. But in this case, the change is not for you to make and resisting does not help you. While you are struggling, you may miss any interesting aspects and wondrous moments the clouds and rain may be bringing you.
By releasing the resistance, you allow yourself to fully be in your present. Through this, you will find more access to what you are experiencing but also to what you would like to create and have happen in your next life steps. It frees up space and energy in your mind to assist in the ways it can rather than spending that time and energy in trying to resolve the resistance. You want your brain working with you as much as possible! You want it to be aligned with you and your experiences and journey.
Open yourself, as the card shows, to accepting what is as well as to accepting and embracing your "inner majesty". The hands open up to the universe, energy, and to spirit, symbolized here by the great white-blue rose in the skies. Its four directional leaves remind you of being connected to all directions and all elements at the same time. How wondrous is that?!
Your inner majesty is the manifest version of this connection. The majesty of your thought system. The majesty of your body system. The majesty of your heart system. The majesty of your gut system. The majesty of your spirit system. And on and on. You are full and complete of all kinds of majesty and you deserve to accept it and fully embrace it. It is, after all, within your hands.
You deserve to welcome in the peace and the nobility of this majesty. Open yourself to the peace that is on the surface of this beautiful rose as well as the peace deep within its bloom. That peace is already a part of you and you are welcome to embrace it. This peace radiates out from its essence into the space and time around it.
Being aligned and connected. Being in the present moment. Being in peace. Being open to your own majesty. Being at peace.
Wishing you a wondrous, peaceful, accepting, and gloriously majestic December.
With love,
Sheila
with Divine Guiding Forces and the Gateway Oracle Cards.
The Gateway Oracle Cards are by Denise Linn and published by Hay House.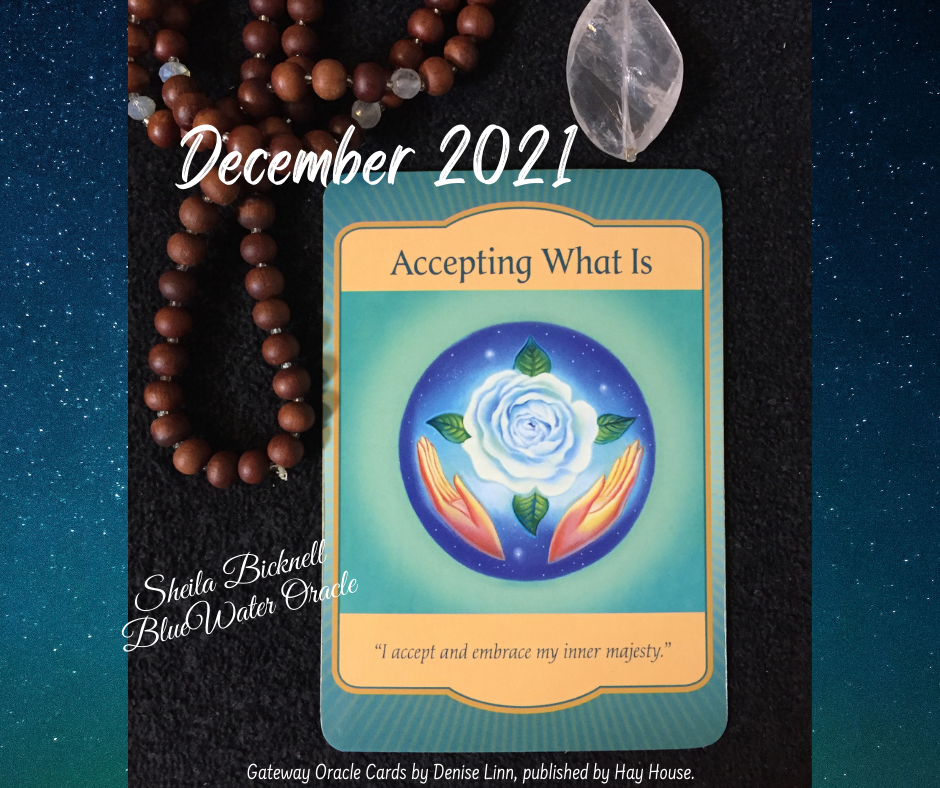 | | |
| --- | --- |
| Posted on November 1, 2021 at 6:30 PM | |
Oracle Wisdom for the month November 2021
Love – Compassion
November has started and it may bring about all kinds of newness for you. Perhaps it is the changing into the fullness of autumn where you are, with shorter days, cooling temperatures, and longer nights. Or maybe it is the brightening of mid spring with lengthening days, stronger sunlight, and nature springing to life!
For many, the shift into autumn and winter with the darker days comes as a greater challenge. The urgency to prepare and make ready comes in. The decreasing light has certain impacts. And there is a call to go within, into your own dark, your depths, your calm, and your rest phase. For some this will happen more in the cold winter but for others November is a time of transition that can cause a ruffling within, a questioning, and a time for a deep look. This is something to pay attention to… like Halloween, there are treats to be had.
As you embrace your own dark and depths, you are invited to find the treasure that lies within. Different than a pirate story, no one needed to place this treasure there; it always has been and always will be. It is your essence, your knowing, your spirit, your highest self, your soul, your light, and your being. Whether it is a season of darkening or lightening, there is a great constant. This constant is the you who was before, is now, and will be again. Always learning and exploring, always shifting and changing in the experiences of life, but always an essence that is beyond doubt and can never be overshadowed.
Within every change is an opportunity. It is the opportunity to gain a different vantage point of that treasure. Like points on a map which show up from invisible ink or pathways seen with a flashlight in a dark room, you may sense parts at a time, pieces of the puzzle. Or you may have an overall sense of your treasure, your You, and simply need to remind yourself through daily experience.
If you need that flashlight, that invisible coming visible, or that lighthouse in the storm, this card is showing you the way. Love and the Compassion it brings & allows. This is your evidence of the treasure, your treasure. It is not the movie version that gets played and discovered in a two hour trip. It is not the all flowers and rainbows type with a unicorn prancing through. It is deep and profound, and very, very real. It is also an essential part of you and an essential part of the natural world in which you live.
You see, when you have the impression of love that is only between people who like each other or between family units, you are not giving opportunity to the Love that radiates through everything and everyone all the time. It is something so mesmerizing and all-encompassing that people are often busy seeking it without even realizing they are searching. They also don't realize that it is not something that needs to be found but rather something that will be felt, expanded, and allowed to be.
This reality of Love already is. Like opening the treasure chest when the box says "valuable treasure inside" and means it, you already know it is there! The Love already exists.
At this point for you, the journey is asking you to reflect within, to spend time in your dark and your light, so you can feel the profound depths and see the sparkling gems. You are not creating those depths or gems, you are allowing yourself to know those parts of you. And then, bit by bit, you allow it to radiate into your day and your night, into your being, into your entourage, and into the world around you.
Recognize that the world already knows this type of Love. It is part of every acorn turning to strong tree, every insect wing, every grain of sand, every wisp of cloud, every drop of water, every creature, every stone, every star, every thought, every action, and every emotion. It is in the essence of the energy that whirls around and the energy that holds time. It is in the make-up of life itself and those things that seem void of life. It is the in the basis of all that is seen and unseen. It is a reason why and it is the fuel that continues to bring opportunity to life, in all its forms and colours, all its generations and molecules, all its places and all its things.
This may seem too big or too bold or too strange to take on, or it might fit just right. As the treasure within is embraced, the Love brings the opportunity for Compassion. First it comes as compassion for the self. You being compassionate in your thoughts and actions for yourself, to yourself. Next it comes as compassionate for those close to you. Then compassion towards those you do not know. Onwards to compassion for all life near and far. And finally compassion for existence that shows in ways you do not understand or is not easily recognized as in need of your compassion. Energy is worthy of compassion and it is all energy. The Compassion is from this glorious Love and this Love is everywhere, when welcomed, embraced, and allowed to be. Even when it is not embraced or known, the Love is there, but why would one not want to play in its wonder? Why would one want to deny the treasure when it is such a magnificent connecting web and deep abundance of Love?
May you feel and know your deep inner treasure.
May you find opportunity and vision that sparks your gems alight.
May you see, communicate, and act with Compassion.
May you allow the deep and profound Love to be within all of your moments, your days, and your nights.
May you Love and embrace yourself and life, always.
In deep respect and Love blessings,
Sheila
with the Divine Source Energies of Loving wisdom and the Earth Magic Oracle Cards.
The Earth Magic Oracle Cards used with gratitude, are by Steven Farmer and published by Hay House.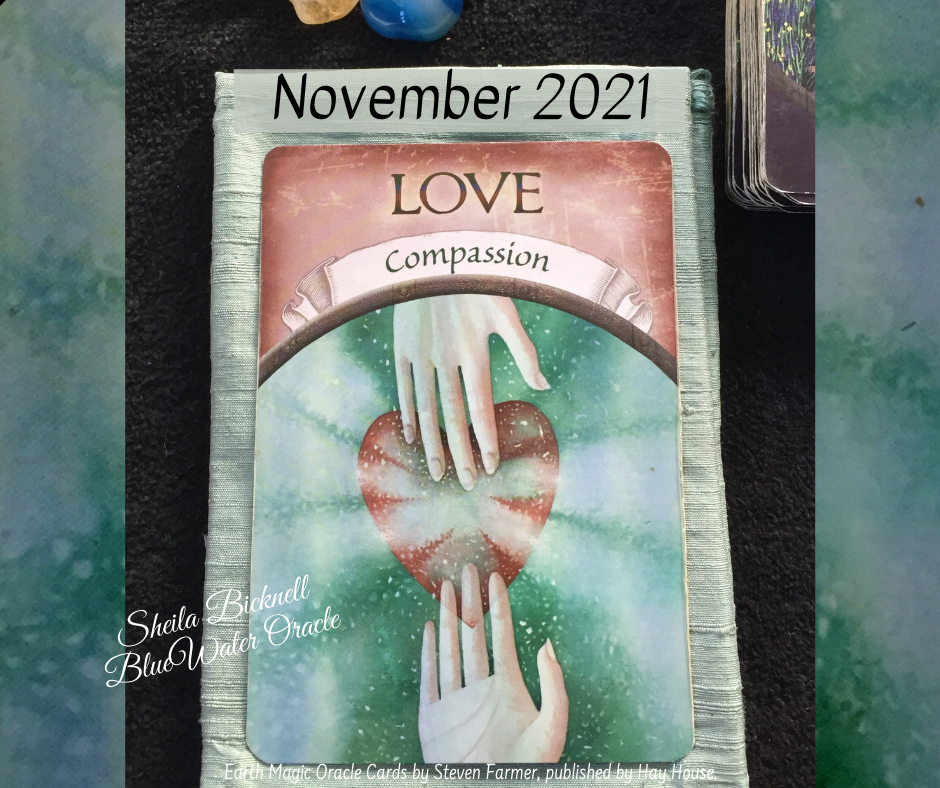 | | |
| --- | --- |
| Posted on October 1, 2021 at 4:45 PM | |
Storms vs Waves for Your Life Flow
October Oracle Guidance Reading 2021
Thunder Drum
When things need to change, they start to build up momentum towards that change. It is seen in the season where one hardly notices the difference and then all of a sudden it is obvious and definitive. Like the momentum of a drum beat, it can bring you in, connecting deep, and then rise up in motion and sound to a powerful crescendo. In that journey, shifts happen.
The same can come about with storm clouds. They build and build until at some point they spill over with rain, wind, and possibly lightning & thunder. The vibrations and impact continue to resonate until things settle again. The rain received by the ground, water, and creatures. The wind-blown aspects in, around, through, and out. The intensity caused light and sound and then returns to the balance of the natural world.
Awareness of these different types of momentum and intensity is important for you in your life. It is a way to recognize how you bring about and work with change. Do you create through small steps that build up to a result? Do you wait until a storm blows through? Do you flow with the rhythms of what is around you? Do you only change with intensity? Do you connect to change little by little?
As you become more aware of these aspects, you are inviting yourself to align rather than only to react to what is changing in your life and what you are working on & through. Some people have become so used to only reacting when things are very intense that they live within a "storm" all the time. It tends to be hard on their system and on those around them as it forgets the parts of the rhythm and atmosphere that bring nourishment, nurturing, and calm.
If you are feeling stuck this month, bring in your own "Thunder Drum" moments. Give yourself times when you build the rhythm up so it can crescendo and spill over with much needed shifts and changes. Use it in whatever way most resonates with you, whether through sound, movement, action, conversation, or another way. Though remember to give yourself the calm and stillness that would naturally come after, so your system can adapt to what has been brought about, growing and changing as it has been invited to do. Staying in the storm or constantly asking yourself to have huge change moments can be too much. Rather allow the waves to naturally guide you as they flow up and down.
Lotus Flower – Unfoldment
You hold so much capacity for life and living in your hands that sometimes it is just "all too much". When this impression happens, living through avoidance or escape seems easier. Short bouts of this can be a part of the natural waves but if they continue too long, you may find the wave will grow in intensity as if it is asking you to jump off into life or even as if it is trying to throw you off your tendencies in order for you to re-engage with living in a new way!
For some, being able to pause and recognize your capacity for life and living, will give you renewed enthusiasm. This will help you to choose your actions and set your goals & objectives. For others, for a multitude of reasons, this may not happen until the storm surge comes about. The more dramatic way to change and readjust is needed for some to experience a different way of life.
How do you know which is for you? If you receive nudges, inspiration, ideas, whispers, etc. that are asking of you or giving you insights, think of them as the petals that want to bring you towards your unfolding blossom. They can be part of your moments of pause as you renew and shift. These are your invitations as well as your methods. If you do not get those types of messages, it may be that you are not hearing them for a variety of factors in your life or it may be that the bigger wave is necessary for you to come up through the mud and unfold. None of this is about judgement, being "good enough", or being "able" to do or not to do something in your life. It is rather, about the journey, from the soul level, combined with the human, energetic, and spirit levels.
Giving yourself moments to gather your strength and to prepare can be vitally important. Children often do this before a growth spurt. A plant will do this before preparing its bud. You can do this before making a big change, shift, realization, or action. It may come as the pause, but the pause with intention rather than the pause escaping your life. Work with the nudges and the whispers, take note of the inspiration and the ideas. Even if it is writing them down in a notebook or gathering them all in to you without stepping forward just yet, you are being aware. You may be in a calm time building up for the shift or you may be making miniscule steps as you build your energy for the unfoldment of some aspect of you and your life. It does not need to be all big action all the time! Nor does it need to be huge intensity all the time! Listening, feeling, working with the waves, and inviting your connection with life are great ways to tap into the vibration of living. All of these will bring you greater access to all that you hold in your hands, even when you think you do not see it or have it.
This is an October of realizations and changes.
This is an October of waves and levels.
This is an October of vibration and connection.
This is an October of being part of nature's flow, in human form with life energy.
May your heart beat as your own personal drum with vibrant or quiet rhythm as you most need in the shifting flow of each day.
With love,
Sheila
and Great Spirit Universal Wisdom and the Native Spirit Oracle Cards & the Earth Magic Oracle Cards.
This Oracle Intuitive Wisdom Reading is channeled and written by Sheila Bicknell – BlueWater Oracle.
The Native Spirit Oracle Cards are by Denise Linn and the Earth Magic Oracle Cards are by Steven Farmer, both published by Hay House.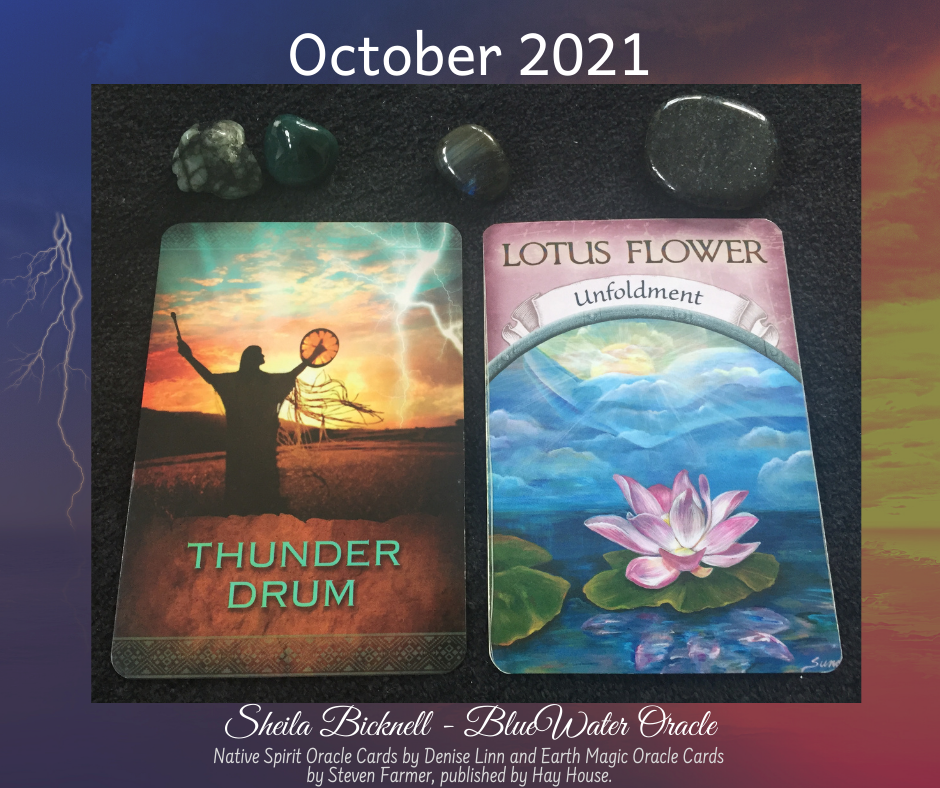 | | |
| --- | --- |
| Posted on September 1, 2021 at 1:35 PM | |
September Oracle Wisdom Reading for the Month 2021
Start this month by setting your vision for it. What would you like to experience? What would you like to achieve? What would you like to receive? How would you like to feel? How would you like to be of service? and on and on… This is a great way to bring intention into your days, cycles, choices, and decisions.
Grandmother Earth
This card comes to you with all the emotion of a Grandmother's love. The kind of Grandmother who will envelop you in the most wonderful hug. It is the type of hug that soothes the day and feeds the spirit. It holds you just tight enough that you feel safe and secure while love surrounds and enters your being.
This Grandmother meets you with the experience of a life well lived. She knows the choices you have made and recognizes your learning through them. She reminds you that you are loved no matter what but also holds you to recognize where you are invited to shift. Her love comes in like a big wave. For some it may be overpowering, especially if they are not yet full of love for themselves. It can be soothing once the surprise wanes. It will be nourishing if you let it.
Where this Grandmother truly shines is her wisdom. You see it in her eyes, as she looks at the world but also as she looks at you. She has seen much and knows much. Her years have brought adventure, challenge, hurt, healing, partnerships, children, work, and hours & hours of observation. So much that it now wafts around her even when her frame may seem smaller through age and wear. Her energy continues to expand like a cloak she has earned and now wishes to share with others.
This expanding cloak is where she connects her life, her love, her wisdom, with that of the Earth. This Grandmother bends to touch the ground, honouring all it has brought to her life. She smells the ground's essence, and feels it against her skin and through her fingers. She recognizes its value for life.
This Grandmother puts her hand on the tree trunk, wise soul to wise soul. The older the tree, the more she connects. The tree recognizes a kindred spirit in her and together they enjoy the moments of honouring and sharing. Her cloak and the tree's essence touch exchanging about their journeys and all they have seen.
This grandmother then steps into the edge of the water. Through her bare feet she connects ground to water and that connection resonates up her being and out to the air, the sky, and the light. The water waves around her touching more as it seeks this knowing, seeks this deep love she has. In return she feels it and is full of gratitude for the life the water provides in all its wondrous ways. The water aligns with the water within her body and through that, she carries their understanding and honouring as she continues on with her day and her life.
And when she simply is her, present with life, she wraps her cloak around her like a blanket from source. Her spirit resonates with the spirit it embodies, from her, through her, and from all around her. Her heart expands and she is with peace. She has nourished, she has given, she has received, and now it all comes back to her, residing within her and walking beside her. Her place is one of such value that the Earth and Spirit both recognize her and are in joy to share her space and time.
Part of this Grandmother's story is to share with you that she, her essence, her love, her connection, and her wisdom are a part of you. She resides in each individual and she is treasure. You are invited to get to know her within you, to let her bloom and blossom, to let her rise and to shine, and to let her teach.
May this September be one of deep love flowing within you.
May this September be one of profound connection with yourself.
May this September be one of connecting with the land and the natural world.
May this September be the one that allows the desired shifts in you.
May this September be when your own cloaks expands in honour and in peace.
Thank you Grandmother. Thank you Spirit. Thank you Earth.
With love and empowering hugs,
Sheila
with the Infinite Wisdom of Great Spirit and Mother Earth, and with the Native Spirit Oracle Cards.
The Native Spirit Oracle Cards are by Denise Linn and published by Hay House.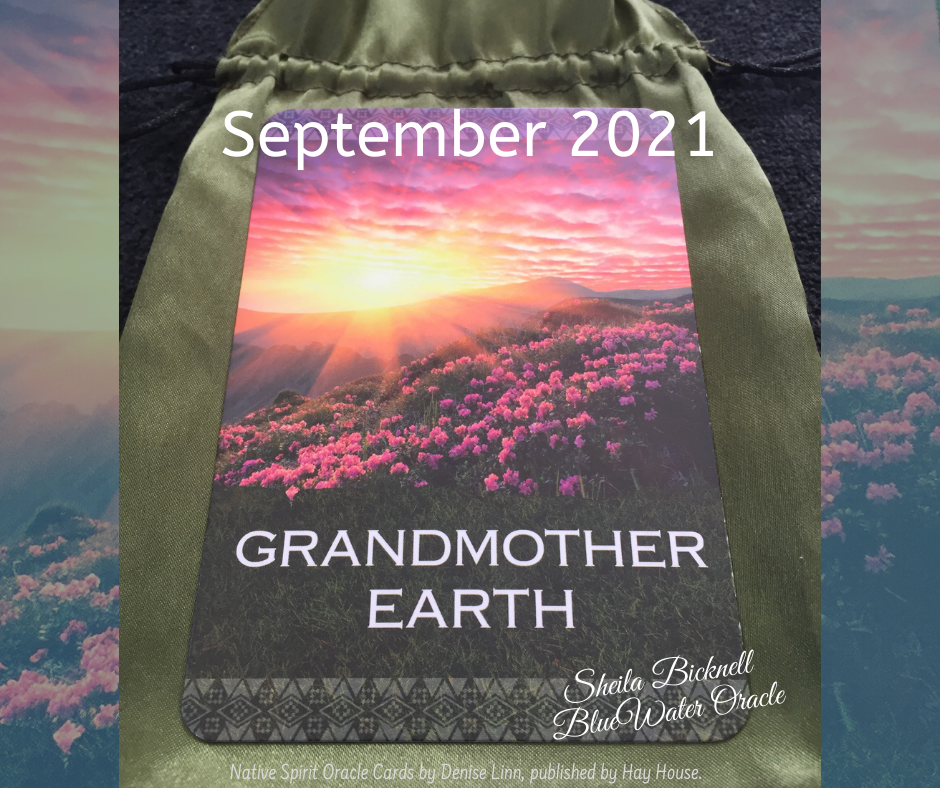 | | |
| --- | --- |
| Posted on August 2, 2021 at 6:30 PM | |
August Oracle Wisdom Guidance Reading 2021
Offerings
Each month we visit different messages and insights for the days ahead. They help us to reflect on where we have been, what we are experiencing in the present moment, and what we intend to create forward.
This card continues this in such a beautiful and powerful way. The stone structure called Stonehenge and many others around the world are a direct link to times past. They remind us of how people lived, how they connected to the universe, the stars, the moon, the sun, the "heavens", as well as the cycles of this planet of ours, even before they knew our shape and size.
Through these stones, knowledge and wisdom comes forward. They are the keepers of much information as well as much history. They encourage us to tell the stories but also to be aware of the stories we tell. They connect us to the planet and to the land in deep and ancient ways. They stand strong and invite us to do the same but they also invite us to shift our perspectives as needed for greater understanding, to reflect, and to gain valuable impressions.
The rainbow and the sun bring us the insight of the present immediate moment. A rainbow will be created through the moisture and light in their unique dance of a moment in time. One moment its colours are bright and glorious, the next they fade to bring new views and different sights. And on another day in another time after a storm they appear again in full arc bringing wonder wherever they are seen.
Through the stones, the sun also brings a moment in time to life as its rays hit an intended point and burst with the season arrived. These rays and that point achieved, those who witness it are guided in time and place, in history, present, as well as in plans forward. They work to show us where we are, how we honour that space, and what we are asked to remember for the next cycle to come. Do we prepare, do we plant, do we harvest, or do we celebrate? All is shown forward from that one moment.
In the Offerings, we are reminded that what we offer in the here and now creates our future. How we interact with our current moment, the places, the people, the situations, the natural world, and ourselves, all combine to create a horizon we may or may not be able to yet see. This moment gives us the opportunity to offer of ourselves. How we approach it is as strong as the stones, as wondrous as the rainbow, and as powerful as the sun.
No one teaching of the past sums it up. Lifetimes held in a ray of light, a drop of water, and a stone found. Each brings its messages and its value. It is all things in one breath, all things combined. And yet, all is new as well in each moment. This is why your offering is so incredibly profound. Whether it is a small act or one that directly impacts thousands, it is a creator in the present. Whether it is a silent step in the forest or a decision on the 80th floor of the city, something is offered – what will it be? What is its intended value? How does it reflect the past, represent the present, and speak to the future? Your offer is that important. Pause and breathe into this, it is always a good way to reset and to welcome intention before action.
May your August be full of portals where past, present, and future heal, combine, and create.
May your August be one of wonder through sights and experiences in incredible moments.
May your August offer you deep connection with your history and fulfilled joy in your present.
May your August allow you to know your intentions from the purest light and the deepest wisdom.
May your August be a time where you clearly know the value of what you offer and how best to do it.
With love and respect,
Sheila
and Great Spirit, Goddess, and Infinite Wisdom energies with the Native Spirit Oracle Cards.
The Native Spirit Oracle Cards are by Denise Linn and published by Hay House.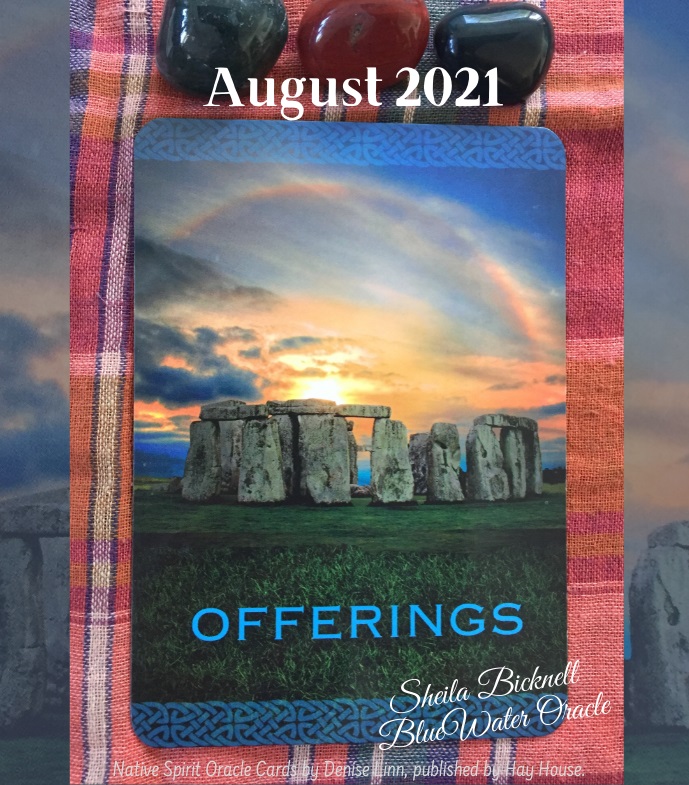 | | |
| --- | --- |
| Posted on July 3, 2021 at 4:35 PM | |
Gentleness and the Choices within Shapeshifting Clouds 
July Oracle Intuitive Wisdom Guidance Reading 2021
In this month a gentleness grows.
It is up to each one to choose it or to turn away. Life is full of change and challenge. Life is also full of wonder, heartbeats, magic, and majesty. Choose wisely and choose well within its chiming tones and whispering winds, shifting times and voices, and within the hands that make the day and guide the moments.
You are the gentleness flowed from the waterfall of life or you are the sharp rocks that some must fall against. Which do you choose?
Clouds – Shapeshifting
Incredible symbolism for this month of July 2021! The cloud can be a fluffy white cotton creation in the sky or it can be a powerful storm. It can be a windswept rain shower or a feather light essence. It can be welcome shade or frustrating cover. It can be an artist's palette of shape and form or it can be simply a result of moisture and weather high above.
One thing is for certain, clouds shift their shape in an ongoing basis. To look on them is to know change in every moment, fractions of seconds, as well as long created story lines. What happens locally is as essential to their make-up as what has occurred across the globe, all interconnected in their raison d'être and in their present existence.
To try to live separate from all others, creatures, people, plants, insects, weather, trees, water, etc. is to try to deny that the world works in a harmony and that each one is part of it. The shape you are currently in is a balancing act of all that has come before this moment and what you are presently experiencing. To try to live only in the past is as if looking upon the storm that has just flown through expecting it to bring a different result than it did. It shifts in the present only; it cannot shift in the past, except in the energy we carry from it.
What does that mean? It is a reference to being able to look upon a past experience, a past situation, with a different perspective than was present when it happened. Perhaps in that moment there was pain. With the new perspective that pain can be processed and healed or worked through. Perhaps in that moment there was uncertainty. With the new perspective, there is confidence to see what happened and how it impacts now, thus allowing a new action to be taken, a new choice. This is bringing different energy to shift the past based on how it is carried forward and lived in the present. It is power that can be embraced and can be utilized.
Every side of the cloud has benefit and consequence all wrapped up in that shifting version. While one person longs for rain, another desires sunlight for an event or for growth. While one desires calm and shade, another wishes for a storm to blow through and change the current atmosphere. This is balance and only compassion with the willingness for comprehension can allow it to flourish.
The need for survival is strong and is rooted deep. The priority of one over another is also a base feature. To rise above that and find how the winds bring a new shape, a new possibility, and new choices, is a keen vision with an open heart.
Where and why the heart may not be so open? Where and why compassion may not be there? These are questions with answers that span thousands of years, millions of lifetimes, and billions of stories. The true answer though is only in the shifts of the present. The one breath that is taken a bit deeper than a stress response. The one smile that is more genuine than cynical. The one hand reaching out to hold the door rather than letting it hit. The one act that feeds another's body and soul rather than contributing to their suffering. These are choices that shift as quickly as the clouds in the high winds. These are opportunities each one is presented with every day. These are what balances the harmony or the disconnect, asking to be noticed, observed, and learned so that the heart is represented and compassion grows.
What would you have yourself shift today? You do not need to go into the huge world events to be a part of a shift. The gentle rain creates an incredible impact in different but no less important ways than the hurricane. You may perceive it differently but that rain is so valuable when it is needed or too much if it continues too long. Harmony and balance tend to be something that gets judged rather than something that just is, in its own magical and wondrous way. What do you judge within yourself? Without that judgement, what harmony and balance would you bring to yourself and then let flow out from you into life around you?
The clouds above may not always have the same shape but it does not mean they are not just as important however they are. Be gentle with yourself for how your shape is currently and how it has changed and will change. Perhaps you desire the change… so imagine what it will be and shapeshift into it one wisp of breeze and raindrop at a time. And enjoy the ride, whether your cloud is a boat or a heart, a feather or an angel, a bear or a balloon, your cloud is always shifting and your choice is whether to fight against it or to see the majesty it shows you, in each breath.
With blessings through the shifting clouds,
Sheila
and the Divine Great Spirit Wisdom and the Earth Magic Oracle Cards.
The Earth Magic Oracle Cards are by Steven Farmer, published by Hay House.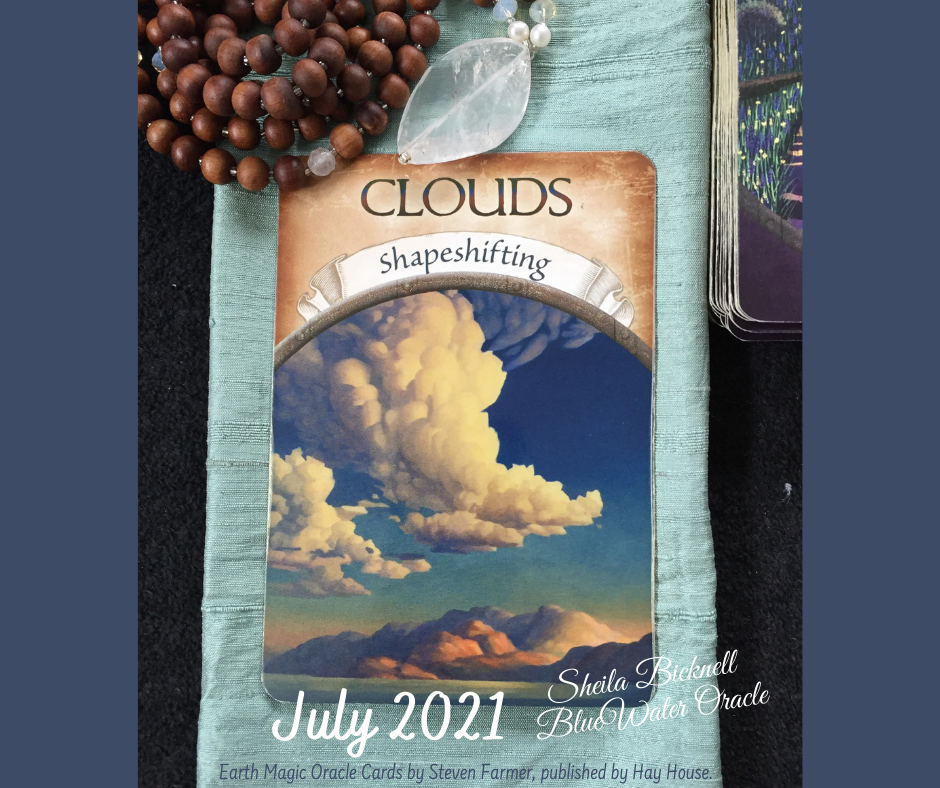 | | |
| --- | --- |
| Posted on June 1, 2021 at 3:55 PM | |
June Oracle Intuitive Guidance Reading 2021
The June month welcomes in a change of season with those of us in the North coming into our Summer. We change at the Solstice here which is June 20th late night so almost June 21st in the EDT time zone. Celebrating over two days sounds like a plan to me! We also welcome a solar eclipse on June 10th visible in northern regions which seems to add to the solar power for this month!
Ace of Pentacles
Welcome to a new start with full growth and connection. There are many opportunities within this month for you. You however, are invited to allow yourself to see what is available and what comes to you. You have the power to notice all these things as well as the power to choose to ignore them. Are you your best ally or are you filled with uncertainty that rules your days and especially your nights?
When the uncertainty catches up to you, take a moment to pause, perhaps a few moments! This is not so you remain immobile and stuck but rather to allow yourself to see what is available to you and which direction shows itself in the moment. Some people are skilled at racing forward, their decision capacity is quick and vibrant, and they adjust at high speed when needed, finding it challenging and exhilarating. Others are more skilled at moving in regular motion, adjusting as they go. They do not enjoy or resonate as much with the 90° turns so prefer to shift as they go, identifying their next best steps. Both are good methods when utilized by the person that best works that way. You didn't think you were all the same did you? Where's the fun in that?
If a big new opportunity were to present itself to you, what would you like it to be? You see, there are times when you will simply go with the flow, but there is also value in directing your flow and then going with it. The direction here is to allow yourself to understand what you would like as opportunity in your life. Maybe you think of it as vision, goals, or creations, or maybe opportunity is the term that best resonates. As we come into the midpoint of this year, re-identifying your visions for opportunity is a way to align you with your life path and to be able to see experiences for what they bring without being as frustrated with life's ebbing and flowing.
Your opportunity may be an improvement in a certain relationship. It may be a work project that comes your way. It could be finances coming into order and abundance. Your opportunity may be a greater connection with the Earthy world around you. It may be creating your best home environment. There are so many possibilities of how opportunity can come to you. Which one makes your heart sing? That if it were to come about soon, you would celebrate saying "This is exactly what I wanted!" Identify that opportunity and know it has started for you as you step forward with its energy. A reminder though that overly focusing on it can distract you from incredible opportunities that come along the way. Identifying one desire can be the doorway that opens to another - flow with them, notice, and live.
Mountain – Strength
Oh so much doubt! Why do you carry it around so tightly and in such a big bag? These strong and powerful mountains come in this month to remind you to be who you are. Much of the world has been created in recent times to remove what makes each individual incredible and of the highest value. This valuable individuality will be embraced again. In the meantime of this developing and flourishing, you can do this for yourself. Are you an artist at heart but have to work in another vein at the moment? This happens but this does not mean failure! It means adapting and adjusting to experience, live, and survive. While you are doing this, you can however find the ways that your artist blood can sing and your heart can be open! Whether 5 minutes a day or rejuvenating retreats, the closer you bring yourself into moments that thrive with your true self, the better you will feel all the time, in all of your adventures.
Lover of numbers or languages? Find how that speaks to you! Maybe you help others understand numbers in their lives or maybe you allow yourself to work with the numbers in quiet but profound solitude contributing in your own way. There are so many methods and opportunities; it is about identifying you within your life and the world.
For those leaders out there… Your strength can be to remember that leading others will satisfy you. The stronger you are, the more genuine and authentic you are, the greater your power of leadership. This is true power where others are lifted, where others can find their individuality, where those who need care receive it, and those who need direction receive it as well. The mountain does not pretend to be a tree. It is a mountain. It may give space for trees to grow or give shelter for them. It may understand the history that created it as well as acknowledging the new life upon itself and in the valleys below.
You are all mountains in your own ways. This month, remind yourself of those ways. How have you been the mountain? How have you been strong? Who are you at your core? No one has the right to take away your core, your light, or your spirit. No one can do it really, although, unfortunately some may try. You can embrace this Mountain Strength, by reinforcing the core of others as you go through your day. See them and give them a moment of being seen. It is a beautiful gift.
If you happen to come across those who have lost sight of their core or have had their core mined and damaged, picture them like a rickety swing bridge blowing in the wind. It will say that it is strong, perhaps even be harsh with it, but it is actually missing pieces and scared the wind will blow so strong that it will lose itself into the depths of the canyon. When you see it and acknowledge its core, its light, and its spirit, in whatever way comes to you, you add reinforcements to its structure and allow it to have moments once again of being a strong bridge, a valuable asset, and a place to view wonders from & with. Give yourself the same gift each and every day.
As the light is bright and full this season, let its golden rays show you so much in this world and within yourself. Take the views in from different vantage points and feel their energies building on your deep, strong, grounded, solid, but also flowing self.
With love and deep respect,
Sheila
and Divine Great Spirit Wisdom with the Gilded Tarot and the Earth Magic Oracle Cards.
The Gilded Tarot is by Ciro Marchetti and published by Llewellyn.
The Earth Magic Oracle Cards are by Steven Farmer and published by Hay House.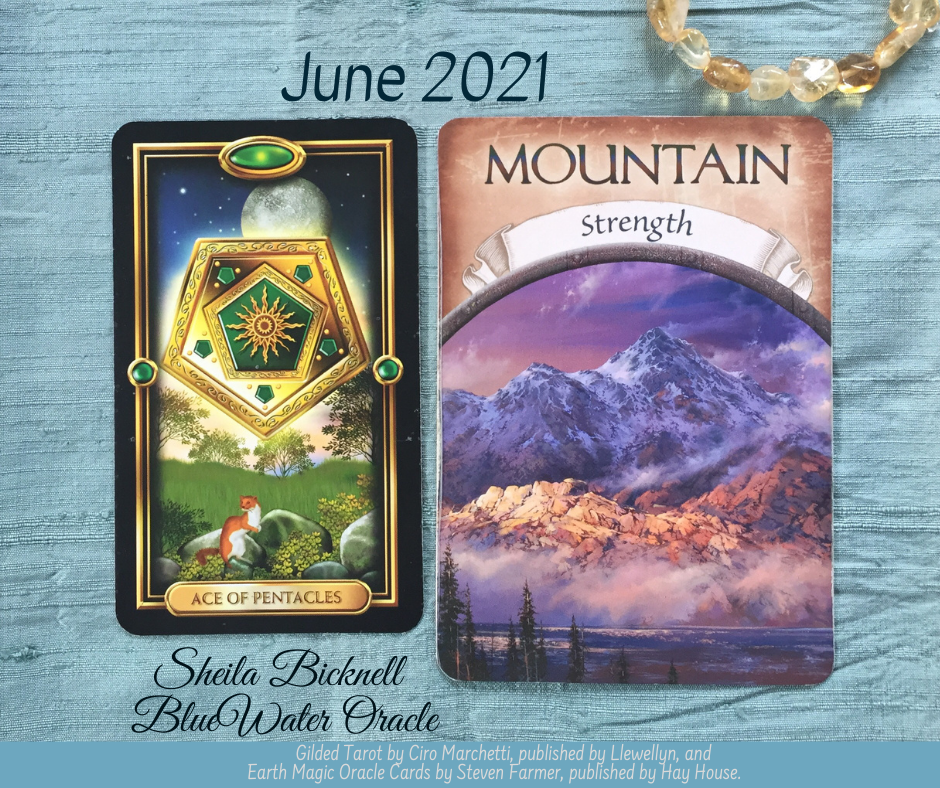 /