Oracle Intuitive Sessions and Oracle Card Readings
Connecting with insights, guidance, and support for your life.
| | |
| --- | --- |
| Posted on May 2, 2020 at 6:45 PM | |
Choices & Perspectives through the Icebergs
May Intuitive Guidance Reading 2020
Once again, the monthly guidance reading is coming through the Earth Magic Oracle Cards. They are deeply connected to the world, to nature, as well as to how we work with it and how we work with energy, the universe, and with spirit. Gratitude for the guidance we will receive for our month ahead.
Iceberg – Submerged
After our Cave – Sanctuary guidance in April, this is a card that speaks to our times and asks us to choose how we step forward.
The two huge icebergs can come together and move forward in unity, each empowering the other as they traverse along the water. They can otherwise ram into each other, creating splintering, loud crashes, and faster melting. They could choose to pass each other by, acknowledging the existence of the other but not having anything to do with each other, continuing on their own direction and purpose. And the unseen could be that these icebergs are actually one, connected at the bottom under the water surface in huge magnificence even if there is some space, different perspectives, and even some divides above the surface.
We are able to choose which of the above scenarios we participate in in our lives and our world at certain times. Sometimes though, that choice seems very out of our hands and we do the best we can given the situation we find ourselves in. We are always able to choose how we react in those situations, what actions we take, what words we say, and how we step forward through it all. We have those choices.
One of the factors that helps us with these choices is perspective. Depending on whether you stand atop the iceberg, whether you are in a boat looking through the gap between, whether you are on the land or the ice flow beyond, or whether you are underwater looking at their icy bases and the life that flows around them, you have a very different perspective. Acknowledging that these different viewpoints exist gives you wisdom in how you speak and act to yourself and your own life, but also to others who are impacted in possibly very different ways. These are skills that can take ages to develop for some while in others come highly naturally giving skill in communication, listening, compassion, patience, and negotiation.
We can notice where we are only seeing a part of the image and not the big picture. We can notice where our own perspective can affect our view of the picture. We can also notice where some are blinded and not seeing the picture at all, or if that is actually us. These are not easy things to realize as they ask us for self-reflection, reflection on a local level, on a world level, and beyond. We can start by noticing and choose forward from there, course correcting as needed with learning, knowledge, guidance, community, and experience.
And as we are noticing, as we are learning and experiencing, the ice melts. The Earth calls to us with every piece that is sheered away from its whole, every piece that does the great separation as is falls into the water below. She calls to us as the pieces get smaller and smaller, separating and distancing. She calls to us as the bow of a great ship breaks through to create its own path not seeing the effects it forces behind it. She calls to us as the land watches wondering how it will survive when the water rises. The land embraces a new journey always but shifts and changes with the wind and water upon it, questioning the timing of it all, that we are not ready for this.
Mother Earth asks us to shift our perspective, from the one to the whole, from the me to the we, from the human to nature together, from the gain to the resource, from the challenge to the solution, from the denial to the learning, from the whisper to the knowing, from the "She is not needed" to the "She is everything and we are a part of She". Huge, She knows! Challenging? Yes. Emotional? Yes. Possible? Yes. She believes. She keeps sending messages to help, messages to guide, options to embrace, needs to listen to that have actions to take. Embrace the shift and know the balance is there.
There is very little on her great globe that does not ask for effort. Some things do flow easily but many are entertained with intention, commitment, and action, feeling the effort with every step and every fibre of being. It is the way of life. It is the way of effort. The bird will soar on the air high up in the skies but first it must flap to gain the height and the positioning to then glide.
The perspective of ease and flow is magical. It is there and it does exist. Seek now the effort, learning, experience, and action that make up the step before the ease and flow. Seek now the perspective that lets you see from all needed angles and with all valuable wisdom.
You are not "only one being with little or no value to the whole". You are an intricate part. In your caring for others, in your work, in your creations, in your actions, in your raising of young, in your learning from the old, in your choices, and in your breath itself. Everything upon She has its place even when we cannot see it. Find yours and embrace it! Bring yourself honour and value in each moment knowing your worth and raising others to know theirs. Together your perspectives ignite what is needed for all, but it all starts with choice. Integrity of choice put forward into actions others feel, see, know, and receive.
One droplet is contained in the mightiest iceberg and the greatest ocean. Without it, there is a shift that creates far-reaching ripples. Your droplet matters.
With love, hope, and gratitude,
Sheila
and divine wisdom guidance through the Earth Magic Oracle Cards (by Steven Farmer, HayHouse.com).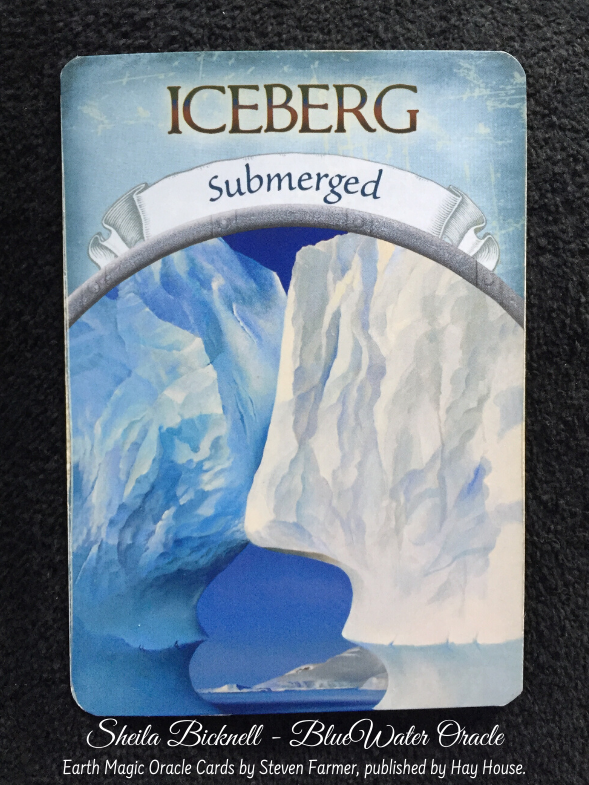 0

/