Oracle Intuitive Sessions and Oracle Card Readings
Connecting with insights, guidance, and support for your life.
| | |
| --- | --- |
| Posted on July 2, 2020 at 12:15 AM | |
July intuitive guidance for the month 2020
Circle of Life
In the spiral is contained the beginning, the middle, and the end. There is no point that completely stops, that stays stable or stagnant for very long. When something ends, something else begins. When one stands and breathes, one realizes that the next stone, the next piece, the next moment, is connected right beside. All connects to all at the same time, even if the view is different.
In this beautiful summery scene, the vividness of life and the circle is shown. Where the stones and hills bring the permanency and longstanding of some aspects of nature and life, the grasses and flowers remind that some things are seasonal to grow, blossom, nourish, and then walk on in more rapid cycles. Without this balance, the support system is more challenged. Some only see what shows the stability and the structure while others only see the new growth with changes and adventure. Both have value.
Recognizing this value is a way to come into balance and to allow all things to be recognized for their place and their purpose. Fighting it throws the balance off to one side where it is harder to get the footing, harder to grow at odd angles, and harder to flourish with natural adaptation. Not impossible, but more challenging.
Observe the spiral formation on the card. There is what is outside the path, what makes up the path, and the path itself. The stones create the path but are not the path. The grass is an easier space to maneuver in and walk with. The centre is a place to observe the journey and to decide what is within and where to walk next.
Where are you and what feels natural to you? Do you tend to walk outside of the path and stones, enjoying freedom and choosing your own route whether it has a path or not? Do you get guided onto the path and walk on it with curiosity and interest? Do you follow the path because it is easier and feels better to you? Do you walk across the path circles so you get where you are going faster? Do you notice you tend to try to walk on the stones even as they shift under your feet? Or Do you tend towards a combination of all of the above, having moments of freedom and adventure near the path, phases of guidance that show you a path, feelings of flow and inspiration on the path, moments where you hop steps to see what happens, times where footing and flow are tough as things seem to shift and change quickly, and with moments to pause and observe all of the viewpoints from wherever you are, appreciating each part?
Each person will have a part that feels more in flow to them, that feels more natural. For some it is the adventure of an unknown path. For others it is being guided into flow with the path seeing and noticing all other options as they are nearby, perhaps popping out for experiential visits. For some it is to gently walk on the path supported by the framework and feeling good within it. Maybe others even feel they start from the centre of the spiral and work their way out, ever expanding and creating more connections!
Notice for yourself if you seem to be always walking on the stones? Some stones will be great with that, feeling that you can stand well and get an extra vantage point. Other stones will slip and move under you, tossing you into one aspect of the circle or another. Does trying to walk on the stones of this spiral feel natural to you? Does it connect you with something within you? Or is it walking against the flow? What are you resisting when you expect yourself to or force yourself to walk on uneven and movable stones? There could be a lesson in the balancing! Or it could be that each moment of struggle is showing you a way to be more in the flow, in whatever unique way it is for you.
You stand now in your present moment of your circle of life. You could deny it as many humans do. More and more gets built, for security and safety yes, but also for a sense of permanency. The legacy that will live on, the structure… Life is not permanent though. Those that have life in nature are not permanent. They come and go with the wind, the waves, the clouds, the rains, the days shifting to nights and forward again. They live upon and within the more solid energy of structure, rocks, mountains, oceans, land… Everything else is energy in fluidity, in movement of time and space that humans can recognize their own lives within.
Trying to create a circle that contains life within its walls is like trying to ask something to be permanent when it has a will to experience, to flow, to grow, to age, to feel, and to connect, with each changing moment and each unique beat of the heart and breath of the lungs. Would it not be more in flow with the spiral to create the supports for life that work with the energy, with the cycles, with the components that make up the different pathways? Where free zones meet the stone guides and the grassy paths, where the view supports itself from every side, and where you choosing to be on the outside is really as amazing as choosing to be at the centre. No one is left on the outskirts because there are no outskirts, just different perspectives that all work together.
What would that be like? A spiral where people are not worrying about their place in the circle of life but are rather living life, in each precious moment? It may not be a simple path or it might be as easy as a combination of ideas that get negotiated and adapted together, working together. Where nature does not worry either but finds her place within the spiral, its freedoms, stone guides, pathways, and circles of life?
Notice your circle of life this month. Notice the circles of life going on around you at all times. Connect with them in the flow of breath and experience. Create the stories that become the legacy through the spirals, create the memories, and live the life. Let yourself see what the circle needs, for you, for your family, for nature, and for all. And notice where you put up walls that hinder your view.
It is all connected: you, spiral, nature, circle of life.
Let the love of life be an inspiration for choices forward. Each step, each balance point, each breath, each stone, each blade of grass… is of value, as are you.
with love and deep respect,
Sheila
and Divine Great Spirit energies with the Native Spirit Oracle Cards.
The Native Spirit Oracle Cards are by Denise Linn and published by Hay House.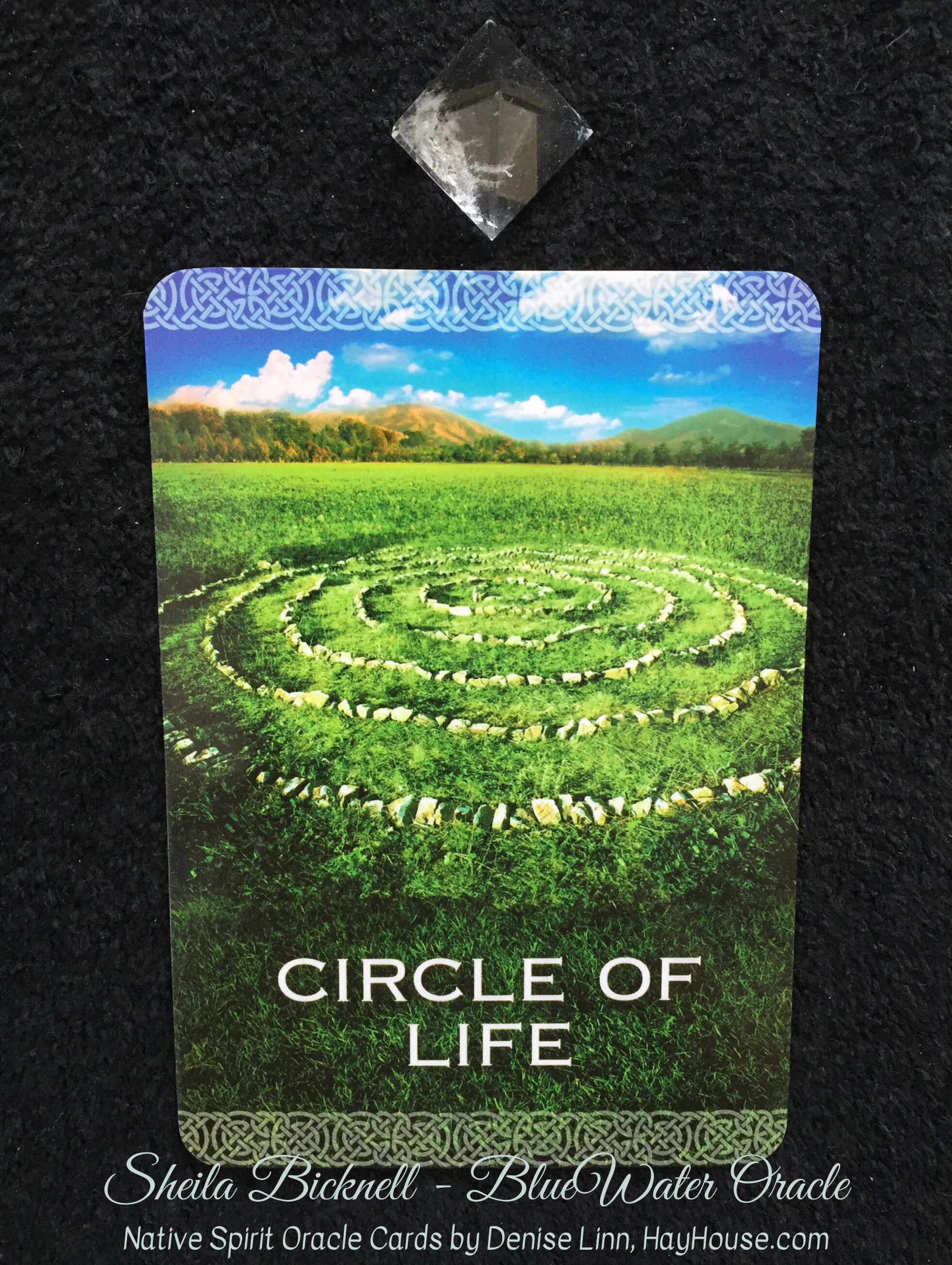 Categories: Readings, Inspiration, Nature
/