Oracle Intuitive Sessions and Oracle Card Readings
Connecting with insights, guidance, and support for your life.
| | |
| --- | --- |
| Posted on September 1, 2020 at 3:55 PM | |
Intuitive Guidance for the Month September 2020
We are blessed to trek into the Earth Magic Oracle Cards once again for our guidance as we enter into September energy. Some of you may have felt that this month started a while ago! It seems like an eager phase to get our attention, ask us to notice and to be present. September is coming in with great promise. With that also comes big adjustment. To flow with it is our choice and will be an adaptation to how many of us usually react. Give yourself time and opportunity to stand solidly on your feet, re-planting them as you need when you feel off balance. Stand in the awareness of your incredible body and the trunk that holds so much working energy for you. As you acknowledge your body and all of its inner skills, you bring your energy inwards to build, to grow, to be re-ignited with love and heart force, and then to flow out with you as you breathe into your life.
The full moon guides us into this equinox month and our journey, thankfully, continues…
The cards today, had a real process about them… guiding distinct and purposeful shuffling. They first showed themselves through the Wind – Activation card which was building and activating the energy for the reading. Then they brought up the Lotus Flower – Unfoldment card. For those who did not see it, this was the guidance card for August, so tying together the two months and bringing us reminder that we can utilize that reading more than we have if we feel drawn to do so! The unfolding continues. And then…
Tsunami – Wake-Up Call
The full moon brings in the big wave that can wake us up this month.
Let that sink in for a moment.
It will rise up in you, what needs to be woken, what needs to be brought up to the surface.
First, there are the things you are putting off, that you do not want to address, do not want to get into. Now is the time to decide if you will ever do these things or if it is time to release them to clear up energy flow into something more important for you. If they are still necessary or desired, bring yourself a plan of what next step you will take and when. Put it somewhere you will see it and remember to act on it regularly, perhaps a notice board, an agenda, a calendar, a reminder alarm, a list, or a place of "to do's" that stay contained but get worked through.
There is at least one though that is ready to be released. You are holding on to it. The "maybe" energy is so strong that it is actually condensing parts of you which need to expand rather than reduce. Let the wave show you what is ready to be released and give it the time and opportunity to be released on the wind (metaphorically or literally) so your space opens.
Within the desired and necessary category, you will have waves of action and intent that flow up and down with you and for you each day. Once you have cleared them as important to you, you are welcoming the flow to bring in the action steps. If time passes and there is no action coming into flow, it will be an invitation to dive into the why of it. This will be the wave that comes up to wake you and teach you. Humans can often waste time on things that are really not important to them because they are perceived as essential or necessary. This is the opportunity to notice, take action, or release the pressure. Releasing the pressure in this way prevents the huge wave from overcoming you.
The full moon leading into this new month and the new season that will come later on, also wishes to wake up some of your true nature. This may be a difference in how you behave and act each day and how your true nature would have you be. This may be a difference in how you tend to react quickly versus how you would really feel in your best.
Observe in yourself when frustration is felt in you and expressed through you, when harshness, when impatience, when even hostility presents itself. Observe it, observe the situation, the why. Observe the necessity of it. Observe the choices you are given. Observe and recognize what you bring into the situation.
Remember that the tsunami is the result not the cause. Yes it goes on to bring about other effects of course but it is not the starting point, it is the intense ripple effect. Work with the light of this phase to notice when and where you are the starting point of something, where and when you are the intense ripple effect going on to impact others, and when & where you are the result. Do you want to be an intense ripple? Do you want to be the point that the intense ripple arrives and stops, giving its energy new purpose? Do you want to be the wave that shifts and adapts what arrives within it and to it without building up to overtake another? You have so much opportunity to work with the waves and to create ripples that benefit you and others. Even when an intense and big wave affects you, when you feel in the dark and the shadow, you have the choice as to how you behave and flow forward from there.
And if the big tsunami wave could symbolize something incredible and amazing into your life, guided by the light of the moon as it reflects in you and around you, what would you want it to bring in? What would you like to have arrive on that wave to help you and to wake up new opportunities for you? What knowing would come up from wise depths? Play in that new version of the wave!
On a global scale, there are many wake-up calls coming to the surface. You may be in the action packed centre of some of them or you may have awareness within your own life adventures. There is so much you can do within your own sphere of influence and it all starts with you. You do not have to be weighed down under the huge wave of the full responsibility, unless it calls to you, but you can come into knowing with your own impact, your choices, your energy, and your actions. Do no harm to the best of your ability and expand your unknowing with acceptance that the knowledge and wisdom exists to help all, often more easily than people think.
May your waves shine light on what you need and desire.
May your waves bring up wisdom and choice to benefit you and others.
May you ripple forward in waves that flow from your true nature.
and May your fullness flow over any walls that are built, to shine brightly in the light and in the dark.
With love and deep appreciation,
Sheila
Guided by infinite wisdom divine energy and the Earth Magic Oracle Cards.
The Earth Magic Oracle Cards are by Steven Farmer and published by Hay House.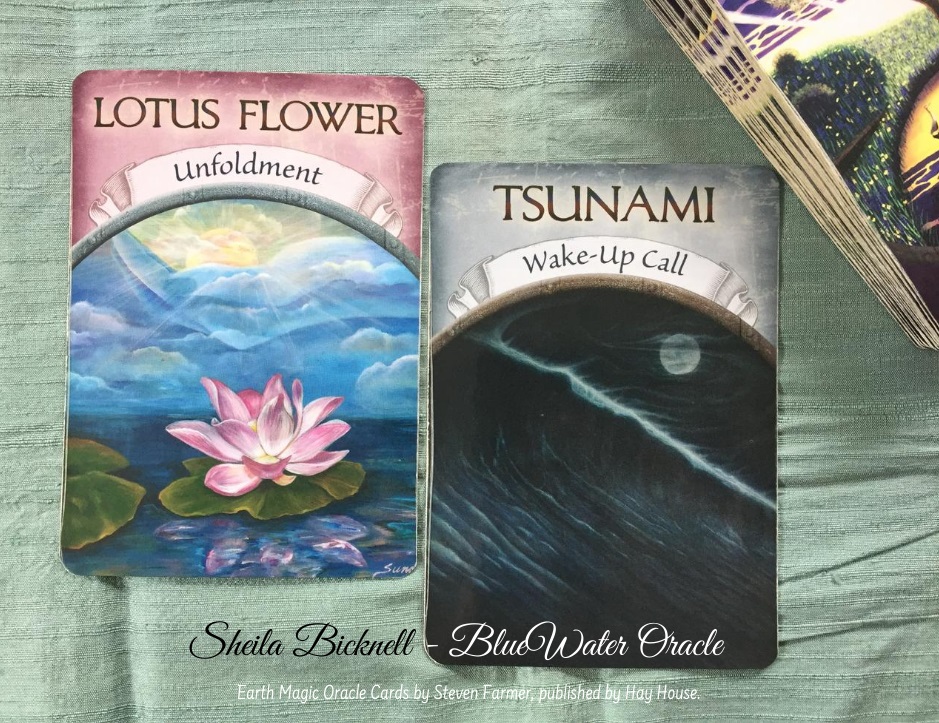 Categories: Readings, Inspiration
/