Oracle Intuitive Sessions and Oracle Card Readings
Connecting with insights, guidance, and support for your life.
| | |
| --- | --- |
| Posted on August 2, 2021 at 6:30 PM | |
August Oracle Wisdom Guidance Reading 2021
Offerings
Each month we visit different messages and insights for the days ahead. They help us to reflect on where we have been, what we are experiencing in the present moment, and what we intend to create forward.
This card continues this in such a beautiful and powerful way. The stone structure called Stonehenge and many others around the world are a direct link to times past. They remind us of how people lived, how they connected to the universe, the stars, the moon, the sun, the "heavens", as well as the cycles of this planet of ours, even before they knew our shape and size.
Through these stones, knowledge and wisdom comes forward. They are the keepers of much information as well as much history. They encourage us to tell the stories but also to be aware of the stories we tell. They connect us to the planet and to the land in deep and ancient ways. They stand strong and invite us to do the same but they also invite us to shift our perspectives as needed for greater understanding, to reflect, and to gain valuable impressions.
The rainbow and the sun bring us the insight of the present immediate moment. A rainbow will be created through the moisture and light in their unique dance of a moment in time. One moment its colours are bright and glorious, the next they fade to bring new views and different sights. And on another day in another time after a storm they appear again in full arc bringing wonder wherever they are seen.
Through the stones, the sun also brings a moment in time to life as its rays hit an intended point and burst with the season arrived. These rays and that point achieved, those who witness it are guided in time and place, in history, present, as well as in plans forward. They work to show us where we are, how we honour that space, and what we are asked to remember for the next cycle to come. Do we prepare, do we plant, do we harvest, or do we celebrate? All is shown forward from that one moment.
In the Offerings, we are reminded that what we offer in the here and now creates our future. How we interact with our current moment, the places, the people, the situations, the natural world, and ourselves, all combine to create a horizon we may or may not be able to yet see. This moment gives us the opportunity to offer of ourselves. How we approach it is as strong as the stones, as wondrous as the rainbow, and as powerful as the sun.
No one teaching of the past sums it up. Lifetimes held in a ray of light, a drop of water, and a stone found. Each brings its messages and its value. It is all things in one breath, all things combined. And yet, all is new as well in each moment. This is why your offering is so incredibly profound. Whether it is a small act or one that directly impacts thousands, it is a creator in the present. Whether it is a silent step in the forest or a decision on the 80th floor of the city, something is offered – what will it be? What is its intended value? How does it reflect the past, represent the present, and speak to the future? Your offer is that important. Pause and breathe into this, it is always a good way to reset and to welcome intention before action.
May your August be full of portals where past, present, and future heal, combine, and create.
May your August be one of wonder through sights and experiences in incredible moments.
May your August offer you deep connection with your history and fulfilled joy in your present.
May your August allow you to know your intentions from the purest light and the deepest wisdom.
May your August be a time where you clearly know the value of what you offer and how best to do it.
With love and respect,
Sheila
and Great Spirit, Goddess, and Infinite Wisdom energies with the Native Spirit Oracle Cards.
The Native Spirit Oracle Cards are by Denise Linn and published by Hay House.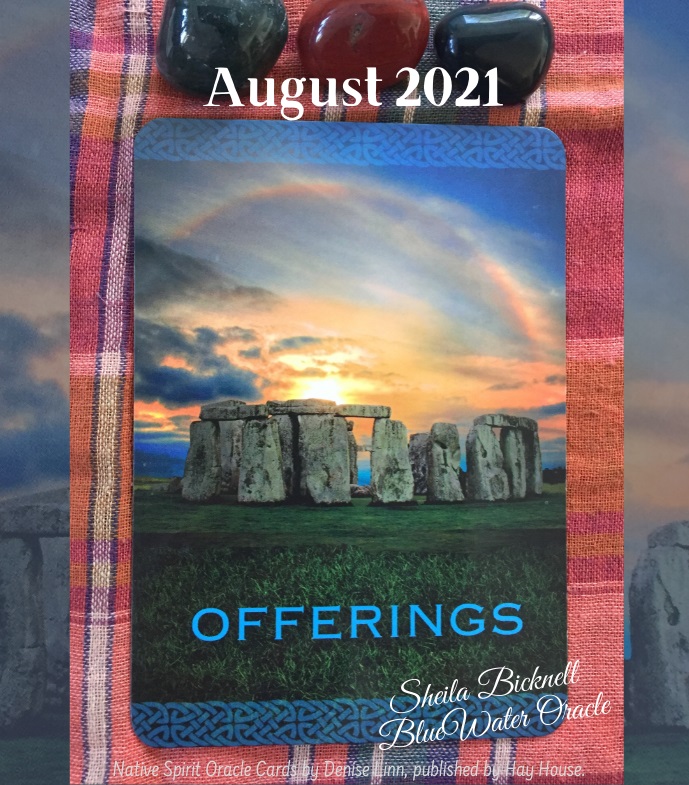 Categories: Readings, Inspiration
/