Oracle Intuitive Sessions and Oracle Card Readings
Connecting with insights, guidance, and support for your life.
| | |
| --- | --- |
| Posted on April 5, 2022 at 12:10 AM | |
April Intuitive Guidance & Wisdom Messages 2022
Looking Deeper
"Deep within me is a majestic radiance."
As we step into April and into this new season, it is asking you to look deeper within you to acknowledge your deep radiance. Look deeper at what is going on in your reactions and your choices, in the way you think, and in the way you feel.
This card brings a reminder that sometimes we need to stand in our choices and our feelings to figure out what is behind them and what is going on for us. Do this from the perspective of the majestic radiance that is within you.
What is the majestic radiance within you? What is that majestic radiance asking you to see, asking you to look at, as you make the choices of your day to day life?
The Mountains in this card, are suggesting you to remember, and to remind yourself daily – multiple times a day – that you will have ups and downs. You will have moments when you are climbing, moments when you get to the top and celebrate, then look at the view and find the vision. Then there may be an easy slide down for a little while, an easy ride, or a wave that shifts. Maybe it is more of an "oh my goodness" like being on the down slope of a roller coaster. Then perhaps it is time to climb and feel good as you get into action steps again.
These ups and downs repeat but not because you are staying in the same place or are stuck. They are all part of the journey. You may see it as a spiral, as the ebb & flow, as climbing & descending mountain paths, passages, and pathways. There are ups and downs in everything. These are all parts of the aspects to live with and to work on & with.
Look at the view again. Bring your expectation from thinking it will only include the up moments into balance with all the aspects. Know that it includes all the different gemstones including the challenges, the sadness, the disappointments, the seeking, and the things to work on. The gems may be deep within the rocks or they may be as easy as finding them shining on a gentle walk or along the beach.
Allow yourself to notice and to see the different layers and components within a "basic grey rock" of the mountain. The rock has been part of that creation of the gems and all of the layers. Sometimes you have to look deeper to remind yourself that there are glorious things up in the view and along the trek, as well as the radiance deep within.
Wherever you are in the stages of the climbing of your mountains each and every day this month, find the gemstones, find the bright moments, find the quality, and find the richness. Allow yourself to really notice them, to really find them, and to really see. Allow yourself to see what they are bringing and what they are offering. It may be part of the view from climbing, the deep dive into something you need to work on for yourself, or it may be the universe cracking open something to show you and to show you that you have a choice on how you take it and what you do with it.
The shooting star here in the background is an invitation to not only see the vision that is but also to look at the vision you would like to see and experience in your life, what you would like to see in the world, and what you would like the universe to bring into your world. Put it out there as if you are being the shooting star of vision. Blow your kiss of intention and vision out into the world. Plant the seed and give it freedom to grow.
All the power of a deep look to see the radiant facets available to us and the light that shines there.
With love for a strong, supported, and bright month ahead,
Sheila
Card pull & reading from my Live Facebook reading video April 1st 2022 for April energies & messages.
Featuring the Gateway Oracle Cards by Denise Linn, published by Hay House.
Reach out for your own Oracle Intuitive Wisdom & Guidance Reading – A deep dive into connected communication with yourself, your spiritual team, and this Earth. Balanced living with clear sight, clarity in choices and actions, and transformation along the way.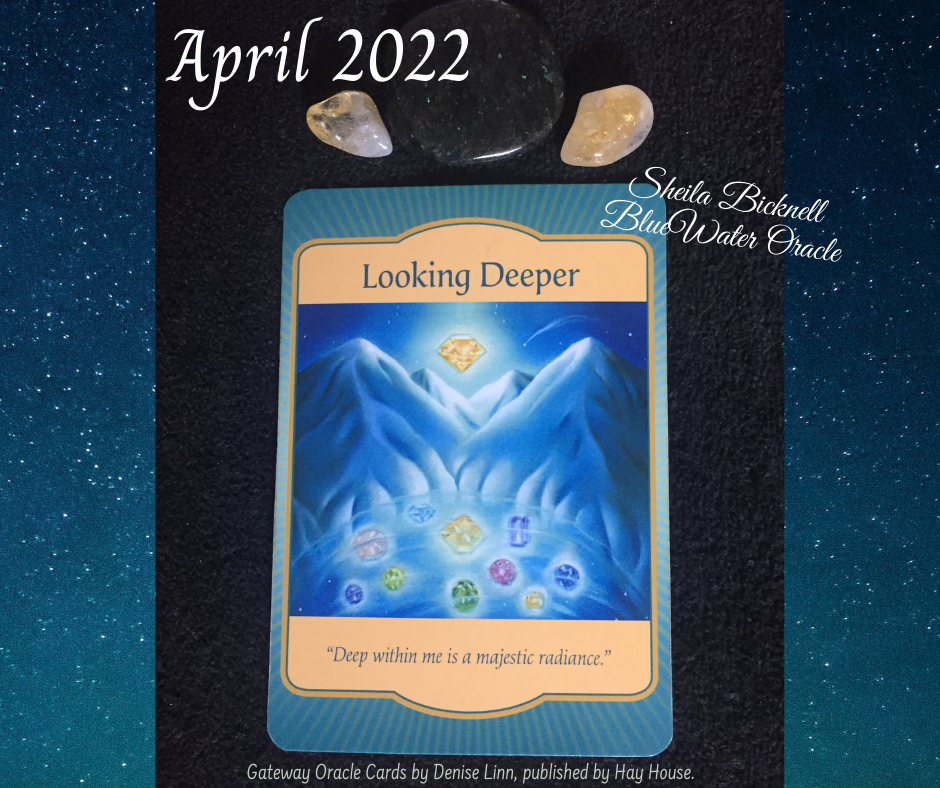 Categories: Readings, Inspiration
/