Oracle Intuitive Sessions and Oracle Card Readings
Connecting with insights, guidance, and support for your life.
| | |
| --- | --- |
| Posted on June 2, 2023 at 4:45 PM | |
Queen of Cups - June intuitive card reading Year Wheel 2023
There are definitely some Divine Feminine themes for this year!
Out of this deck, the Gilded Tarot, she best represents the Birthing Queen. She is the Queen who has that presence and who looks like she has the birthing capacity in her (could just be the dress too ha!).
She is cups – she is emotions, water, relationships. She is the nurturer out of the Queens.
The message from the May reading with the Gaia – Nurturing card continues on here, but it comes in Queen energy.
Who is rising up to speak in a way that represents that nurturer?
This is not coming in with sword energy, not coming in with defiance and conflict, and this is not coming in with the battleground. This is coming in with nurturing.
Looking out onto the ocean behind her, she is strong & loyal, like her pillar. She is able to see the perspectives of what is needed within the land and the home in which she lives and cares for. The clouds behind her are stormy. They remind that daily living with life, as humans, and with our interactions, isn't all ease, joy, light, love, and flow in every moment. Though those are all always present as well.
She is reminding us that that dignity, that nurturing, that rising above, and that methodology of communicating within relationships and within care of that method of nurturing the Earth and the individual as well as each other, is highly important.
In June with the Solstice (longest day is Summer Solstice, shortest day is Winter Solstice), we are looking at the strength of the divine feminine. Everybody has divine feminine. Male energy people, male humans, female humans, and everything in between, we all have divine female within us.
This feels like it is a recognition after the Gaia card – the Mother Earth card, the divine feminine of the Queen and the Queen of Cups, with that nurturing birthing energy coming in. Where she looks over the land and then she makes choices and decisions.
For you, as an individual, how can you bring this Queen energy into your life?
Where do you need to nurture?
Where are you giving birth?
How do you choose to be caring for yourself and for others and for your land, your water, your air, your plants, your treasures… everything?
What is that Queen, that strength and power but from a nurturing, caring perspective? (not from a beating down or crushing perspective, not at all.)
This is powerful and beautiful. I love it.
The colouring of this card also really brings us into our lower chakras: root chakra, sacral chakra, solar plexis chakra – it has some reds in it, it's got the orange, and the yellow, those autumnal colours, those harvesting colours. It feels like coming into the rooting foundation, womb area, energy centre area of the body and the human so that the nurturing comes within the individual, to the individual, and then through the individual. From there it goes out into families, friendships, work relationships, communities, organizations, governments, countries, and world.
Very powerful.
Peace & Love and Queen Powerful Nurturing,
Sheila
This June oracle intuitive card reading is by Sheila Bicknell – BlueWater Oracle and features the Gilded Tarot cards by Ciro Marchetti, published by Llewellyn Worldwide. It is part of my Year Wheel Reading video. The June video can be found at https://youtu.be/jocz-_dRzlo. The 13th card – theme card video for the year featuring the Childhood – Innocence card can be found at https://youtu.be/cPgRGwATRbE. And the full Year Wheel Reading video can be found at https://youtu.be/-hS4_X7zULA. Enjoy!
Please contact me for individual and group readings & intuitive conversations for guidance, new perspectives, shifts, support, confirmations, and for your best next action steps forward. I am ready to connect with you and for you. [email protected]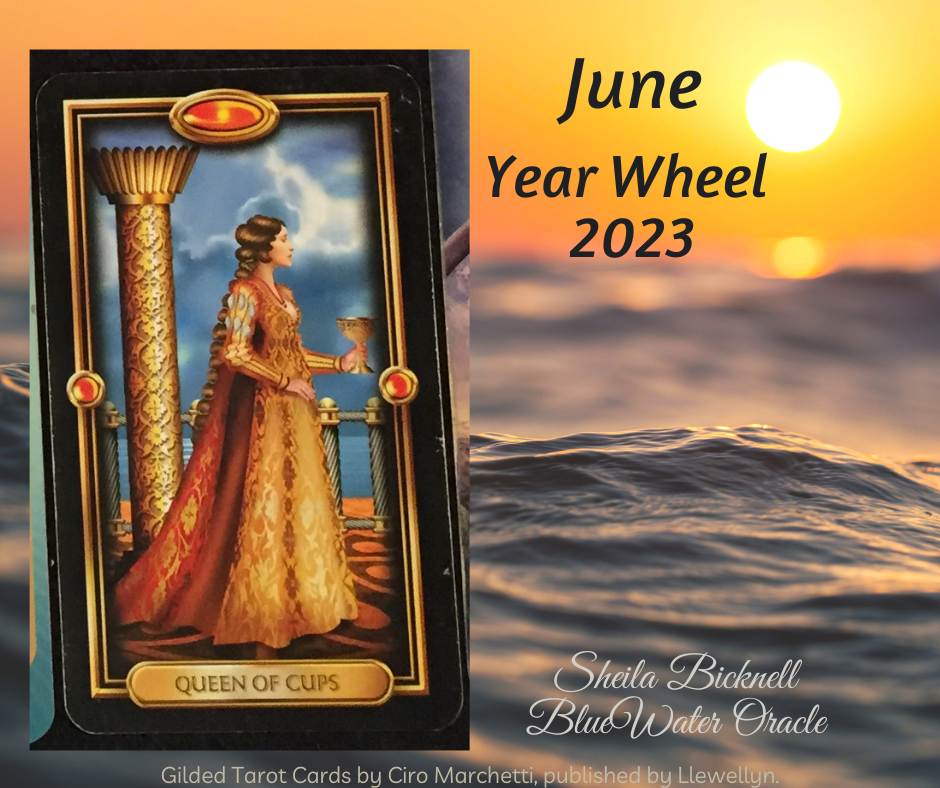 Categories: None
/