Oracle Intuitive Sessions and Oracle Card Readings
Connecting with insights, guidance, and support for your life.
| | |
| --- | --- |
| Posted on October 1, 2020 at 1:05 PM | |
October guidance for the month 2020
This October comes with double Full Moon energy. We start today on the first of the month with a Full Moon, have the New Moon midmonth on the 16th and then lead forward out of the month with a Full Moon on the 31st being Halloween and Samhain. These are the dates and timing in my region, it may vary slightly depending on where you are in the world! But the moon is always there for us, in its stages and through its cycle reminding us of our own phases and cycles with patient watchfulness inviting us to be patient with ourselves as we reflect, receive, learn, and step forward.
Throughout much of September, I have felt that this October will be a big month. This may come in intensity or in more vital shifts that many of us may experience. You may embrace it as just another series of days or you may find that it has particular energy for you to notice and to work with. Let's see what our reading will bring to guide us.
Grandmother Earth
This is a card I have seen often over the last few years. It must be one of the cards that pulls most often from this deck. How special and how important is that?! Grandmother Earth brings a depth and fullness to our connection with our heritage, our place in this life, and our connection with Mother Earth energy. For if there is a mother, there is automatically a grandmother.
What does this grandmother bring to you today? Let yourself stand on this open land, surrounded by blooming flowers, in the light of the sun's rays, with clouds showing shifts and colours as variable and wondrous as every moment. The depth of her message is the depth of your own being. You are asked to balance in every moment and in every phase of your life. You balance all the time, whether it is balancing the day to day for survival and for nourishment, balancing for personal awareness and understanding, balancing for helping and serving others, balancing for wellness, balancing with the expectations and creations others have, or balancing for your personal journey with development, learning, and respect.
In this balancing, you may find times when it does not feel as though it is going very well; when you feel that you would be tipping over if you were created that way. In the depth of your being you have answers. You have answers for your own needs and you have answers for the needs of others. The respect is where you balance between understanding the answers you have and bringing them forward into words and deeds.
Remind yourself that only asking and repetitively asking may not allow space and energy to listen and receive what wants to come up in you, through you, and to you. This may need some moments of quiet. It may also need you to tune inwards to sense and participate. Asking or questioning in balance with hearing and receiving allows you to feel more centred and connected.
In this connection with the grandmother, she brings you such deep and wondrous roots. You may not even know it is possible to be with such roots. They run from the surface of the earth deeply into the core, the fiery energy that fuels and flames as well as the rocks and stones that hold deeply in place with support and structure. These roots also run into history, connecting time and people in ways that may not seem realistic but are present. Through these connections, they also reach out to others bringing awareness and insights. The roots have the capacity to be above the surface of the land, with the air and moisture, as they also are in energy systems. You are within and have energy systems too. These can be enhanced, deepened, and helped by these roots. You may sense them in the energy or you can work with your hands and fingers to help visualize and play with the roots. Moving your arms around you and spreading your fingers, you can visualize the roots extending out to connect with the earth, with all of its components, and in all of its ways.
The Elder energy of this Grandmother is not to be underestimated. Her wisdom and knowing spans more than most can even imagine. And yet her respect of all that are a part of her world and her desire to connect with us, is as deep as the universes are vast. Allow and fill yourself with equivalent deep respect and desire to connect with yourself, and you will find the weight of the world is lifted from your shoulders and held by her roots and strength.
Island – Solitude
With the awareness of the balance and the deep roots, the power of the solitude on the rocky island is present. The dark clouds balance with the appearance of light. The calm of the water balances with the waves that come with the stormy winds. And you stand strong, in full blossom. You may find that you feel alone, that you feel you are the only one on the island. The reality is that you may have moments when you feel alone when you are not in connection with other people as much or as often. But you are never truly alone. As you stand up straight, feeling the breeze, spending time in the light and the dark, you can stand knowing all that surrounds you. The moving clouds, the rippling waters, the ancient being of the stones, the living grasses, mosses, and smaller creatures. At times you will be the small one as others gather around you. At other times you will be surrounded by humans of all purposes and make-ups. And then you may be brought to really notice all that exists when you stand still, whether they are still or not, as each has their roles and their place in the bigger earth picture.
So the solitude that is perceived is not really present. But it is in the power of each to reduce the solitude of another. Some crave it, some fear it, some have too much of it, some nurture it in growth, and others have yet to find its balance. As the water of this card balances with the earth of the previous card, the emotions and the intuitive knowing balances with the physical needs and the physical limitations that get put out and on by people. Each act, each sensing of another, each moment of truth in respect, releases unhealthy solitude towards family, community, balance, and connection.
The big wake-up waves of the September Tsunami card make way for the depth and intensity of these calm reflective waters. Not to be underestimated as they can storm up quickly, they bring the opportunity to feel into your being, to notice what is within you and around you, and to connect with your knowing.
May you balance in the earth and the water, the fire and the air.
May you balance in your history and your present.
May you balance in the seen and the unseen.
May you balance in the respect and the deep roots that hold you.
With love and deep appreciation for all that you are and all that you bring,
Sheila
in connection with Divine Infinite Wisdom and Spirit Team energy with the Native Spirit Oracle Cards and the Earth Magic Oracle Cards.
The Native Spirit Oracle Cards are by Denise Linn and the Earth Magic Oracle Cards are by Steven Farmer, both published by Hay House.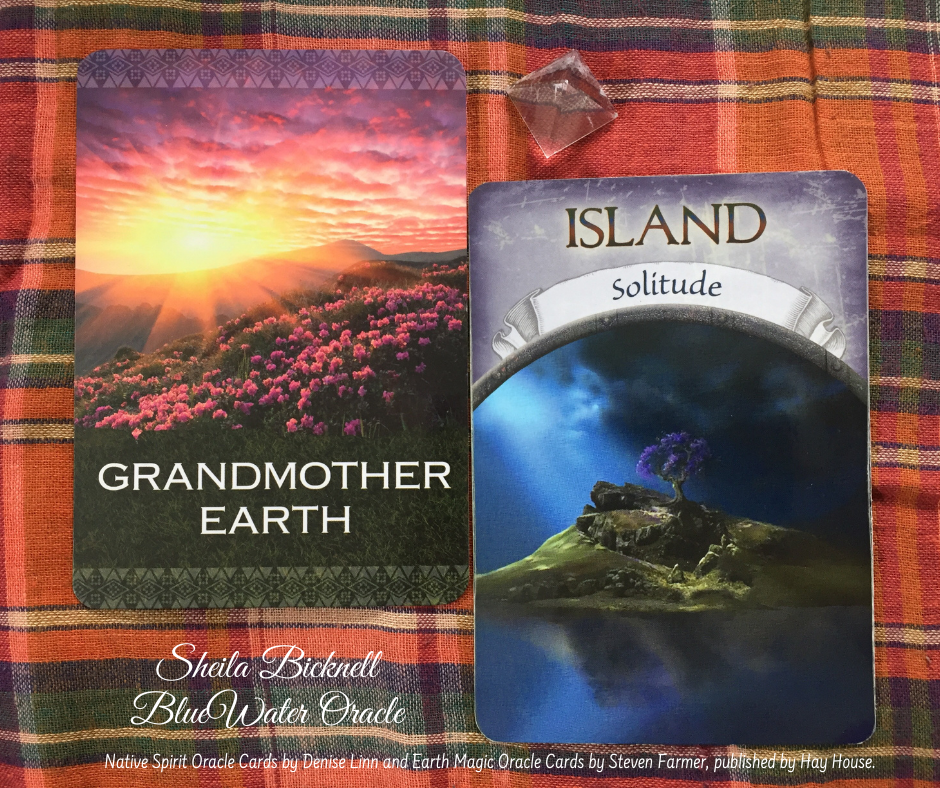 Categories: Readings, Inspiration
/