Oracle Intuitive Sessions and Oracle Card Readings
Connecting with insights, guidance, and support for your life.
| | |
| --- | --- |
| Posted on January 2, 2021 at 2:40 PM | |
January Intuitive Guidance for the Month 2021
Welcome to a new month and a new year! The energy of the December Guidance with the Waterfall – Effortless card is still present and wanting to remind us of its important components. Although we shift months and years on the calendar, there are so many more parts of it all from seasons to cycles, from moon, sun, and planetary shifts and dances. This month starts, as I shuffle the cards, with a dual sense of depth and importance as well as one of enjoying life and finding our way through appreciation of blessings however they show themselves to us.
Eagle – Communion
This month, come into communion with what is of most importance for you and your life. There are so many aspects and components that make up a life, especially for those offered the riches of choice and variety. Those options are so wonderful to have but if not managed and viewed efficiently, may become their own source of distraction and disharmony.
Within all of the aspects of life that show themselves to you, some will be of necessity for your life or for the lives of those close to you. Others will be enjoyable additions to your existence. However, some may seem as if they are truly important, as if they are "must" items. The option to see for yourself whether they really are essential, whether life must have them to continue in its best way for you, is something to embrace this month. Simplifying on one hand may bring depths and incredible connections on the other. More complicated does not mean more vibrant or more deeply satisfying.
This deep satisfaction will take on various forms for different individuals and regions. You are not all the same, nor do you live in areas where the exact same requirements exist. Someone where three quarters of the year is in frozen snowy clarity does not have the exact same format of needs as someone who lives in the height of the sun's activity or the heart of the jungle. They have things in common yes, but how they arrive at satisfying their basic needs will be different. Somehow this seems odd for humans to realize, as if it is such an obvious thing that it has been forgotten, likely part of the complexity that has become developed in many regions. To remind yourself, look at the creatures native to your region, look at how they have adapted over millennia. Are they all the same across the areas? Or is it more that there are similarities that then become finely tuned for the needs of the region and the species. Colours, body coverings, feeding techniques and food choices, dens and shelter, etc. Such a splendour of variety that many humans have completely forgotten their value and teaching.
Beyond the differences of location, there then apply the uniqueness of individuals. What is communion and communication for one will be different than for another. Some aspects are common across the board of the species but others that provide deep satisfaction remain as unique as the eyes they live with, and should be remembered so. Worth is established in the basics of needs. The more they are satisfied, the more the uniqueness then comes to play. With so many humans, it is a wondrous and important thing to have the uniqueness. Otherwise resources would be more greatly challenged and priorities would be shifted to the less vital to serve one group over another. Or does that already happen? Establish the basic needs for one and all, then enjoy the uniqueness that can and does blossom from there through different brains, hands, hearts, intellects, skills, emotions, intuitiveness, and capacities. Uniqueness that creates and allows biodiversity within a species, once the basic needs of the species is tended to, in balance with biodiversity of other greatly needed species.
When you give yourself the opportunity to notice what is truly essential to you, you may find that it frees up space and energy for exploring what deep satisfaction really means for you. Who does it mean you connect with, yourself, others, the world? What does it mean you heal? How is peace found for you? Where do you choose to walk? How do you choose to act? What do you dream of and welcome in to your life? Commune with yourself to find this satisfaction. Hope and encourage that others do the same. But mind, be truthful and commune with integrity. Greed through negative selfishness and nastiness is unlikely to give satisfaction. Note your own actions and sensations to see where you are currently connected with satisfaction. Commune deep within as well as with what naturally comes to you and shows you wisdom from the world and life around you.
Peace Pipe
Does that deep satisfaction through truth and integrity bring about inner peace? Does inner peace bring about peace shown in outward forms? Are Peace and Balance intimately connected?
These two cards bless us with the deep reminder around and about Peace. To hold peace close to you is to get to know yourself in vital ways. You have this option each and every day in each and every situation. Even in what may seem like a necessary battle, is the option to hold peace close to you and to walk tall with it. Like the calm before, in the heart centre of, and after a storm, peace is always there. You may need to act to survive through the storm or you may need to take shelter. You may be asked to help yourself or to help another. Perhaps the storm is affecting a huge group of people or an entire region. You may be equipped to help. As you do this, as the storm rages on, your inner peace is always there and it will beautifully dance with any calm that arrives or returns, when it does.
The feather is part of the bird. For them a necessity for temperature, water management, mating appeal, and flight, just to name a few. Once it leaves the bird, it becomes a tool and resource for others. Does it remain essential? In different ways perhaps. If it is to warm your nest or your coat it may be an essential need. If it is to decorate, it may be for joy and symbolism. If it is a symbol of peace on the pipe or that falls from the sky, it may be essential in a different way to food or shelter, but perhaps all the more important to a species and region filled with choices but also with struggles. Peace.
Where do life and peace intersect? Where do they really need each other for the human? Where do they ask to be present in balance, and ask all of the world, natural and human-made, to balance life with peace? You are asked to reflect and observe this for yourself this month. You carry a peace pipe with you in each step you take, each word you utter, and each breath that works with your body. You carry it but only you can choose to use it, to let its essence of peace enter your every moment. Through you, deep peace, connection, communion, and light come into balance with all else that makes up life, all that is essential for life to continue and for each life to thrive with deep satisfaction.
How will you thrive? Essential needs. Communion with self. Communion with life and others. Deep satisfaction. Peace.
The vastness and the adventure of life may seem to be so very much. Bring in the peace and deep connection to help align you with vision and to find joy as you play with each step.
Peace-filled blessings,
Sheila
and the Divine Wisdom of All Spirit & Connection with the Earth Magic Oracle Cards and the Native Spirit Oracle Cards.
The Earth Magic Oracle Cards are by Steven Farmer, and the Native Spirit Oracle Cards are by Denise Linn, both published by Hay House.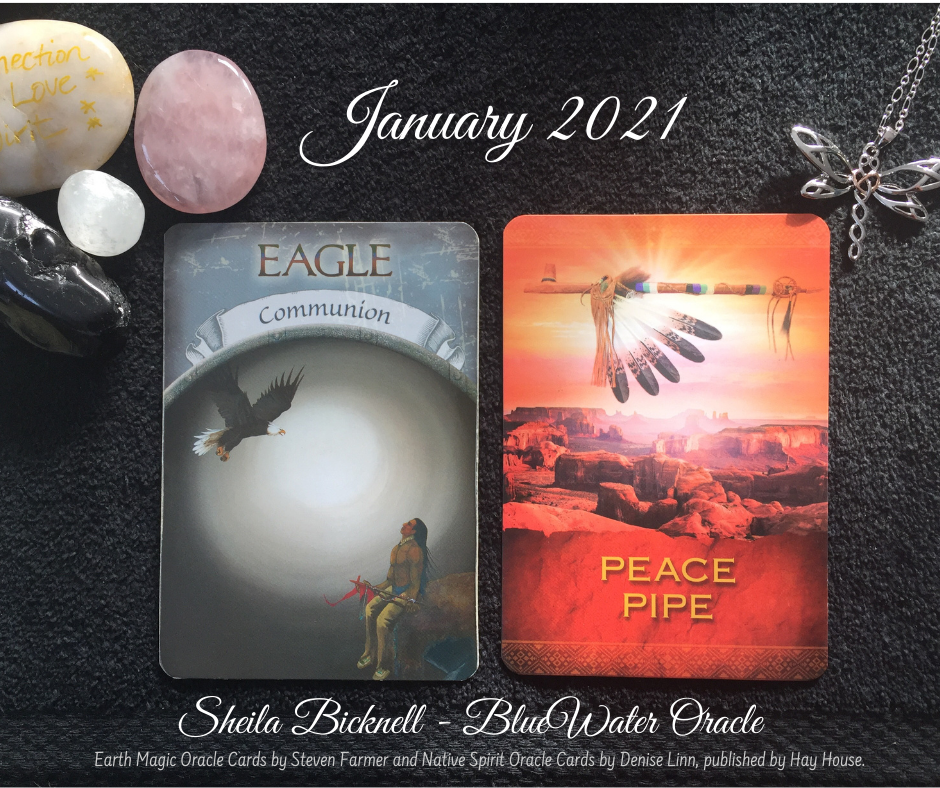 Categories: Readings, Inspiration
/