Oracle Intuitive Sessions and Oracle Card Readings
Connecting with insights, guidance, and support for your life.
| | |
| --- | --- |
| Posted on November 1, 2021 at 6:30 PM | |
Oracle Wisdom for the month November 2021
Love – Compassion
November has started and it may bring about all kinds of newness for you. Perhaps it is the changing into the fullness of autumn where you are, with shorter days, cooling temperatures, and longer nights. Or maybe it is the brightening of mid spring with lengthening days, stronger sunlight, and nature springing to life!
For many, the shift into autumn and winter with the darker days comes as a greater challenge. The urgency to prepare and make ready comes in. The decreasing light has certain impacts. And there is a call to go within, into your own dark, your depths, your calm, and your rest phase. For some this will happen more in the cold winter but for others November is a time of transition that can cause a ruffling within, a questioning, and a time for a deep look. This is something to pay attention to… like Halloween, there are treats to be had.
As you embrace your own dark and depths, you are invited to find the treasure that lies within. Different than a pirate story, no one needed to place this treasure there; it always has been and always will be. It is your essence, your knowing, your spirit, your highest self, your soul, your light, and your being. Whether it is a season of darkening or lightening, there is a great constant. This constant is the you who was before, is now, and will be again. Always learning and exploring, always shifting and changing in the experiences of life, but always an essence that is beyond doubt and can never be overshadowed.
Within every change is an opportunity. It is the opportunity to gain a different vantage point of that treasure. Like points on a map which show up from invisible ink or pathways seen with a flashlight in a dark room, you may sense parts at a time, pieces of the puzzle. Or you may have an overall sense of your treasure, your You, and simply need to remind yourself through daily experience.
If you need that flashlight, that invisible coming visible, or that lighthouse in the storm, this card is showing you the way. Love and the Compassion it brings & allows. This is your evidence of the treasure, your treasure. It is not the movie version that gets played and discovered in a two hour trip. It is not the all flowers and rainbows type with a unicorn prancing through. It is deep and profound, and very, very real. It is also an essential part of you and an essential part of the natural world in which you live.
You see, when you have the impression of love that is only between people who like each other or between family units, you are not giving opportunity to the Love that radiates through everything and everyone all the time. It is something so mesmerizing and all-encompassing that people are often busy seeking it without even realizing they are searching. They also don't realize that it is not something that needs to be found but rather something that will be felt, expanded, and allowed to be.
This reality of Love already is. Like opening the treasure chest when the box says "valuable treasure inside" and means it, you already know it is there! The Love already exists.
At this point for you, the journey is asking you to reflect within, to spend time in your dark and your light, so you can feel the profound depths and see the sparkling gems. You are not creating those depths or gems, you are allowing yourself to know those parts of you. And then, bit by bit, you allow it to radiate into your day and your night, into your being, into your entourage, and into the world around you.
Recognize that the world already knows this type of Love. It is part of every acorn turning to strong tree, every insect wing, every grain of sand, every wisp of cloud, every drop of water, every creature, every stone, every star, every thought, every action, and every emotion. It is in the essence of the energy that whirls around and the energy that holds time. It is in the make-up of life itself and those things that seem void of life. It is the in the basis of all that is seen and unseen. It is a reason why and it is the fuel that continues to bring opportunity to life, in all its forms and colours, all its generations and molecules, all its places and all its things.
This may seem too big or too bold or too strange to take on, or it might fit just right. As the treasure within is embraced, the Love brings the opportunity for Compassion. First it comes as compassion for the self. You being compassionate in your thoughts and actions for yourself, to yourself. Next it comes as compassionate for those close to you. Then compassion towards those you do not know. Onwards to compassion for all life near and far. And finally compassion for existence that shows in ways you do not understand or is not easily recognized as in need of your compassion. Energy is worthy of compassion and it is all energy. The Compassion is from this glorious Love and this Love is everywhere, when welcomed, embraced, and allowed to be. Even when it is not embraced or known, the Love is there, but why would one not want to play in its wonder? Why would one want to deny the treasure when it is such a magnificent connecting web and deep abundance of Love?
May you feel and know your deep inner treasure.
May you find opportunity and vision that sparks your gems alight.
May you see, communicate, and act with Compassion.
May you allow the deep and profound Love to be within all of your moments, your days, and your nights.
May you Love and embrace yourself and life, always.
In deep respect and Love blessings,
Sheila
with the Divine Source Energies of Loving wisdom and the Earth Magic Oracle Cards.
The Earth Magic Oracle Cards used with gratitude, are by Steven Farmer and published by Hay House.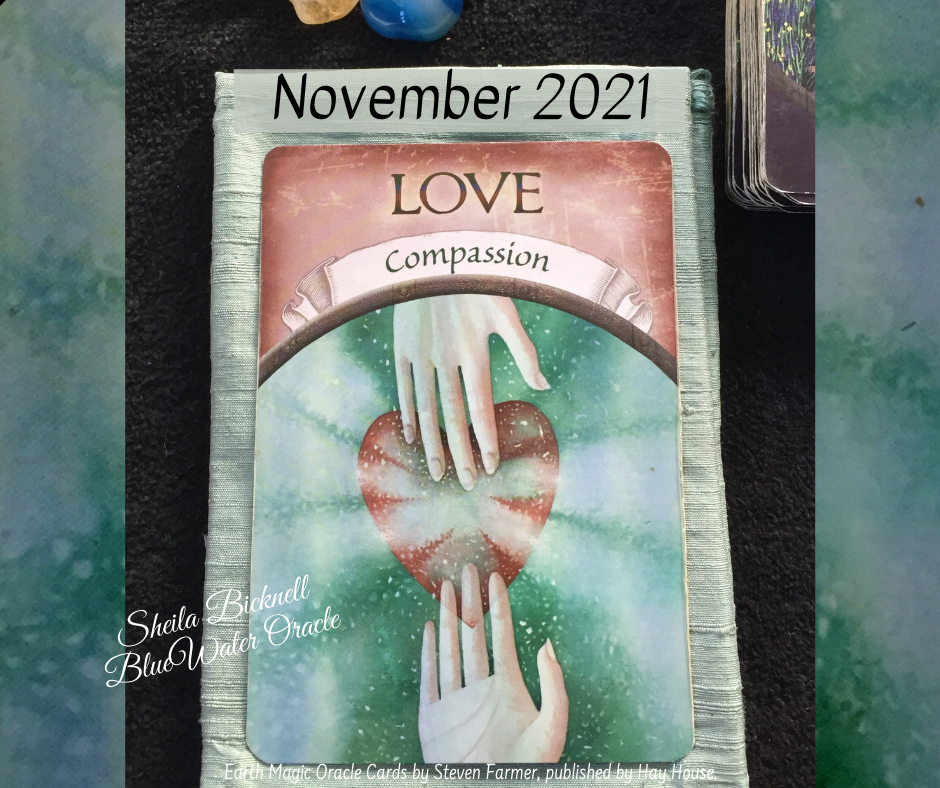 Categories: Readings, Inspiration
/